Study in Canada – 15 reasons why
Know 15 reasons to study in Canada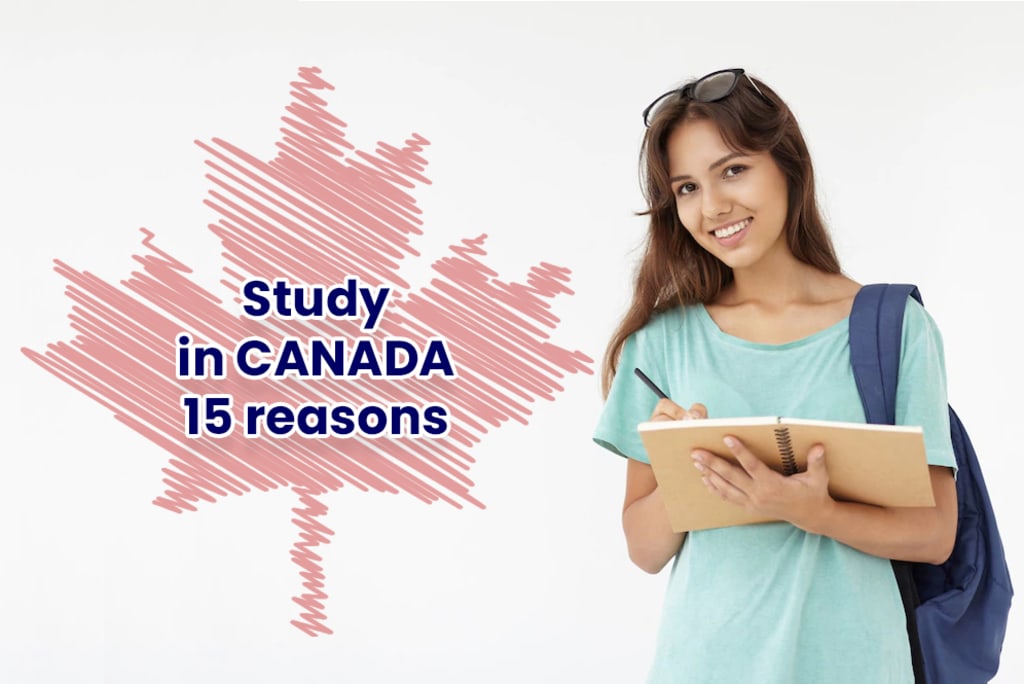 Study in Canada
Canada is a great place to study. The country has a well-developed education system that ranks among the best in the world. In addition, Canada is a safe and welcoming place to live, with a high quality of life. If you are interested to study in Canada, here are some things you need to know.
To study in Canada, you will need to obtain a study permit. The process for obtaining a study permit can be complicated, so it is important to start the application process well in advance. You will need to provide documentation such as proof of identity, proof of funds, and proof of academic qualifications.
If you are not a citizen of Canada or the United States, you will also need to obtain a visa before entering the country. A visa allows you to stay in Canada for a specific period of time and perform certain activities, such as studying. There are different types of visas available, so be sure to choose the one that best suits your needs.
Once you have obtained your study permit and visa, you are ready to start your studies in Canada! The country has a wide variety of educational institutions, from universities and colleges to vocational schools and apprenticeship programs.
1. Excellent education system
Canada is a great place to study, with an excellent education system. There are many top universities in Canada, and the country also has a strong economy and good job prospects. If you're thinking to study in Canada, be sure to research the various universities and programs available to find the one that's right for you.
2. Exposure to English and French languages
One of the main reasons people choose to study in Canada is because of the excellent exposure they get to the English language. Canada is a bilingual country, with both English and French being official languages. This means that students have the opportunity to learn both languages and gain a unique cultural experience.
3. Many scholarship opportunities
There are many scholarship opportunities available in Canada, making it an affordable option for students to study in Canada. The Vanier Canada Graduate Scholarship Program is a prestigious award offered to Canadian students who demonstrate both academic excellence and leadership skills. The Queen Elizabeth II Diamond Jubilee Scholarships are offered to students from Commonwealth countries who demonstrate exceptional academic achievement, leadership, and community service. The Lieutenant Governor's Academic Excellence Scholarship is offered to students who have achieved an outstanding academic record in high school.
4. Diverse and multicultural society
There are many benefits of studying in Canada, one of which is the diversity of its population. Students from all over the world come to Canada to study, making for a rich and varied learning environment. Canada is also a multicultural country, meaning that students can learn about different cultures and traditions while they're here.
5. Career opportunities
There are many career options available for those who study in Canada. Some of the most popular options include careers in business, engineering, and healthcare. Canada is a great place to pursue a career, as it has a strong economy and offers many opportunities for advancement.
6. Rich cultural heritage
Canada is a multicultural country with a diverse population, and its educational institutions reflect this diversity. Students can learn about different cultures and traditions by studying in Canada.
7. Strong economy and infrastructure
Some people choose to study in Canada because its economy is stable and strong. Additionally, Canada has a high standard of living, which can be attractive to students.
8. Vast natural beauty
The vast natural beauty in Canada is something that should be experienced by everyone. There are so many different places to see and explore, each with its own unique landscape and charm. Whether you're looking for mountains, forests, beaches, or tundra, Canada has it all! Canada is also known for its beautiful landscape and outdoor activities, so if you're looking for a break from studying, there are plenty of opportunities to explore the outdoors.
9. Access to world-class healthcare
One of the other main reasons to study in Canada is that the healthcare system is world-class. If you are studying in Canada, you will be able to have easy access to high-quality medical care if you need it.
10. Affordable tuition and living expenses
If you're looking for an affordable place to study, Canada is a great option. The tuition and living expenses are much more affordable than in the United States, and the quality of education is top-notch.
11. Numerous recreational opportunities
Canada is a great place to visit for those looking for recreational opportunities. Some of the activities that are popular in Canada include skiing, snowboarding, fishing, hiking, and camping. There are also many great cities to visit in Canada that offer a wide variety of cultural experiences.
12. Supportive government policies
There are many student-friendly government policies in for the students who study in Canada. Some of these policies include the Canada Student Grants Program, which provides free money to students who need it to pay for school, and the Canada Learning Bond, which provides free money to low-income families to help with the costs of sending their children to school. These are just a few examples of the many student-friendly policies that Canada has in place!
13. International student-friendly programs
There are also a number of foreign student-friendly government policies in Canada. One example is the Post-Graduation Work Permit Program, which allows international students who have graduated from a Canadian university or college to work in Canada for up to three years after graduation. This program helps graduates to transition smoothly into the Canadian workforce and gain invaluable work experience.
Additionally, there is the Off-Campus Work Permit Program, which allows international students to work off-campus while studying in Canada. This program allows international students to gain valuable work experience and also helps them earn money to cover their living costs in Canada.
Finally, Canadian universities often have student visa programs that provide scholarships and other forms of financial support to international students. These scholarships and other forms of financial support can help international students cover tuition costs, living expenses, and other required fees.
14. Cutting-edge technology
The technology sector in Canada is booming. There are many innovative and forward-thinking companies in Canada that are leading the way in this industry, many of which are located in Toronto, which is often referred to as the technology capital of Canada.
15. An open society
Canada has an open atmosphere, meaning that people are welcome to come and live wherever they want. There are no restrictions on who can come to Canada and live here. If you wish to study in Canada you will get a free environment to explore your personality.
Canada's multicultural society makes it easy to make friends from all over the world – so studying in Canada can help you become more globally aware and culturally diverse. There is something for everyone, so be sure to explore the options that best suit your needs.
About the Creator
I am a content writer based in Delhi, India. I write blogs, stories, articles and social media content and have a passion for helping people and connecting with them through innovative writing.
Reader insights
Be the first to share your insights about this piece.
Add your insights