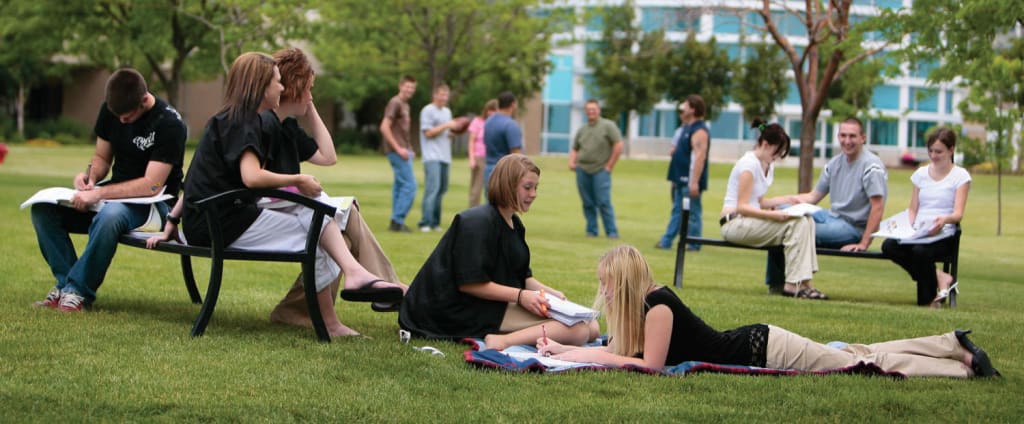 Some students like to take spring/summer classes to get some courses out of the way. These courses are often fast tracked, and you may not feel that you have time on your hands. It is summer and the weather is starting to look nice, and you envy your friends who are going to barbecues and enjoying the nice weather. You miss being outside. However, studies show that taking spring/summer classes are better for you mental health. This is because you are getting courses out of the way, and by the time September rolls around you can take less classes, and have less stress, and possibly get a part-time job.
During the summer, you feel less stressed, because you are exposed to the sun more often. The sunshine, as you may or may not know, gives vitamin D, which enhances your brain activity, and keeps your immunity up, which is why people tend to get less sick over the summer holidays. I have taken a French course in the past during the summer; I found I was having fun while learning, as well as I was doing much better doing those classes. It was because I had a balance of vitamin D and learning. I was able to focus more, and have fun while learning a new language. Currently, I am doing a full time summer semester, and I find I am less stressed out and enjoying my time at school, rather than staring at the clock, wishing the class was over.
Sometimes, people get what is called the "Winter Blues"; it is what happens when someone is not getting enough sunlight, and they tend to feel depressed or down because of this. This type of feeling is also referred to as SAD, which stands for Seasonal Affective Disorder. There are a few ways to help cure these "Winter Blues." One is getting light therapy, where you can wake up, and see the sunshine, however the sun is sometimes rarely seen in the winter, so there is a special light that you can purchase to fix your mood. Just sitting in front of this light for several minutes can change your mood, and you will feel much happier. Feeling sad and depressed can affect your grades, and your efficiency at work.
I find when taking summer classes I feel much better than when taking classes in the winter. It could be my current, easy schedule, but I have had similar schedules before, and I feel happier when taking classes in the springtime and the summer. This could also be because of a psychological explanation; the people you go to school with seem happier and have a positive attitude, or it could be because it is the start of a new semester, and we still have not yet felt the stress coming to us. Exams can stress everyone out, but during the summer it is better, because you can study outside, so the vitamins from the sunshine are still coming your way, and it is much easier to concentrate when you are feeling happy.
However, some people can experience this sadness even when it is warm outside. Some might work in an office and barely see the daylight, it is important to have an office space with many windows, so you can see the sunshine outside, and maybe on a lunch break go outside instead of the lunch room. Going outside will keep you refreshed, and once you are ready to go back to work, you will feel much more relaxed than when you first came into the office, and the sun was just barely peeking through the windows.
college

Ada Zuba
Hello! I am 25 years old and I have two older sisters. I love to write and finding new hobbies! my aspirations are to become a writer as well as living my life to the fullest. I love spending time with my little chihuahua!
See all posts by Ada Zuba →