SMS Salesforce with Education Cloud to Accelerate Educational Workflows
By 360smsapp.com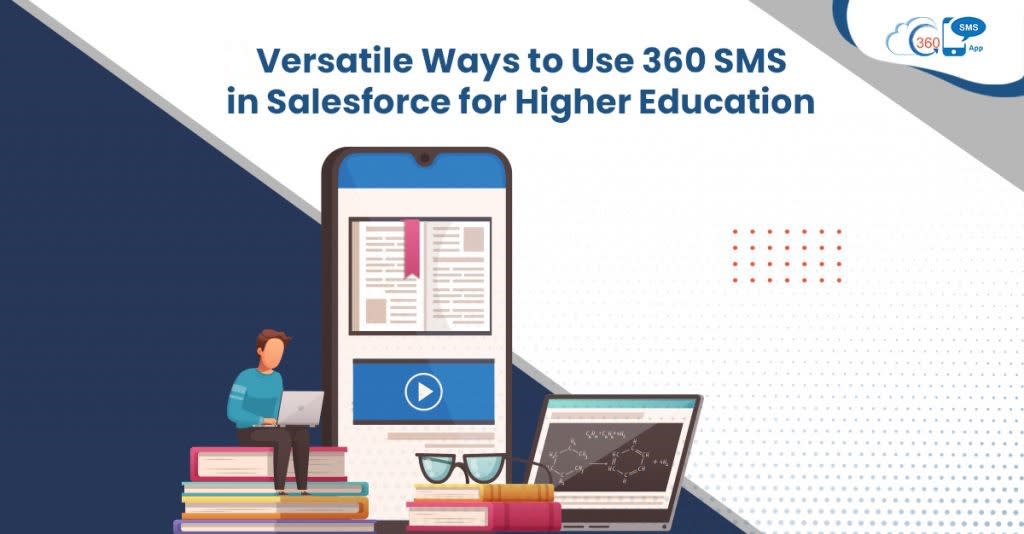 Organization and customer relationships play a vital role in the growth
and success of any organization. Salesforce is no. #1 CRM that helps to build and nurture these relationships by providing a 360-degree view of customer data. As a result, users can engage at various touchpoints of a customer lifecycle and improve their experiences. Salesforce offers varied kinds of clouds like marketing, sales, service, and many more to cater to the specific use-cases of industries. This includes nonprofit cloud for NPOs, health cloud for healthcare, and education cloud for the education industry. So, when it comes to transforming and nurturing relationships with students in the education sector, SMS Salesforce and the education cloud in combination can do wonders.
What is Education Cloud?
Education institutions need various software to manage their education workflows, which leads to increased operational costs. But education cloud provides you a cheaper alternative to manage your administrative and operational tasks without any need for multiple software systems.
Education cloud is a one-package system that gets you Student information system(SIS), Academics Management System, ERP, CRM, and LMS. Thus, you can easily simplify the educational process, deliver a personalized experience to students, and cut back on transformation costs. The best part is, users can access student's data from anywhere at any time.
SMS Salesforce with Education Cloud
One of the best benefits of using texts is massive reach in minutes without depending on internet connectivity. Also, text message delivery is not at all limited to any specific model of smartphone. You can send texts even on the most basic model of handsets. This makes it easier for educational institutions to maximize their reach by connecting with students even in those areas where internet connectivity is unavailable. This is one way to use SMS Salesforce for Higher Education.
Use Texts for Announcements, updates, and News
Announcements have always been a crucial activity in educational institutions to keep their students aware of news related to their educational institution. But many times, students miss these announcements and important updates when they are absent. This is where texts can be the best pick to convey such important announcements, news, and other updates. Educational institutions can rely on texts to showcase important information right in front of the student's eyes on their handheld devices.
Communicate Change in Class Schedules
Change in class schedules can cause a lot of inconvenience to students, especially for the students traveling from far distances to attend classes.
Also, it could waste a lot of time and effort of students. This is where texts can provide the easiest way to communicate about the change in class schedules, extra classes, canceled classes, change in class timings, and much more. This way, SMS Salesforce for University can help with easy communications.
Collect Students feedback
To find room for improvement in educational workflows, infrastructure, etc., it is always good to take feedback from students. So, you can send URLs in SMS redirecting to the feedback page where students can submit their feedback on various aspects of the educational institution.
Besides, you can also collect the student's opinions before conducting any seminar or event. This would help to gauge student's interest levels and anticipate student's participation.
Send Event Updates to Specific Segments of Students using SMS Salesforce & Education Cloud
Many times educational institutions conduct special events for specific courses, specific students with a high GPA, or any other. So, using the education cloud and advanced capabilities of the texting app, you can segment students based on specific requirements and create lists. Further, you can use those lists to send updates on special events and seminars meant for specific segments of students.
Send Payment Reminders and URLs for Quick Payments
Another way to use SMS Salesforce for Higher education is to send payment due date reminders. Recurring payment with every semester is a common scenario that occurs in an educational environment. Institutions can use SMS drip campaigns to send a payment reminder at a specified time like monthly, bi-annually, or annually. Further, to add more convenience to students, you can send payment URLs navigating to the payment page for quick and timely payment.
Send Alumni Meet Invites
No matter how long back a student has passed out your education institution, the Education cloud keeps every student's data and record intact. So, with the help of the education cloud, you can easily extract the data of alumni and send invites at scale using the SMS Salesforce for higher education.
Send Updates on Students Progress and Performance
With the help of the education cloud, you can easily keep track of every student and access required data from anywhere. So, using SMS Salesforce for University students, you can keep them posted about their class performance. Also, you can send updates about their progress when compared to previous class performance.
Circulate Study Material and Videos
Online classes have become a quite popular concept during the pandemic, and so the online study material. So professors and lecturers can also use SMS Salesforce for higher education to send study materials and interesting writeups on a particular topic. They can embed URLs redirecting to the desired landing page and assist their students by providing the relevant study material. More importantly, education professionals can also use MMS with SMS to send short videos on special topics. So, it is always to integrate a texting app with Salesforce that provides multiple channels.
For instance: 360 SMS provides six pre-integrated channels to serve audiences over their preferred channel.
Conclusion
The education professionals often get into varied kinds of conversations with students for various purposes. This includes enrollment, applications, queries, upcoming events, and much more. SMS Salesforce and education cloud together make it easier to manage the conversation. SMS enables education professionals to communicate faster at every turn and cut back on manual intervention while texting. Thus, professionals can automate texts for certain tasks like feed collection, student qualification, and much more on the one hand and get into another conversation session simultaneously. This would help to accelerate the educational workflows and improve the efficiency of education professionals.
teacher
I AM WORKING AS ANALYST IN 360SMSAPP FIRM.
360 SMS is a one-stop text messaging solution for Salesforce. The app empowers users to communicate effectively with customers and business partners.