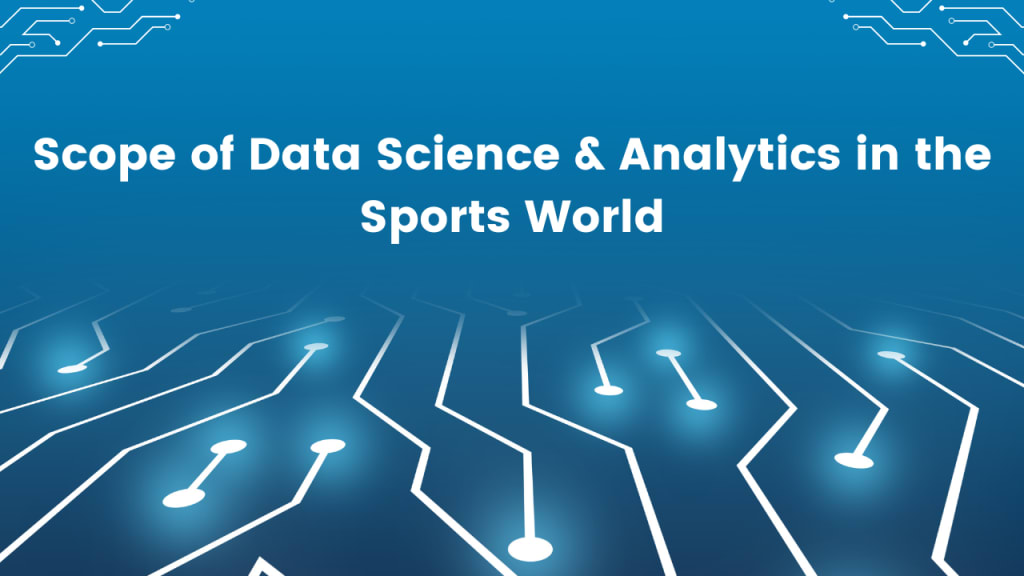 Hello world!
In this post, we'll talk about the positive impacts of sophisticated analysis and predictive modeling on the sports industry. We have seen firsthand how cutting-edge machine learning and artificial intelligence models surpassed traditional analyst techniques and how their analysis has changed the way many firms operate. It is surprising that, despite having access to such a wealth of data, sports analytics adoption has been a bit rocky and uneven.
Why is Sports analytics changing the world?
Generally speaking, sports analysis is done either for sports teams directly involved in the events or for organizations that offer sports betting.
Utilizing data from any sport or game may be summed up as sports analytics. Such include player statistics, the weather, the team's most recent wins and losses, etc. With the use of this data, we can build predictive machine learning models that will help the management make wise judgments. The basic goal of sports analysis is to raise team performance and the likelihood that the team will win the game. The worth of a victory is immeasurable and manifests in various ways, such as trickling down to the fans who fill the stadium seats, broadcast deals, products in fan shops, parking, concessions, and sponsorships, as well as enrollment, retention, and local pride.
A major sports league's partner in analytics: Real Madrid, one of the top football teams in the world, is utilizing Microsoft technology to improve its performance, fitness, and relationships with its 500 million global supporters.
Aon, Manchester United, and Manchester United Football Club rely on Aon as a long-term trusted advisor to discover creative solutions that enable them to stay ahead of the competition, much like thousands of businesses worldwide.
Sports Analytics Usecases
Predictive Analysis
Predictive analysis is the main use since it can provide information on how the squad should behave on game day. This trainee improves team performance and increases the likelihood that the team will succeed.
We can forecast which player will perform better at which position on match day using our machine learning models. Our model will be constructed using the player's statistics as a starting point, his performance against the other side, match circumstances like the game's location (home or away), etc. Thus, given the game's circumstances and the opposition we will be up against, we can forecast which players will fit into which position.
For further detail on predictive analytics and its techniques, refer to the top data analytics course in Bangalore.
Using advanced visualization to deliver insights
In today's data-driven world, data visualization is an essential tool, and the sports industry is no different. Management would need a lot of time to sift through all the data and understand the content when using raw data in tabular format, which prevents them from getting clear insights. In order for management to understand analytics given visually through graphs and plots or to discover new insights, the data must be presented graphically.
The interactive visualization is the next step after the graphical representation. You can advance the idea by using software like tableau, clickview, and r shiny apps to drill down into charts and graphs for more detail and insight at the zone level, interactively altering what depth of the data you see and how it's processed.
Understanding the network of fans
Every sports team has a dedicated following, and in order to interact with them more effectively, no matter where they are in the world, it is necessary. Thanks to our reactive dashboards, they may use the information acquired to track and evaluate fan behaviors and engage in one-on-one communication with fans. In this way, management is able to understand better what makes fans passionate about their club.
Using information gathered from social media platforms like Facebook, Twitter, and Instagram, we can examine the aspects that appeal to the team's ardent followers the most and use that information to execute promotional campaigns.
Into the world of Sports Gambling
Sports analytics have a significant impact on and off the field, and they have also helped fuel the expansion of the sports gambling market, which makes up around 13% of the worldwide gambling market. You would be hard-pressed to find a professional sporting event without anything riding on the results. Sports gambling is immensely popular among groups of all kinds, from passionate sports fans to recreational gamblers, and is estimated to be worth between $700 and $1,000 billion. The abundance of data and analytics available to gamblers when making judgments is one of the main draws of sports betting.
I hope I've provided some background on the field of sports analytics as we come to a close. If you're someone interested in data science and sports analytics, you can check out the data science course in Bangalore. The course training course provides hands-on practical projects with industry experts and personal mentorship along with job referrals.
Reader insights
Be the first to share your insights about this piece.
Add your insights