Saving Te Aka Village
Peter Anderson's Legacy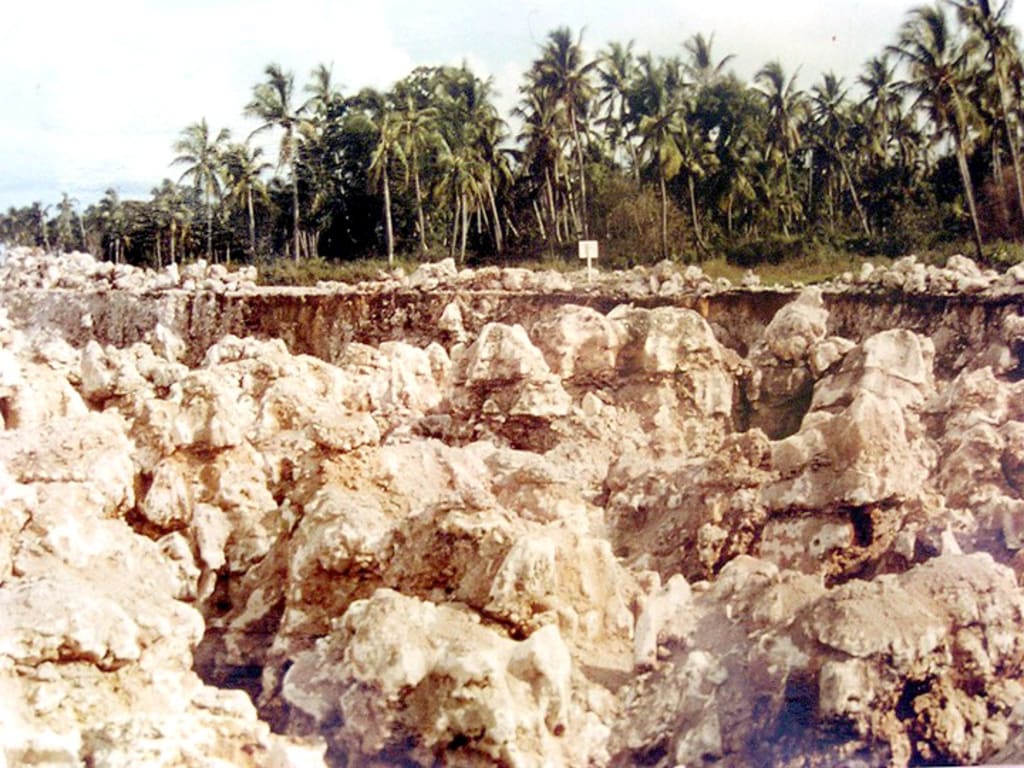 Mining closing in on the sacred Te Aka Village site, Banaba 1965. Photo: Dr R. Lampert 1965
Excerpt: Te Rii ni Banaba: backbone of Banaba, Chapter 31 Peter Anderson's Legacy, by Raobeia Ken Sigrah and Stacey M King (2). (2001 1st, ed. 2019 2nd ed.)
"Hundred of items were scattered over the ground of the old Te Aka site. Lampert was digging for artefacts when there was no need. Unfortunately, with the surface clearing of the land by bulldozers before the commencement of mining, thousands of Banaban artefacts would have been destroyed".
Questions finally answered
As the authors' work on "Te Rii ni Banaba: backbone of Banaba" drew to a close, even more questions began to emerge, especially about the later part of Banaban history and the deals struck between Banabans and British, Australians and New Zealanders over phosphate mining. Many of these questions have never been raised before, especially since most history books were written from an outsider's perspective. The complicated, unconscionable complicity of the British government over the mining of Banaba throughout the twentieth century has also been overlooked. One man's name kept coming up in the authors' records: Peter Anderson.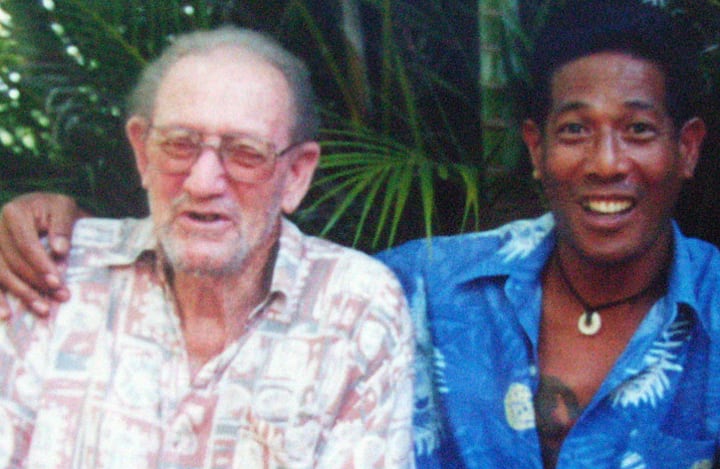 Who was Peter Anderson?
Peter was a civil engineer and surveyor with the British Phosphate Commission (BPC) (1) on Banaba for nearly twenty-five years. Peter was one of the few company people who had played a significant role in liaising with Banabans to record their land titles. He first arrived on the island in 1939 and was evacuated along with other European company staff in 1942. He went into active service with the Australian Forces and returned to Banaba in 1946, soon followed by his wife, Sue. Peter Anderson was the one European during the post-war period who knew virtually every square metre of the island. On his return, he was tasked to locate the bodies of six Europeans murdered by the Japanese during the war.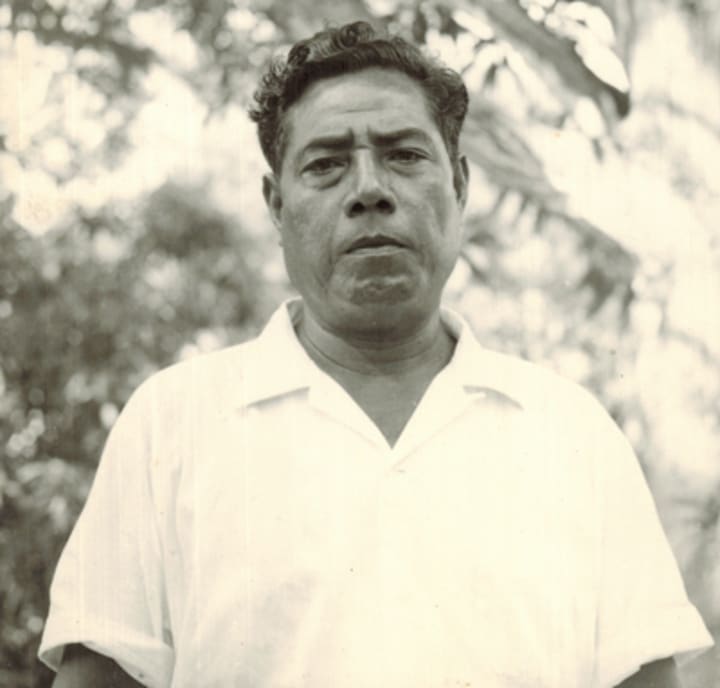 Kaiekieki, Banaban Representative Banaba
The other reason for meeting with Peter was his connection with the author's uncle, Kaiekieki Ueanimaraki (Sigrah), who had been a post-war Banaban Representative on Banaba and worked closely with Peter over the years. The Japanese had removed Kaiekieki and his family to Nauru during the war. They returned to Banaba when the Rabi Council appointed Kaiekieki as their Banaban Representative to keep an eye on Banaban interests and land holdings and to ensure that everything was done in line with the original agreements. Kaiekieki said that Peter knew everything there was to know about Banaban land matters, as well as about the BPC's role and its constant endeavours to take more land for mining. So, it was with much-excited anticipation that Peter Anderson and the authors finally met in Brisbane, Australia, in June 1998. The information he provided and the valuable Te Aka artefacts he has returned will be a lasting legacy to Banaba.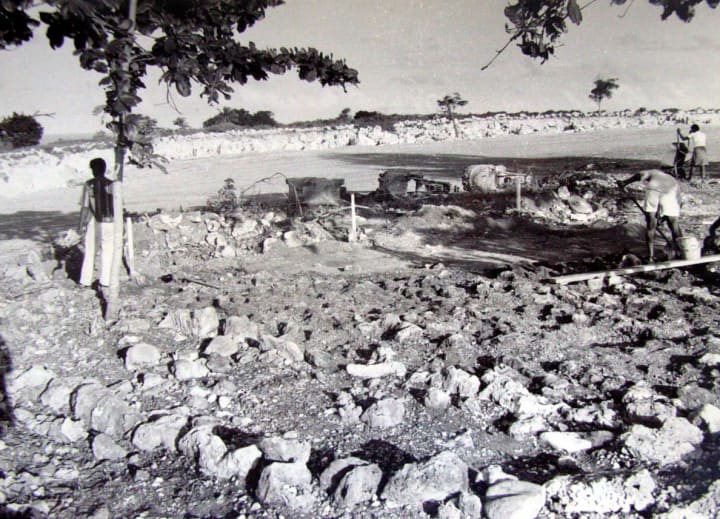 Te Aka Artefacts Discovered
Peter collected a wealth of artefacts from Banaba and other Pacific Islands over his many years spent in the region. He took Banaban artefacts mostly from the Te Aka site before any clearing of the area and before Dr Lampert's dig began. As Peter explained, he found all his artefacts scattered over the ground surface in the dense undergrowth. Once bulldozers began to clear that surface, hundreds of ancient tools and relics were destroyed.
Items in Peter Anderson's Te Aka collection are as follows:
Various types of fossilised shells
Two adzes with wooden hafts (that Kaiekieki made for Peter from the island's te itai tree
Various cooking implements using mainly for scraping coconuts
Te atau - frigate bird fouling weight with sennit string attached
Te ati nimate - coral pestle for pounding
Various shells used for cultural cermonies and other purposes
Other Banaban items were given to Peter as gifts:
Te iriba - Banaban fan 1941
Wooden drilling tool - post-war
Te ramwane - shoulder piece from Banaban dance costume 1941
Te waa - a model of Banaban outrigger 1947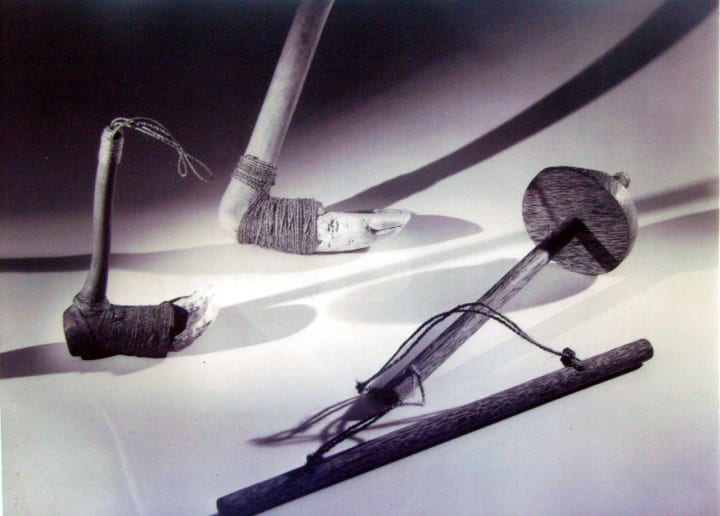 Raobeia Ken Sigrah Interview with Peter Anderson
The following is the transcript of the interview with Peter in June 1998. The authors hope it will provide more information on events since mining began on Banaba in 1900.
Q. When were Banaban villages formed, and did this coincide with the arrival of the Europeans and phosphate mining?
A. Yes, after Albert Ellis arrived in 1900, Telfer Campbell, the Resident Commissioner for the Gilbert and Ellice Island Colony at the time, made a government order to form the villages. The mining company did not have the legal power to do this.
Q. Why did Toakira district and Te Aonoanne district merge into Buakonikai village?
A. The mining company did not like the crooked layout of the Banaban hamlets, especially through the northern region, which was the first area to be mined. They straightened the road through Te Aka area and moved the maneaba to a new site further eastward that would become known as Buakonikai.
Q. Today, Banabans are said to be I-Kiribati and just another island within the Kiribati group, yet all Banabans believe they have a separate identity from the I-Kiribati race. Do you think we are different?
A. Yes. Before the War, when we lived amongst the Banabans, everyone knew and accepted that the Banabans were different ... compared to the Gilbertese and Ellice workers. This was never an issue during all my years on the island.
Q. Do you believe the Japanese were responsible for destroying Banaban villages during World War II?
A. I did not return to Banaba until 1946 as I was involved in active service, but I do not believe the Japanese did. If the Japanese destroyed any houses, it would have been for strategic purposes only.
Q. If the Japanese did not destroy the Banaban villages, who did?
A. This is a question you should ask the Australian Army Occupation Force.
Q. Do you believe that Banabans lost their land titles and holdings because of the BPC operations?
A. It is possible, but I cannot be sure.
Q. Can you tell us the approximate location of the land which you say was taken by the BPC that was not part of their mining agreement?
A. Mainly along the leased boundaries of the eastern mining area and in some cases, the central mining area.
Q. Where did you find the precious Banaban artefacts you are returning to our people?
A. Hundreds of them were scattered over the ground of the old Te Aka site. Lampert was digging for artefacts when there was no need. Unfortunately, with the surface clearing of the land by bulldozers before the commencement of mining, thousands of Banaban artefacts would have been destroyed. My Boy Scout troops helped me collect the artifacts I have in my collection.
Q. You have been given the description of Mrs Lorraine Thwaites Tabwewa village dig. Can you point out the actual site on our Tabwewa village map?
A. Yes, it was originally the Tabwewa maneaba building. Then after the war, with the return of the Banaban marking party, it was turned into their general store and later became the Scout Hall.
Q. We have heard many stories from former European staff about various 'haunted' places on the island. Do you know of any of these places?
A. Yes, certainly, my family and I have experienced it for ourselves. One place we know very well is along the road to Etani Banaba, where there is a huge raintree. A Chinese worker hung himself there, which always sent a chill through you when you had to drive through. Even our dog would cower in terror under the dashboard as we drove past.
Q. Was it you and Banaban representative Kaiekieki who initially rediscovered Te Aka village site?
A. Yes, I discovered an old foundation stone when I accidentally kicked it with my foot underneath heavy undergrowth. I then told Kaiekieki about it, and he told me the story about Te Aka and confirmed the site's location.
Q. Did you arrange to have mining stopped in this area and advise the Australian National University of the discovery of artefacts?
A. No, it was probably Mr Chapman (BPC manager) who was my immediate superior, as I had personally advised him of the discovery.
Q. In the UK court case, it was stated that the 'Phosphate and Trees Purchase Deeds' did not exist. Is this true?
A. Yes, they did exist - I have seen them.
Q. You were involved in locating the bodies of the murdered Europeans after World War II. Arthur Mercer's body was never found. What do you believe happened to him?
A. There were rumours that some Banaban friends unsuccessfully tried to help him escape by putting him to sea aboard one of their outrigger canoes. I believe he did escape. Before the War, Arthur, myself and a fellow BPC worker had discussed plans to make an escape from Banaba should the Japanese arrive. There was a large ocean-going outrigger that we planned to use it if we had to. Arthur was very experienced and skilled at sailing these outriggers. On my return to Banaba after the War, this large outrigger was missing, and the Banabans avoided discussing the canoe's disappearance.
Q. You mention that some Banabans returned to work as phosphate labourers on Banaba two years after the war in 1947. Where did they live?
A. A camp was set up for them with army tents behind Tabiang.
Q. Why were these Banabans unable to return to their old village sites and rebuild?
A. It would have been nothing to do with the BPC but a government matter.
Q. How do you think the company could get so much land in the old Toakira district for most of its plant and machinery?
A. That area was well and truly settled by the BPC before I began working on the island. I do not know how they obtained so much land in this area.
Q. What do you believe became of the sacred bangota and cairns from the Te Aka region?
A. This area was turned into the golf course between the Te Aka site and Bukinterike, where the new government headquarters were moved to and later destroyed by Japanese bombers in WWII. The golf course area was one of the last places to be mined before the BPC ceased operations in late November 1979.
____________________________
Get the Book!
Read more about the epic history of Banaba (Ocean Island) and the Banaban people (the Forgotten People of the Pacific) as they seek justice to save their island, their culture, their future. Te Rii ni Banaba- Backbone of Banaba, by Raobeia Ken Sigrah and Stacey King, available on Amazon here
____________________________
1. The British Phosphate Commissioners (BPC) was a board of Australian, British, and New Zealand representatives who managed extraction of phosphate from Christmas Island, Nauru, and Banaba Island (Ocean Island) from 1920 until 198.
2. The authors story behind "Te Rii ni Banaba: backbone of Banaba", Raobeia Ken Sigrah and Stacey M King: Banaban Vision Blog
About the Creator
Stacey King, a published Australian author and historian. Her writing focuses on her mission to build global awareness of the plight of the indigenous Banaban people and her achievements as a businesswoman, entrepreneur and philanthropist.
Reader insights
Be the first to share your insights about this piece.
Add your insights