Ramagya School: Facilitating Meaningful Global Collaboration in The Classroom
Best School in Noida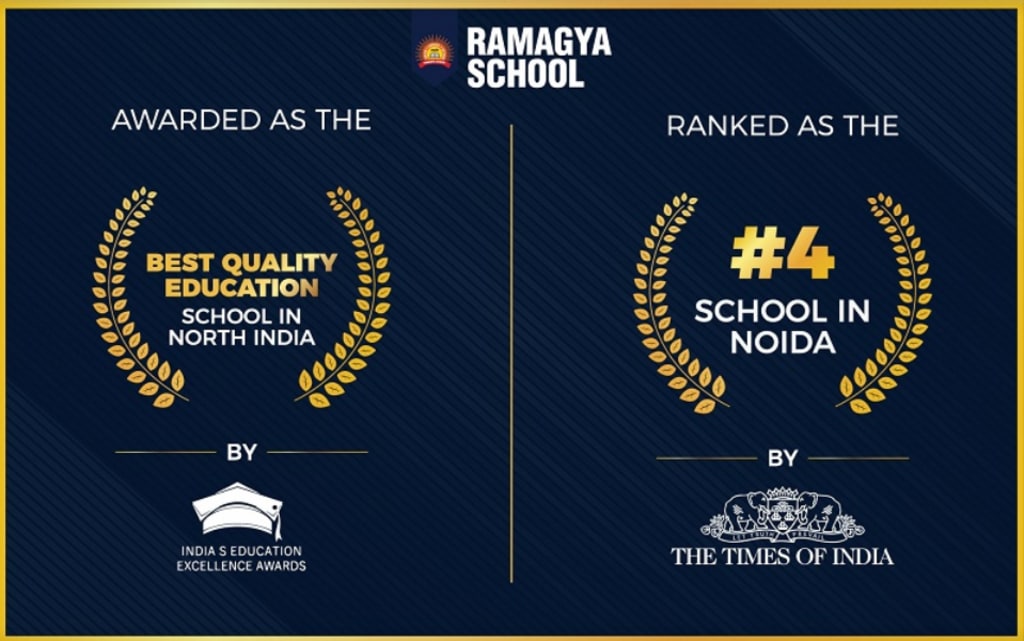 As the world becomes increasingly connected, so should our schools. It's a matter of bringing global collaboration experiences to the classroom and getting comfortable with handing over the reins of learning to students. Fostering new perspectives and viewpoints, students today have the potential to be connected as never before - beyond your team, department, school, and district. The whole point of global collaboration in education is to be able to bring your extended professional sphere to bear on student learning. At Ramagya School, internationalism stands to be a significant element and there are also several essential aspects of School life at Ramagya which express this mindset both ideologically and pragmatically.
Counted among the best school in Noida, Ramagya has joined hands with globally acclaimed and famed universities and organizations, who share the common goal of enhancing student learning. The collaborations have been made with a commitment to enriching educational experiences for the students. Ramagya School also creates umpteen opportunities for its students to reach their dream school by providing them access to the best exam preparation coaching in the world. In this regard, Ramagya School is pleased to announce that we have partnered with Princeton Review - World's leading test preparation Institute for SAT, ACT, AP, IELTS, TOEFL and other International competitive exams. As part of the management policies, teachers are also advised to attend international and national seminars and conferences regularly, which results in the broadening of their horizons. This contributes to academic excellence both at national as well as international platforms.
As one of top schools in Noida, Ramagyans have special access to Noida's top sports academy (Ramagya Sports Academy) that offers world-class training in 35+ sports in association with Indian sports legends like MS Dhoni, Yuvraj Singh, and Bhaichung Bhutia. It is a unique offering that sets Ramagya apart from other schools in Noida as the emphasis on sports education in everyday student life encourages children to become physically fit and healthy. The sports programme at Ramagya Sports Academy emphasizes boosting self-confidence and helping individuals in acquiring skills, discipline and focuses to transform adversity into opportunity and achieve their goals. They are committed to providing world-class training in sports backed by excellent infrastructure and expert coaches to judge and carve distinctive talent.
The introduction to 'Geeta Saar' as part of the 'Value Education class', has played a pivotal in the overall development of children. The teachings of Bhawad Geeta has helped Ramagyans to understand the importance of self-control and how to practice it. Also, the philosophies of Bhagavad Gita have helped them fight issues like anxiety and self-doubt in their daily life. With the inclusion of such programs, students witness a raised level of motivation and optimism and a greater sense of mental peace. Talking about the school's initiative for the mental and emotional wellbeing of students, the programs under Baal saathee are a well-organized approach to understanding the needs of children. Taking a holistic approach towards children's health, Baal Sathee ensures a thriving life with a perfect balance of Mind-Body-Soul. It focuses on a thorough physical assessment of the child followed by one-to-one consultations, group sessions, health camps, desk yoga, health checkups, and special talks on health management. Moreover, it empowers children mentally & emotionally via psychological behavioral assessment, detailed intervention plan, Individual & group therapeutic support, follow-up sessions, expressive art therapy, etc. A customized diet plan is also developed as per Individual needs with services like Monthly Diet Charts, BMI checkups, Health plans, EMR, Monthly Follow-up Sessions. For these reasons, Ramagya School is considered one of the best schools in Noida.
At the Ramagya School, it is not merely about success; it's about preparing a student for the world, instilling willingness for learning and a discipline that will stay with the student for life. Ranking on the top in Noida School rankings, it is one of the education trendsetters in India due to its contemporary teaching pedagogies which incorporate best practices of Maria Montessori, Howard Gardner's multiple intelligence, Montessori Learning Corridors, Reflective Corners, and Word Wall, along with the best sports academy, Ramagya Sports Academy in Noida, assures full growth and development of a child as world-class leaders. Hence, there is no doubt that Ramagya School, Noida is the best school in Noida.