Neet Seat Allotment: How medical seats are allotted in NEET?
This week we got so many queries on "how medical seats are allotted in Neet". So we decided to write a brief article solely on this topic. And if you are also the one that has this query or just got the interest to know after seeing the title then this article is a must read for you.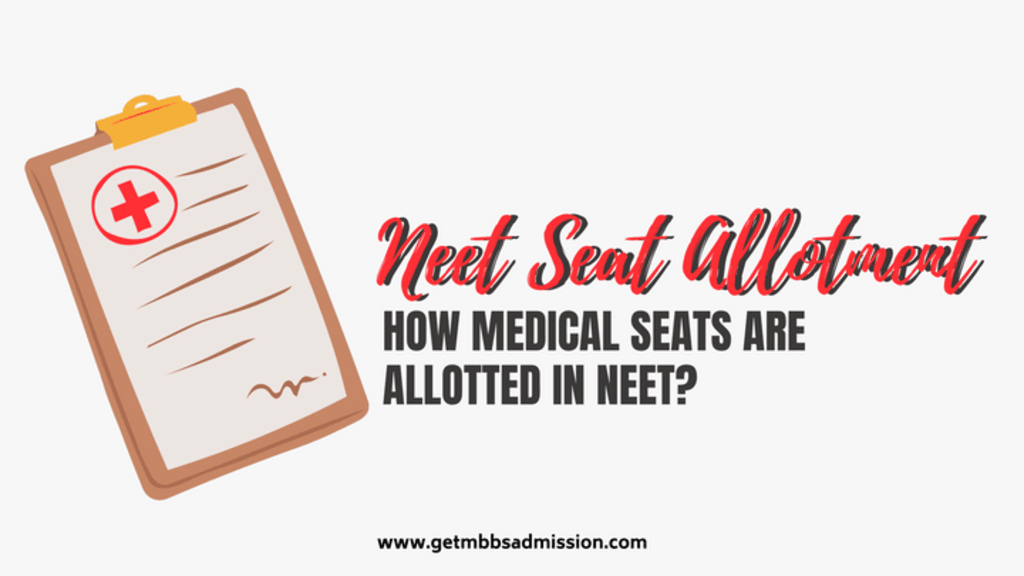 For all the candidates who appeared in Neet entrance exam, It is mandatory for them to qualify for allotment if they are eligible.
Note: Students who cleared the NEET as per NTA cutoff will be eligible.
Seat allotment is done by the counselling procedure, in which 15% seats come from All India Quota also known as AIQ seats.
Deemed universities, Central Universities, ESIC and AFMC institutes's 100% seats come under All India Quota seats.
Plus, all the Government medical college's 15% seats (out of total) are available for All India Quota seats allotment.
Counselling procedures for AIQ seats are done by the Directorate General of Health Sciences (DGHS) on behalf of the Medical Counselling Committee.
On the other side left 85% seats comes under State Quota seats and after 15% seats allotment for AIQ remaining 85% seats of all government medical colleges reserved for this quota.
The counselling and allotment procedure for State quota seats are done by their respectives states only.
Let me put Neet Seat allotment in more simple words,
There are 2 types of seats allotted for all medical colleges and universities in India.
1. All India Quota (contain 15% seats)- Deemed universities, central universities, ESIC and AFMC institutes's 100% seats + 15% of all Government medical colleges are available for All India Quota seats allotment.
Neet Counselling for AIQ seats- Directorate General of Health Sciences (DGHS) conducts the counselling procedure on behalf of the Medical Counselling Committee.
2. State Quota (contain 85% seats)- Remaining 85% seats in all government medical colleges in India comes under State Quota.
Neet Counselling for State Quota seats- Counselling for these seats done by States themselves.
NEET 2020 seat allotment process
Students who want to participate in NEET counselling need to follow these steps of process.
New Candidates registration
NEET candidates who are qualified for counselling need to go to the MCC official website (https://mcc.nic.in/UGCounselling/) in order to register themselves.
Here's the steps
Go to official site- https://mcc.nic.in
Click on UG medical counselling
Click on "New Registration" on left side menu
You need to enter the following details in the New Registration Form
NEET UG Application Number
NEET UG Roll Number
Name of the Candidate
Date of Birth
And then create a password combination of letters, numbers and symbols.
Then submit, after that you will get OTP on your mobile number for verification.
That's all, your registration process is completed .
Time to go on next step
Login and Fill choices for NEET Counselling
Now login to your newly registered account using the userid (which is your roll no.) and same password that you used for registration.
Once you logged in, click on "Choice Available" option
The system will automatically show you all the available choices for you.
Check the list of colleges and click on "Choice Filling", then on + symbol to select the colleges.
After this step done, the allotment depend on basis of,
The score you got on Neet results
Choice filled
Reservation criteria
Seats availability
And others
Further Neet allotment process is mentioned below,
If the candidate is eligible he/she will be allotted a seat in the first round, they have two options either they can accept the allotted seat or refuse.
Candidates who accepted the allotted seat have to download neet allotment from MCC site by entering their login credentials.
After the allotment, the admission process begins and ends in 2 to 4 days so candidates need to contact the college and submit their documents along with the downloaded neet allotment form.
After is admission in allotted college, student details sent to the DGHS by college and admission letter granted.
If the seat is not allotted in the first round for the student, then they have the option to take round 2 to choose free exit. There is no amount will be deducted as a free exit option.
For the round 2 students have to refill their choices with the remaining options of colleges.
After round 2 who did not get allotment will be automatically eligible for Mock up round.
Read this post to know more about- Mop Up Round in NEET Counselling & Eligibility for Mop Up Round
What's new in NEET 2020 seat allotment?
There are many new things added and changed for this year of Neet seats allotment.
Let me explain them one by one.
From this year MCC also conducted neet counselling 15 AIIMS for 1205 seats and 2 JIPMER institutes for 200 seats.
As the number of colleges are increased, so this year 235 college are participating for seats allotment procedure under AIQ (All India Quota)
As the number of colleges are increased so the seat numbers are increased.
Some colleges- Vardhman Mahavir Medical College and Safdarjung Hospital (VMMC and SJH), ESIC and Delhi colleges will be marked as central colleges so their 15% seats are reserved for AIQ and 85% for state.