My Favourite Books of the decade (2010-2019)
A list of my favourite books of the past decade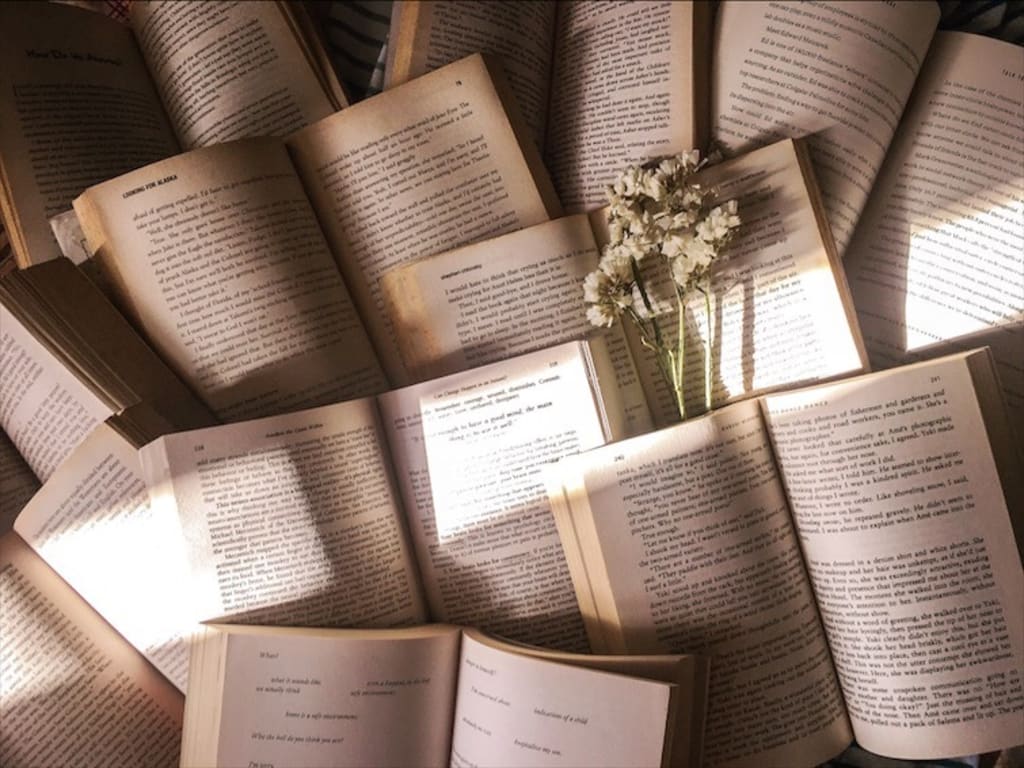 Those that know me, know that I love to read. It's one of my favourite hobbies and it's what's inspired my love of storytelling, journaling and creative writing. I have over 300 (maybe even more) in books in just my bedroom alone and I never appear to have enough. Although, one could argue that it's never possible for one to have enough books. Without further ado, here is a list of books that have been published this past decade that have left a footprint on my heart or have challenged my way of thinking. Sometimes both .
In alphabetical order:
1. All the Light We Cannot See by Anthony Doerr
This book is a feast for the senses, filled with the most stunning prose and haunting imagery. All The Light We Cannot See explores the story of a blind French girl and a German boy whose paths collide in occupied France as both try to survive the devastation of World War I. Doerr's writing enables you to feel an intimate connection with both characters, making you feel like you're a part of their narrative. It is a deeply moving novel that teaches us about humanity and our long for connection.
2. Boy Swallows Universe by Trent Dalton
A gritty coming of age story set in 1980's working-class Brisbane, Boy Swallows Universe not only has relatable, three-dimensional characters but is a story about the connection of brotherhood, family, class, camaraderie, and most importantly, hope. The book explores our constant need to find answers about who are we, why things are the way they are, what will happen in our future etc. For me, the books response to these surrealist questions is that there are no answers; that everything and everyone has the capacity to change and although we might not know when that will happen or how it will happen, we need to embrace that just because all feels lost now or our family seems disjointed, doesn't mean that it will be like that in the future. No matter what happens, we always have hope.
3. Fleabag by Phoebe Waller-Bridge
If you've seen the tv show by the same name on Amazon Prime and have as much love for it as I do, then you should definitely read the play which it was developed off of. The script is raunchy, hilarious and heartbreaking, all at the same time. The story finds its way to resonate with you – whether its through laughter, sorrow or through both. It's honestly one of my favourite contemporary plays and I can guarantee that just like me, you will devour the script in one setting.
4. Girl, Woman, Other by Bernadine Evaristo
This novel follows twelve characters black, British women whose stories are interconnected. It features a diverse spectrum of black women's voices and explores issues relating to race, gender, love, acceptance etc and quite literally surviving in a white dominant culture. Each character is a woman and each character is a fighter. So, why wouldn't you read it?
5. I Am Malala by Malala Yousafzai, co-written by Christina Lamb.
This book reminded me of how much we (humans) take for granted; education, freedom of speech, of being able to walk anywhere without a male escort. It reminded me of how in so many countries, females still don't have rights; that females are voiceless. Malala is a young woman who has/had the courage to stand up to her oppressors and for her rights, even though it resulted in her being shot by the Taliban at age fifteen. It is a story should be read by everyone; young and old, male and female and it shows how important it is to have courage and the power of courage and fighting for not only your rights but your passions .
6. Less by Andrew Sean Greer
I'm not a big one for satirical comedy novels but this one is so witty. The story follows the life of gay writer Arthur Less while he voyages around the globe on a literary tour as his fiftieth birthday approaches and his reflections on his past romantic loves and relationships. Greer creates such a grounded, likeable hopeless romantic whose insecurities but love, life and the future resound with the reader. We follow Less's journey of self-discovery, laugh, cringe, cry and blush beside him. It's such a lovely, heartwarming story and it will give you so many warm and fuzzy feelings.
7. Sing Fox To Me by Sarah Kanake
I started and finished this book during a ninety-minute flight. The story follows a father who takes his twin sons, Samson and Jonah, to stay with their grandfather, Clancy, on a mountain in Tasmania. However, their grandfather is obsessed with uncovovering what happened to his daughter, River, who disappeared into the surrounding bush some years ago, and the boys soon find themselves entranced by the new, wild environment they've entered into a little too much... Kanake's switching between the three main characters points of view allows us (the reader) to be completely immersed in the dark story, as well as the relationships and minds of each central character. She gives us the choice to sympathise or empathise, to trust or to distrust each character and I specifically loved the representation of Down Syndrome in this novel through the lens of Samson, who was often referenced to feel isolated and made heavy by his 'extra chromosome'. At it's heart, it's a story about navigating and accepting grief, as well as accepting each other for who we are. I feel very very lucky to have had Sarah Kanake as one of my creative writing university tutors and I can't wait to see what she writes next.
8. The Hate U Give by Angie Thomas
This book made me feel a kaleidoscope of emotions. Inspired by the Black Lives Matter Movement, the novel rips unapologetically into a subject that we, as a society, have shied away from too long, which is the shootings of unarmed black people by police offers alongside racial discrimination in the federal justice system. It opened my eyes to facets of while privilege that I never thought about through the lens of Starr, a scared young adolescent whose best friend is shot in front of her by a police officer, for being of colour. This book broke me and it broke my heart, but it also opened my eyes and made me see how ugly our world is and that its our job to change that.
9. The Tattooist of Auschwitz by Heather Morris
The Tattooist of Auschwitz explores the story of how Slovakian Jew Lali Sokolov fell in love with a girl he was tattooing at the concentration camp. Although I'd argue that it's more fiction than true story, Morris writes it in a way that you feel each characters pain, heartache, fear and agony.
10. The Testaments by Margaret Atwood
Margaret Atwood is one of my favourite authors (and humans) of all time, so it's no surprise that her name appears on this list. I love The Handmaid's Tale and have read it multiple times (as well as binged the series multiple times) and always love it more and more each time. Although some may disagree with me, I firmly hold the belief that The Testaments lives up to its predecessor, by alternating between three narrators whose stories unexpectedly intersect. The novel is still just as claustrophobically precise and shatteringly relatable and perceptive and transports us back to the dark, cold heart of Gilead, answering many questions that arose from its previous novel in the process. If you're at all like me, then you will not be able to put this book down and will carry it everywhere with you until you finish reading it.
11. The Yellow House by Emily O'Grady
I love crime novels, especially Australian ones and I truly do believe that this the greatest Australian crime novel of our decade. The Yellow House is a crime story about a family that live on a property bordering an abandoned cattle farm and knackery in Queensland. The story is told from the perspective of a ten-year-old child, who's naivety and ignorance of her family's history and thus, as the reader, it's your job to de-construct her perceptions to truly understand the complexities of the characters around her. The narration is authentic, the characters are fantastically written and the story is so spine-tingling that you can't help but keep thinking about the answered (and unanswered) questions once you've put the book down.
12. When Breath Becomes Air by Dr. Paul Kalanithi
This novel is a memoir written by an idealist, neurosurgeon about his experiences and reflections when having STAGE IV lung cancer. It offers a new commentary on mortality and
'how the real question we face is not how long, but rather, how we live – the answer does not appear is any medical textbook'.
Kalanthi's passages on life versus death, human-kinds never-ending search for meaning, suffering and heartache are very poetic and create very visceral images in your head .
13. Wonder by R.J Palacio
Although its classified and marketed as a children's novel, I think everyone should read this book in their lifetime. It tells the story of August, a boy with a genetic craniofacial deformity who, after being homeschooled for all of his life, is enrolled at school by his parents just in time to start fifth grade. The novel is told by numerous characters perspectives including August's older sister Via, two of August's school friends, Via's boyfriend and Via's ex best friend. I personally love that Via's relationship with August and her experiences being the older sister of someone with a physical disability is explored just as much as August's, as I feel that quite often the perspectives of siblings are lost when their stories are just as important. Through Wonder, author R.J. Palacio encourages reminds us to choose kindness, to do the right thing even if your classmates think that that's not cool and to love unconditionally.