Ms. Angel Monét Presents Live Virtual Children's Edutainment
Women In Music Spotlight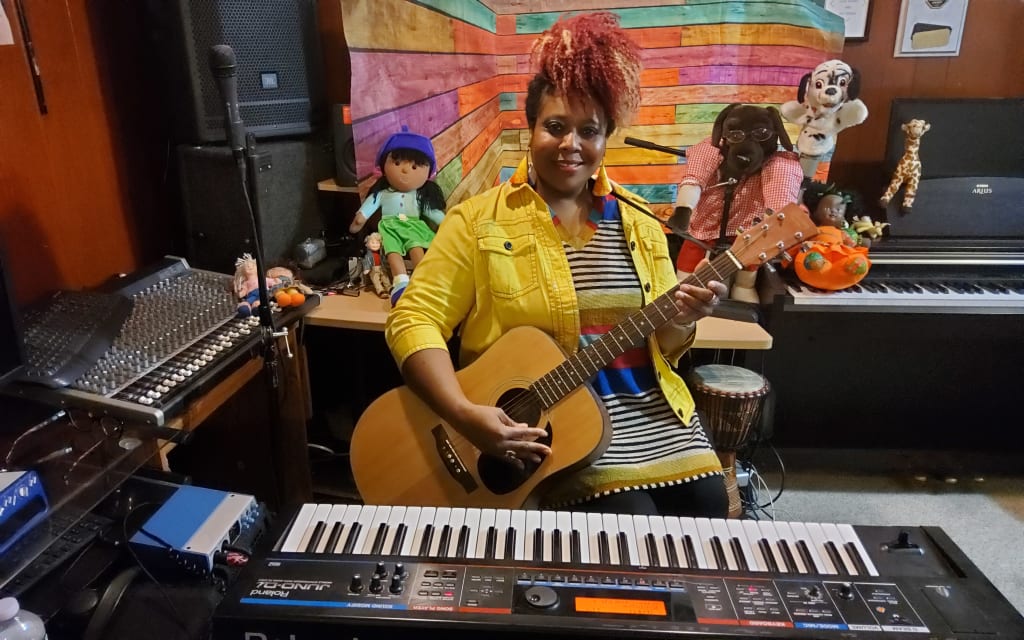 The President of Inét Productions Inc, Ms. Angel Monét is set to present the upcoming Live Virtual Children's Edutainment experience on Wednesday, February 22nd, and Thursday, February 23rd as a Bold, Brave, and Beautiful Black History Month celebration to teach preschoolers through age 8 about Black History Influencers. The virtual event will include soulful rhythms, puppets, singing, and more.
For over a decade, 4x award-winning Female Music Producer of New England's Urban Award Monét A. Ledbetter-Glaude better known as ("Angel Monét"), has created a revolution in the world of Children's music through her original songs filled with uplifting themes and Gospel, Pop, Funk, Hip Hop and Caribbean rhythms.
Ms. Angel Monét runs a music production company that specializes in the development of instrumental, vocal, and performance skills.
Her original program, "Peppy People's Music" provides a multicultural music curriculum with resources that teach children the fundamentals of music and addresses the needs of music in early childhood education.
We share your excitement about the upcoming Ms. Angel Monét Show Black History Month Special! What is it all about?
Angel Monét: The special is a show that is going to have singing, a little movement, and a Black History video presentation about Harriet Tubman, and Maya Angelou. There will be puppets singing and dialoguing back and forth which will be a really good time for the kids. This live virtual experience is to let kids know that they are beautiful, special, and they're important.
We're gearing this event toward schools and homeschoolers. I will be interacting with the kids. I will be able to see the classroom kids on the screen. I will also be singing to them and getting them to dance and shine for a bit.
How was music Edutainment for you growing up compared to the way you teach music now?
Angel Monét: When I was growing up, I was surrounded by a lot of music. My family had the records and then it moved to cassettes. I heard music all the time. Great music from the 60s, 70s, and 80s. The content was a lot different. There were love songs that really meant something. It wasn't vulgar or sexual. It was just clean music that I grew up on.
Today, you have to kind of explain things about the songs you listen to, or most of the music has the parent advisory on it to warn parents that it's probably not appropriate.
Tell me about Inét Productions, Inc and what inspired you to make it come to fruition.
Angel Monét: I've always wanted to make my life music as far as making my money and career-wise so I decided to major in music. I'm a graduate of Berklee College of Music. After paying all of that money at school, I didn't want to do anything other than music. I didn't want to teach full-time either, so I created my own company and that's where Inét Productions came into play.
I wanted to have a music production company teaching everyone, but especially youth, piano, and voice lessons. I also created a lot of children's music and created a children's music program.
What impact do you want to make in the music world?
Angel Monét: I want to spread love, inspiration, and motivation. I want them to know that they mean something because mental health wellness is the key in my book and I want to make a difference through my art which is music.
Do you experience children's emotions changing when they listen to music?
Angel Monét: Yes! I have a few lullabies for the Preschool and Kindergarten programs that I do. One song is called "Sweet Child" and I have another song that I wrote called "Sleep, Sleep". Those songs are slow and soothing.
One day, the kids were really energetic and were not really listening to their teacher. I came in as a music instructor and put on "Sweet Child" and they got so calm and started doing the movements to the song. It worked like magic. I had another experience just like this after I sang "Sleep, Sleep".
What has been the parent's feedback on the impact you're making in their kids' lives?
Angel Monét: I have several testimonials from parents, but this one parent that sticks out is always sending me notes and thanking me for planting the seed in her daughter's life and how I help molded her daughter from being in musicals. A grandparent once told me about how she appreciates all the lessons I taught her grandchild. That makes me feel so good and that I did something right.
What else are you working on?
Angel Monét: I have an internet radio station called HOI Network which stands for House of Inspiration. People can check it out on HOINetwork.Com or download the app. We're 24/7 and we play a lot of house, hip-hop, gospel, and jass music along which many other different genres. Everything is positive and the kids can enjoy and listen to it.
I'm also working on a virtual children's show which will honor children entrepreneurs and leaders in April. Everything is about the children and I am so very excited about that.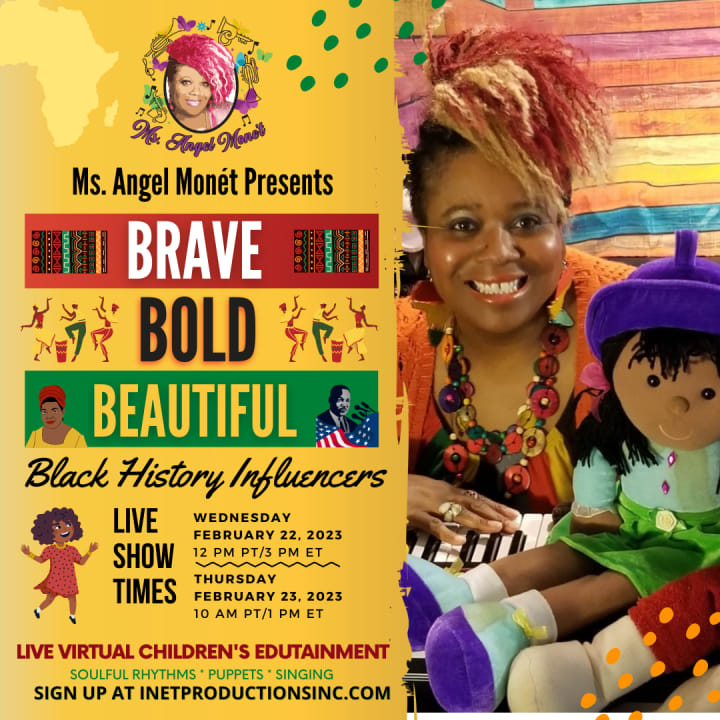 Angel Monét invites you to teach your kids all about key figures in Black History, and have them smiling ear to ear with the "Ms. Angel Monét Show: Brave, Bold, Beautiful Black History Influencers" LIVE Virtual Special this February 22 and 23! Register now for your homeschoolers, daycare, or school classroom at InetProductionsInc.com
Showtimes Offered:
Feb. 22 at 12 p.m. PT / 2 CT/ 3 p.m. ET
Feb. 23 at 10 a.m. PT / 12 CT / 1 p.m. ET
Keep up to date with all things Angel Monét and Inét Productions, Inc by visiting www.inetproductionsinc.com and by following @msangelmonet
About the Creator
Filmmaker/Actress/Writer/Journalist/Publicist
Award Winning Multimedia Creator
IG @TammyReeseMedia
Reader insights
Be the first to share your insights about this piece.
Add your insights