Manage The Flight with Aviation Management Studies
Opportunities after pursuing Aviation Management Studies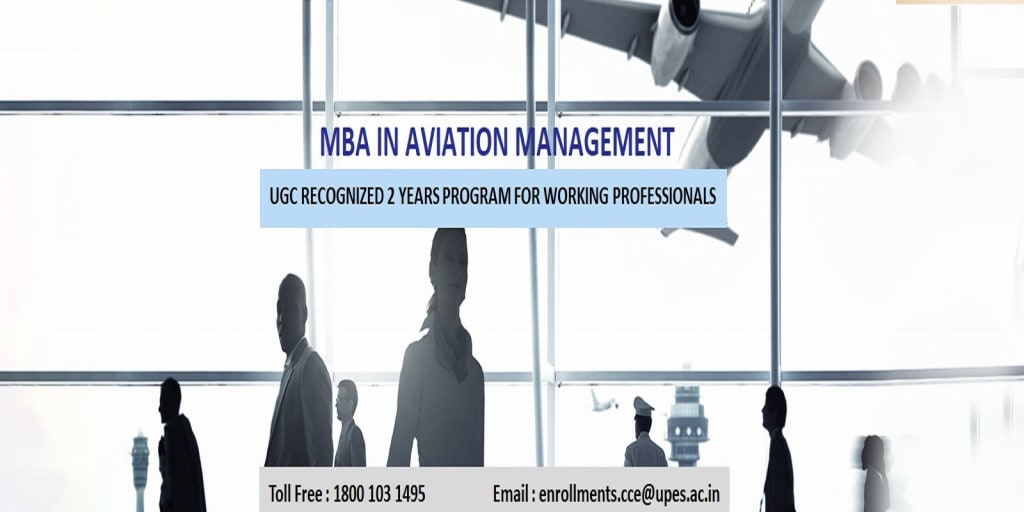 The very nature of the world today is organized with multiple purposes. All this comes to one platform only with the art of Management. There are fields like Aviation, Energy and Health and Safety calls for management systems which can handle multiple processes in one platform. An MBA program provides hands-on experience to its students through live projects, internships, and industry leader interactions. The idea is to bridge the gap between the theoretical conceptualization and the practical application.
The Aviation Management program is a comprehensive course which is a blend of technical skills and managerial skills. Very often, students wonder as to what is the usage of Management in the aviation industry? But it is imperative to understand that there are multiple tasks in the aviation industry. It includes transportation, logistics, planning and process management. All this has to be done in a certain way with a certain understanding. Management studies accomplish this.
So many students wonder as to how to pursue management studies? There are multiple courses. Those who wish to pursue a 2-year masters can go for an Aviation Management MBA course. There are short terms courses as well, such as Diploma in Aviation. These programs are available in both regular as well as in distance-learning mode.
Now the burning question which emerges is that who is eligible to pursue this course?
Usually, the eligibility criteria vary from university to university. However, there are certain standard guidelines. This is meant for:-
a. professionals working in the Aviation sector,
b. It is a good opportunity for engineers, managers and technical experts who want to upscale their roles.
c. Those who wish to change their job roles and enter the Aviation sector.
d. It is a great opportunity for freshers who wish to pursue a career in the aviation sector.
e. Candidates must secure a minimum of 50% marks. For different colleges, the criteria are different.
Opportunities after pursuing Aviation Management Studies
1. Graduates get opportunities in managerial roles.
2. This program helps the students to graduate from mid-level to senior management roles.
3. They get an opportunity to work under multiple domains such as networking, planning, and process management.
Important Subjects that you would study in Aviation Management Course:-
1. Economic and Management Decisions
2. Finance Management,
3. HR Management,
4. Customer Relationship Management,
5. Airport Planning Management,
6. Aviation,
7. Regulatory Management,
8. Fundamental of Airlines, etcetera.
All these topics are systematically designed to level up the students step by step in this domain. On graduating from this course, candidates will receive a salary of Rs 8 LPA to Rs 9 LPA. The students usually observe an increment as they grow in their experience. Now one of the most crucial aspects of it is that who should pursue this program? One may wonder eligible candidates can do so. But there is something more to it. Only those who feel the drive to pursue an MBA must go for it. It must be noted that this is a highly intensive course. It requires intense commitments and discipline. Without keep interstate in aviation and processes related to it, students may feel mundane and mechanical towards it.
This course is suitable for professionals and fresh & final year graduates who wish to build an entry-level managerial career in this industry.
Again, this course can be pursued without leaving your job. Some of the important topics that are taught in during Diploma in Aviation Management are- Fundamental of Airlines Operation; Airport Planning & Management; Aviation Forecasting Techniques; Aviation Law & Insurance and Aviation Safety & Security Management.
So it invariably is a great opportunity for the aspirants. The future needs more and more people who can create value in this domain.