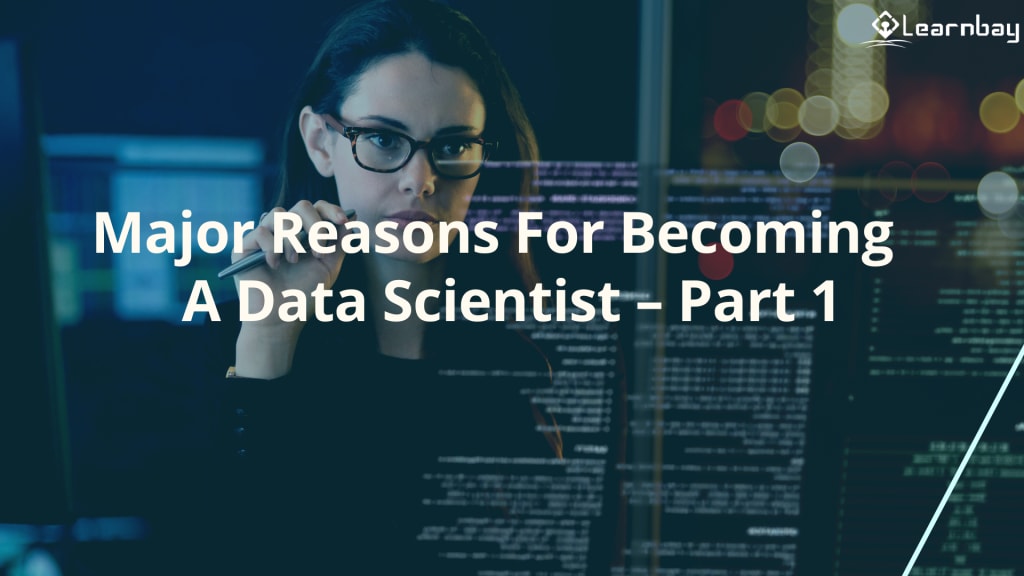 Interested in a career in data science? Data science is a lucrative, in-demand, and steadily expanding field, you'll find that all leading resources and authorities share this prediction. In fact, data scientists have been named the "number one job in America" and around the world. For four out of the last five years, they are still in third place today, according to Glassdoor. Data science is referred to as "the sexiest job of the 21st Century" by Harvard Business Review. Supermodels and rock stars, get out of here.
What about data science makes it such a hot field to enter? Let's concentrate on the top five that the study has shown to be motivating as an introduction to a lengthy list of reasons:
But First, Who is a data scientist?
It's worth spending some time on the specifics of this career path before we respond to the topic of why you should become a data scientist.
Data scientists are required to possess experience across a variety of fields simultaneously. They are a combination of mathematicians, computer scientists, and business strategists. Data scientists must continually have one foot in the information technology industry and another firmly planted in the business world because of their complicated skill set. That's one of the reasons why data scientists are one of the best job choices you can choose, given their high demand.
A good data scientist must have both the statistical understanding and computer abilities required for solving complicated problems because data science is largely focused on deep knowledge discovery through data exploration and inference. This field focuses on employing mathematical and algorithmic tools to address some of the most analytically challenging business issues, using vast amounts of unprocessed data to uncover the hidden knowledge that lies under the surface. To become a skilled data scientist, join the best data science course, by Learnbay and earn certification from IBM.
The heart of the data science discipline is focused on accurate and frequently detail-oriented analysis, developing strong decision-making talents, and is occasionally a solitary and silent one. Data scientists are expected to communicate their findings and analysis to their superiors, coworkers on different teams, and company stakeholders who may or may not be able to understand complex statistical jargon. As a result, data scientists must also have exceptional verbal, written, and visual communication skills. Data scientists must communicate what they have learned, how they know they have learned it, and what should be done with the knowledge now that it is thoroughly and understandable. Often not an easy task.
A data scientist may be extracting data from a database, getting the data ready for different analyses, developing and testing a statistical model, or producing reports with understandable data visualizations on any given day. While data science projects and activities may vary based on the organization, some fundamental job responsibilities are typically shared by all data science positions, such as:
Collecting enormous amounts of data and transforming it into a format that is easy to analyze.
Overcoming issues in the corporate world using tools and tactics powered by data.
Using a range of programs and programming languages for data collection and analysis
Possessing a lot of expertise in analytical methods and tools.
Delivering results and guiding through impactful data visualizations and thorough reports
Recognizing patterns and trends in data and offering a plan to implement improvements.
Predictive analytics; foreseeing upcoming needs, occasions, performances, trends, etc.
Contributing to data analysis, reporting, and modeling methodologies used in data mining.
Creating innovative algorithms to address issues and create analytical tools.
Recommending reasonable adjustments to current practices and tactics.
You can explore Learnbay's data science course online if you're interested in learning more about what a career in data science includes. We advise analyzing these top 5 reasons to enter the profession if you're still considering pursuing a career or school in data science.
Reason #1 – Make a Significant Impact on Your Business and the Environment
The impact you can have as a leader in the field, both within your firm and in the rest of the world, can be one of the most compelling (at least globally) reasons to pursue a career in data science.
You can try to automate laborious operations within your firm, saving the business time and perhaps thousands or even millions of dollars they could otherwise allocate to other projects. We'll go through how businesses in contemporary industries are well aware of the immense value that their data scientists offer and how heavily they rely on them. Data scientists are thus well positioned to serve as enterprises' go-to strategists, whether they work for a tiny start-up or a global powerhouse like Amazon, Apple, or Uber. All of them are constantly looking for qualified data scientists.
Although many data scientists work in the financial business or for large IT companies, there are many other industries where you can apply your expertise. Understanding human nature is where data scientists spend most of their time, looking at what makes people tick and why they don't. There isn't a single area out there that doesn't have a pressing need for someone with that kind of skill set, even those that are exciting to work in, like professional sports, the beauty, and cosmetics industry, or the entertainment industry.
The potential for using data science to change the world is even greater. Uninformed individuals could believe that the position comprises being a glorified number cruncher. Although there will undoubtedly be some of that in a typical day, there is considerably more potential value for data science outputs than is generally believed. How you make a difference in the world as a data scientist mostly depends on your passion and the areas where you want to leave your mark.
Dedicated to halting the disastrous effects of climate change? As a data scientist, you might develop more precise weather forecasting and climate models, save lives, or work on cutting-edge public transportation initiatives that reduce CO2 emissions. Do you want to battle hunger? To assist farmers in producing more food, you might examine farming methods and crop yields. Small family farms may be able to save money and maintain a profitable operation. Data scientists contribute to the development of new pharmaceuticals and medical technology, the prevention of blindness, the treatment of cancer, and the empowerment of the underdeveloped globe.
Reason #2 – Increasing Demand
For much of the last decade, data science has been one of the most in-demand professions. In 2022, this trend shows no signs of slowing down at all. In fact, the U.S. Bureau of Labor Statistics predicts that through 2026, employment in the field of data science will increase by 27.9%. In 2018, LinkedIn estimated a shortage of nearly 151,000 data scientists nationwide, with the New York City, San Francisco, and Los Angeles metro areas suffering the most.
So what is it about data science that makes it such a sought-after career? Consider the most powerful and influential businesses on the planet. You probably immediately thought of well-known companies in the sector like Amazon, Google, Apple, or Facebook, whose success is fundamentally dependent on making decisions using data.
Amazon recommends products to customers based on their past purchases and browsing habits using data analytics to power sales and marketing algorithms. Google Search uses data to evaluate web pages' rankings and SEO value, determining both the user experience of online assets and content accessibility. Apple bases its product decisions on how and when you, the customer, use your iPhones, iPads, Macbooks, and other gadgets. Facebook uses data to display highly relevant advertisements to you and facilitate interactions between users and communities. All of these and other decisions are influenced by the data we collect, and data scientists are in charge of influencing those decisions.
Today, a firm almost cannot exist without implementing a data-driven strategy and developing it based on popular applications. The demand for data scientists is still outpacing the supply, thus there is a need and a tremendous opportunity in the sectors related to data science. However, the supply of data scientists continues to be rather low. It's still a rather fresh and developing field even in 2021. Data science can't always say the same, but other 21st-century professions like web design and programming have already begun to make their way onto the curricula of traditional educational systems. The value of data science and its ubiquity in global enterprises, daily community operations, and "corporate America" are vastly different from the existence or comprehension of data science in basic school education. This is beginning to shift, particularly in undergraduate and graduate degree programmes, but it hasn't yet reached a tipping point. The demand for data scientists still appears to outpace the supply of seasoned data scientists in the market.
All of this might make the idea of becoming a data scientist seem a little intimidating, but on the contrary, students or potential employees who choose to pursue this undeniably advantageous field are securing their status as sought-after contributors and "experts" in a top modern workforce that shows no signs of attrition. Successes in data science are remarkably accessible, regardless of whether you are new to data or committed to putting in the effort necessary to put yourself in the lead in a leading business. A way to start is with a bachelor's degree (or even better, a master's degree or PhD) in a subject like math, statistics, computer science, or engineering, along with expertise in SQL and machine learning. As a data analyst, you might need to start out in an entry-level position, but with a skill set as in-demand as data science, you'll have the opportunity to advance, and after you've proven you can do the job, you'll have your pick of top employers and jobs in the field.
Hope you liked this article on key reasons why to become a data scientist. You can continue reading the 2nd part in the next article. To head start your career in data science, you can check out the online data science course, co-powered by IBM. It's a complete boot camp for working professionals wanting to upgrade their skills.
Reader insights
Be the first to share your insights about this piece.
Add your insights