Learn About The Benefits Of Choosing A Career In Commerce
The commerce sector and its development are considered a boon to society, countries and even to the world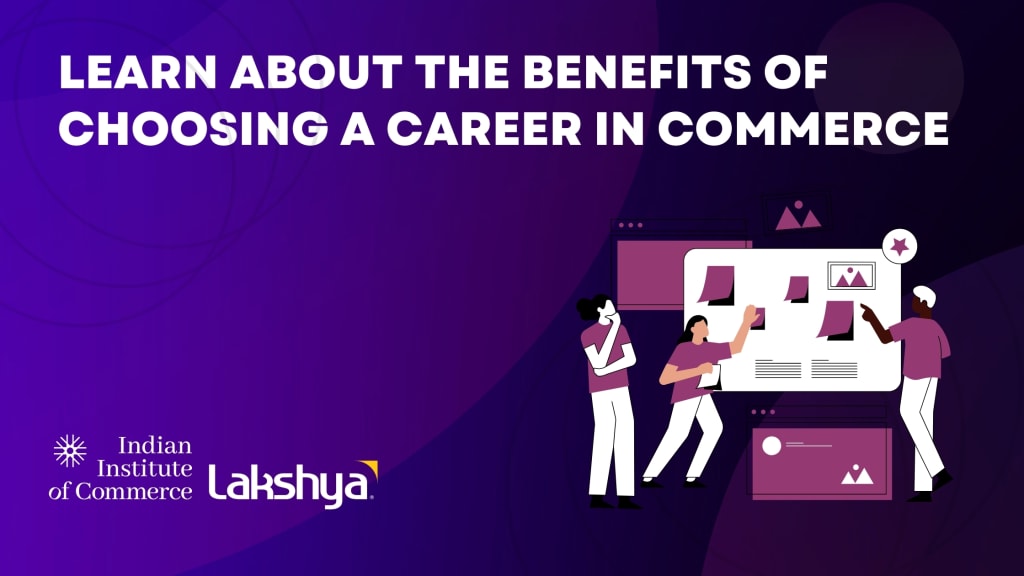 Learn About The Benefits Of Choosing A Career In Commerce
Commerce is the focal point across the globe today. The subject shares knowledge in the fields of trade and business, banking and insurance, business and management, economy and development, thus fostering entrepreneurship qualities. The commerce sector and its development are considered a boon to society, countries and even to the world, which establishes numerous opportunities in diverse areas of commerce. Let us discuss some of the factors that make commerce one of the highly anticipated streams of study.
Commerce, the job-oriented course
A job-oriented course has a self-defined career path to equip the aspirants with a secure and established future. Commerce has a significant role in the present education system and provides a rewarding career with diverse opportunities to choose from. Commerce is the perfect option for a candidate aspiring for a job with a favorable salary package at the earliest. Professional Courses in Commerce like CA, ACCA, CS, CMA INDIA, and CMA USA can be pursued after 12th grade. By working with a passion for the subject and strong determination, one can gain the qualifications in a shorter period and get placed in big multinational companies and reputed organizations. A candidate skeptical about clearing the competitive exams of the professional courses can choose graduation, a Bachelor of Commerce (B.COM) that assures you placement in companies and also opens your door to a professional course in Commerce with paper exemptions. The Commerce course offers a widened platform to learn and understand business, trade and management. It equips you with basic principles of the economy and capacitates you with chapters of entrepreneurship to nurture your dream of initiating a business. Thus, Commerce is a dynamic field with diverse opportunities that develop, refine and actualize an ambitious aspirant's successful career.
Financial Literacy
Financial literacy is an essential life skill required to build a secure financial future. Having a relevant understanding of financial management can help you balance your life and reduce your stress level. Students are generally less concerned about financial management and have lower levels of financial literacy, but commerce students are reported to have higher levels of financial literacy. Learning commerce provides students with an understanding of basic ideas of financial management and enables their involvement in the financial system. Once completing the course, the student will be able to balance spending, savings and budget, understand the importance of profit in a business and learn about the banking and insurance sector.
A desirable life: socially, personally and professionally
Learning commerce capacitates students with a range of skills that begins from basic to professional skills. Communication is a key skill required to lead a desirable social life and a commerce student carries essential abilities to converse and communicate in a better way. The connection of the commerce stream with the business environment and the applicability of commerce students in it has contributed to developing a strong bond with the society, education and employment sector. Adaptability to different scenarios is not a difficult task for commerce students as they are schooled in a dynamic environment and polished with certainties and uncertainties to equip them with the confidence to own, manage and coordinate a business or an organization.
Commerce education endows individuals with practical knowledge and skills to develop an element of power to make strong decisions that determine the existence of any business or profession. The course offers varied opportunities for the students to choose a secure career with high exposure at the earliest thus enabling personal development mentally, financially and socially. There are many coaching centers for professional courses in commerce streams like CA, ACCA, CS, CMA INDIA, and CMA USA which leads commerce aspirants with a reputed career and professional life.
The wider world of commerce
A Commerce student has a plethora of opportunities to excel in their career in a wide range of employment sectors. They can choose a career by analyzing their interest in specific subjects as each option is different from one another and provides different job titles for qualified candidates. The student who chooses to learn commerce after the 12th grade can start early preparations to pursue professional courses in commerce which will grant them great exposure and access to a secure career. After 12th, they have a wide range of opportunities to traverse along a complementing educational path and CA, ACCA, CS, CMA INDIA, CMA USA, B.com, and BBA are the most sought-after courses. Commerce endows students with abilities and skills to lead a successful career. A Commerce student is trained to handle all kinds of economic and financial development to contribute remarkably to their respective career.
Future of commerce and e-commerce
Commerce is a dynamic and developing world with ample opportunities in the private and government sectors. In the new era of global education, the commerce stream has a great role. India hopefully will experience a shift in the current trends of education with an enormous number of aspirants in the commerce sector. Researchers suggest that the number of commerce students in India will rise to 100 million in the next few years and, as a result of that, there will be a wide opening of opportunities in the commerce sector.
E-commerce will turn out to be people's first choice and also the backup of the people. The pattern of growth the industry shares is incredible. The emergence of e-commerce has resulted in a total transformation of the education sector, initiating the rise of digital learning, virtual universities and an increasing rate of global competition in the world of education. The industry has manifested an evolution in the business world and, based on scientific studies and learning, it is predicted that by 2025 the e-commerce industry will become customer-centric. With the major developments and advancements in the industry, it will open doors to numerous opportunities for commerce aspirants to develop a secure future ahead.