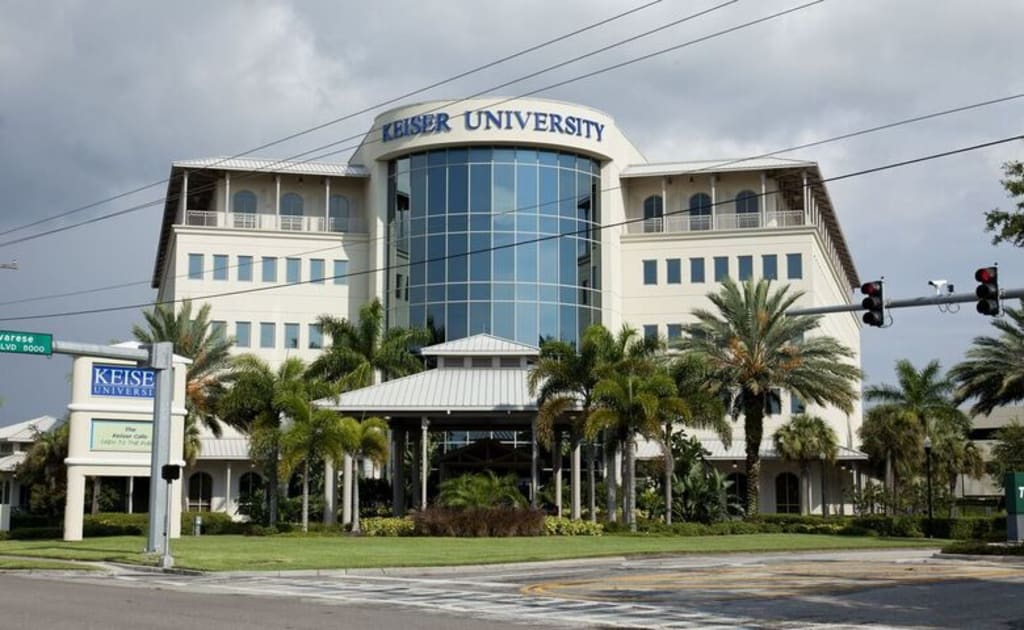 Keiser University Blackboard
Blackboard Learn is Keiser University's online platform and learning management system. Blackboard Learn gives instructors the opportunity to design online course sites that are highly optimized for online learning and integrated with Keiser University's enrollment and communication systems.
Dr. Arthur Keiser and Evelyn Keiser created Keiser University in 1977 with the goal of better serving adult students looking for a career-focused education. Keiser University has grown to be the largest private, not-for-profit institution in Florida during the past 44 years, serving almost 20,000 students, 3,800 staff members, and more than 66,000 alumni.
There are campuses for Keiser University in 21 large and mid-sized Florida cities and communities. The Southern Association of Colleges and Schools Commission on Colleges has granted Keiser University accreditation to grant certificates and degrees at the associate, bachelor, masters, specialist, and doctorate levels.
Over 100 doctorate, specialty, master's, bachelor's, and associate degrees are being pursued at Keiser University by students. One of Florida's largest independent career universities is Keiser University. There are physical campuses and an online campus for Keiser University.
Additional campuses can be found in Clearwater, Daytona Beach, Flagship Residential, Fort Myers, Jacksonville, Lakeland, Melbourne, Miami, Naples, New Port Richey, Orlando, Patrick Space Force Base, Pembroke Pines, Port St. Lucie, Sarasota, Tallahassee, Tampa, and West Palm Beach in addition to the main campus in Fort Lauderdale.
Keiser University
Keiser University offers a career-focused curriculum that has been approved by employers around the state. Every program of study at Keiser University has active advisory boards for each site made up of communities of interest, consisting of business executives, civic leaders, university alums, faculty, and staff.
Numerous advisory board members from across the state gather twice a year to examine the curriculum, facilities, and tools that provide state-of-the-art knowledge about changes in the industries for which we provide programs.
The campuses of the university support about $3 billion in annual statewide economic impact and over 30,000 employment in Florida both directly and indirectly. According to U.S. News & World Report, Keiser University was ranked first in the nation for social mobility in 2023.
Scholarships worth approximately $76 million have been given to academic and need-based students during the previous two years. The University is dedicated to producing leaders who will serve in and compete on a global scale.
With its 100-acre residential Flagship Campus in West Palm Beach, Florida, at 2600 North Military Trail, Keiser University now offers more than 100 degrees right in the heart of South Florida. A comprehensive college experience is available for traditional students looking for dormitories, as well as a culturally-rich campus life composed of students from a variety of international locations, athletics teams, and a safe environment to live, learn, work, and play. This university also has a well-known history of educating adult learners.
At Keiser University's Flagship Campus, learning and social events are collaborative and engage current and prospective students, community partners, business leaders, elected officials, and other stakeholders dedicated to the success of students. "Seahawk Nation" supports its 25 sporting teams' winning tradition across Florida and beyond.
Employers, the community, and students who are serious about their education and careers continue to regard Keiser University as a partner.
To accommodate schedules, Keiser University provides day, evening, or online classes.
The Benefits of Small Class Sizes
The Keiser family saw a need for small, hands-on classes for career education, and they formed the school as a result. The Keiser mission has always been built on the idea of being student-friendly, and it continues to draw students who value a more individualized learning experience.
Experience Hands-On Learning at Keiser University
You will not only learn classroom theory while attending Keiser University, but you will also get valuable hands-on experience using tools that you will probably utilize in your new career. the tools and resources used to help you get ready for the difficulties of the modern workplace.
To Read the Full Article, Click Here: Keiser University Blackboard
About the Creator
Addyourlife.com is pleased to provide reliable, comprehensive, thought-provoking information on important topics worldwide without regard to bias or personal agendas.
https://addyourlife.com/
Reader insights
Be the first to share your insights about this piece.
Add your insights