Inventing Anna - My Thoughts (Episode 1 - 3)
Contains spoilers but mostly my own opinion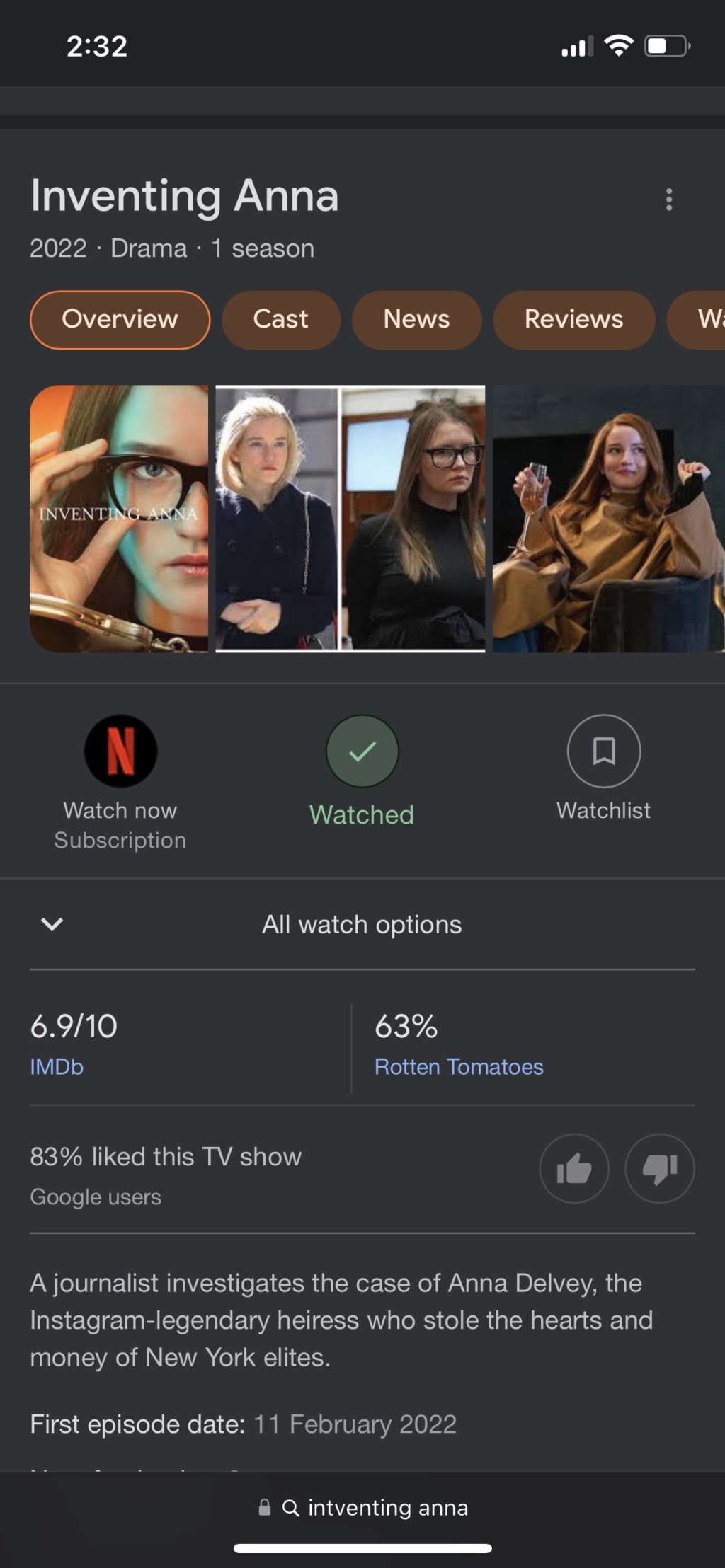 Episode 1
So I thought the main character, Vivian Kent the journalist, is a very great person. I like the way she decides that she wants to do something and immediately goes into 100% effort into making it come true.
I like the secrecy that is surrounding Anna in the first episode. You regularly see people that she was close with before being imprisoned, talking between themselves and seemingly at the end of the episode they are lying to each other about talking to the press.
I like the way that Anna manipulates Vivian into getting what she wants in exchange for giving an interview.
Anna refuses to take the interview and has seemingly decided that she's taking a plea deal unless Vivian can get a media visit.
Seeing the way the two women work for the things that they want in life really made me want to work towards my own goals, but unlike in Anna's case I won't be breaking the law to do so.
One thing I was very upset about in the first episode was the way Vivian started to violently swear when she found out her baby was a girl. The look on her partner's face made my heart break.
"I'm trying to think of something comforting to say but right now you are currently ruining the best moment of my life." Probably an inaccurate quote but it was pretty accurate to what was said. It made me angry at the journalist because she couldn't wait until the initial joy was finished for her partner.
There are several questions about Anna that I want to know the answers to, but the first episode of this show also makes me curious about Vivian.
Episode 2
So much to unpack here, so much more backstory. I still at this point I'm struggling to remember many of the characters names, other than the main few we have dealt with so far. There are a few people that we haven't visited enough and therefore their names escape me, but I can see them becoming more important soon.
So I believe the Talia backstory was very interesting because we see the journalist go into a very fancy house to get the story from her. The night ends with her and her partner spending the night and talking about all the luxuries Anna must have enjoyed before prison. The heated stone floors, the smell of sage, the bed that's so comfortable it must be made from kittens and gives you such a great night's sleep you could swim home. I can only dream.
Anyway, when they are in the room the journalist notices a picture that Talia mentions in her story that Anna basically convinced her to buy. I like that you see this because it just shows how Anna actually affects these people's lives.
The part of the backstory where Talia is on the phone to Anna shouting about how Anna's boyfriend Chase was stealing a weeks worth of private boat time from Hal makes me clench in embarrassment.
The thought that Anna and Chase who were the guests of Talia (who was a guest of Hal's) and yet after everyone else leaves they think it's okay to stay on the boat for FREE. Nope, that doesn't sit right with me. I agree with Talia's rage and I can completely understand why they never spoke again.
Then we go to another one of Anna's friends, a man called Val, who starts to tell a story about Anna which starts to unravel her story. How Anna and Chase got into an argument referring to the boat and then Chase calls Val asking him to check Anna's passport.
When Val actually does check the passport, after a lengthy breakdown on Anna's part where she can't pay for a hotel, Val eventually has to phone Chase to come and pay for the bill.
When Val tells Chase about how Anna's second name is Sorokin and not Delvey, Chase seems to turn this around as a way to make Anna stop being friends with Val.
So far I am only getting more and more questions instead of answers.
I am hooked, only two episodes in.
Episode 3
This episode is mostly based on Nora and her connection with Anna and Chase.
I never really liked Nora from the first few interactions we saw of her but halfway through this episode I started to really like her and even sympathise with her at the end of episode 3.
I love the whole section of this episode where we see Anna's photographic memory in action where she is talking to Chase about what meetings she's going to inbetween the actual meetings.
Also the whole thing with this episode that confuses me is how at the start Nora seems to favour Chase and singles Anna out but towards the end Nora seems to start pushing away Chase in favour of Anna. By the end of the episode this is made clear as to what happened to cause this.
It all seems to stem from Anna waking up and being ready for her day before Nora comes downstairs. This is important because Nora mentions several times that Anna never wakes up before noon. As soon as Anna starts to talk to Nora about art, which we know is a strong point in Anna's history with Talia, Nora invites her to meet some of her rich friends. These friends include Donna Zaveri (who mentions a taxidermy peacock which is being used as decor in Bergdorf, this is important later), Susan Alcott, Patricia Conti and Jodie Kleinsmith. Most of these names went right out of my head the second I heard them but I wrote them down for future reference.
This is where we get a rather important scene in the episode where Anna is adding some clothes for Chase to the account of Nora. We don't see the full scene until the end of the episode but this is where we see Anna adding various items of clothing from all these designer shops at the expense of Nora but behind her back. The total money that Anna stole from Nora was $400,000. Nora is furious at Bergdorf because she said they knew her style and the stuff Anna was buying wasn't stuff that Nora would buy so Bergdorf should have stopped it.
Then all of a sudden Chase goes off to Berlin and I sense tension between him and Anna. Then Nora's friend Donna says that the event Chase said he was in Berlin for was cancelled this year and Anna goes mental leaving him angry voicemail after voicemail.
Then Anna stops by Chase's office to see Raphael (who was hired to build the app Chase was working on despite not being in the correct tech job to do that) and Anna learns that Chase hasn't been paying Raphael.
Then Anna goes to Ohio to find Chase to demand answers from him and Anna learns that Chase ran out of money to make the app, $3 million to be exact. Can you imagine getting that amount of money from investors and losing it? Fuck that.
Then we see Anna turning Nora on Chase by lying and making him seem to be the bad guy, then Anna let's it slip how bad Chase's company is in the dirt right now.
So then Nora talks about an event she's attending and instead of the usual inviting Chase she invites Anna, much to Chase's confusion.
Then Chase shows up at the event anyway.
We get a montage of Anna in loads of different meetings where she has received recommendations from people that Nora introduced her to at this fundraiser event.
Then Chase asks to speak to Anna and the two argue about exposing each other's secrets but they both seem to have secrets to keep each other quiet.
Then they get home from the event and Nora receives a phone call from the bank. Anna hears Nora say "what do you mean there's strange charges" and quickly runs upstairs to pack her stuff and leave.
While Nora is on the phone asking for the list of stuff that was purchased at Bergdorf (and other various shops that Anna shopped in) upstairs we see Anna packing up the exact items into a suitcase.
Remember what I said earlier about the taxidermy peacock in Bergdorf? Well Anna sent that to Nora after she ran away as a 'thank you' gift. I think this was a way to be like "I stole from you for ages and you had no idea" or maybe she used Nora's own money to purchase the item as a statement.
Nora then gives this gift to Vivian and her husband says they are going to put it towards a college fund as it's worth more than every piece of furniture in their apartment. It's tough to think that one single purchase could cost more than everything in my flat makes me nauseous but I like how little Nora thinks about money to just give it to Vivian for no reason.
In conclusion, for the first three episodes I would highly recommend this program but I'm assuming that if you are reading this you have already watched the show.
My Twitter username is @terriawrites
My instagram username is _terri_a_writes
Please feel free to find me on either and we can have a discussion about this show together, none of my friends have watched it yet so please consider. I need more friends who watch TV shows!