Hugh "Hobby" Barndollar shares The Greatest Soccer Teams Around the World: Legends of the Beautiful Game | Land O Lakes, Florida
Hugh Hobby Barndollar | Sports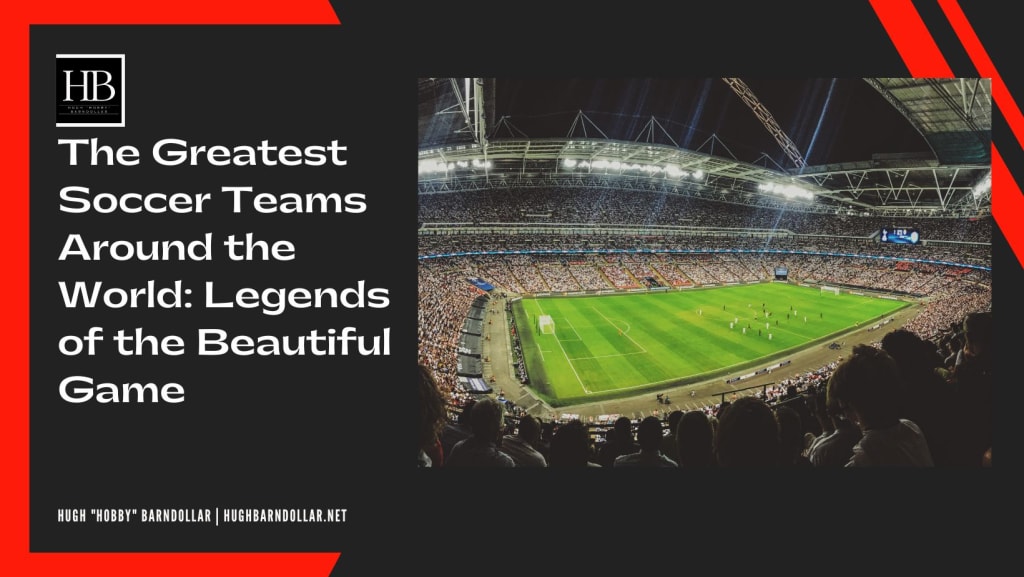 Soccer, known as the beautiful game, has produced some genuinely remarkable teams that have left an indelible mark on the sport's history. These teams have enthralled fans with their impeccable skills, awe-inspiring performances, and triumphant achievements. From the tactical brilliance of Barcelona to the dominance of Brazil's national team, the soccer world has witnessed greatness unfold on numerous occasions. In this blog, we will delve into some of the greatest soccer teams from around the globe, celebrating their remarkable achievements and enduring legacies.
Brazil National Team - 1970
The Brazil national team of 1970 is widely regarded as one of the greatest teams in soccer history. Led by the incomparable Pelé, this squad showcased mesmerizing attacking football, dazzling fans and opponents alike. With a blend of technical finesse, creativity, and teamwork, Brazil won the FIFA World Cup in Mexico, capturing the hearts of millions. The "Samba Boys" displayed a fluid style of play, with stars like Jairzinho and Rivelino leaving their mark. Their 4–1 victory over Italy in the final is etched in soccer folklore, solidifying their place as one of the greatest teams ever.
FC Barcelona - 2008–2012
During the reign of manager Pep Guardiola, FC Barcelona enjoyed unparalleled success, mesmerizing fans with their "tiki-taka" style of play. This team boasted a wealth of talent, including the legendary Lionel Messi, Xavi Hernández, and Andrés Iniesta. The Barcelona side of 2008–2012 won numerous domestic and international titles, including three La Liga titles and two UEFA Champions League trophies. Their intricate passing, positional play, and high-pressing style revolutionized modern soccer, setting new standards for possession-based football.
Real Madrid - 1955–1960
Real Madrid's dominance in the late 1950s cannot be overlooked. Under the stewardship of manager Miguel Muñoz, this team won an unprecedented five consecutive European Cups, establishing themselves as the pioneers of European club football. Real Madrid's attacking prowess was breathtaking, with the legendary Alfredo Di Stefano spearheading the attack. The team's blend of skill, speed, and tactical discipline made them virtually unbeatable. Their iconic victories over the likes of Eintracht Frankfurt and AC Milan still resonate in the annals of soccer history.
Manchester United - 1998–1999
The Manchester United team of 1998–1999, led by manager Sir Alex Ferguson, etched their name in soccer folklore by securing an unprecedented treble. This remarkable feat saw them claim the English Premier League title, FA Cup, and UEFA Champions League in a single season. The squad, including Ryan Giggs, David Beckham, and Paul Scholes, boasted remarkable talent. With their never-say-die attitude and thrilling late comebacks, Manchester United epitomized the spirit of champions, etching their legacy as one of the greatest teams in English football history.
The soccer world has extraordinary teams that have left an indelible mark on the sport's history. From Brazil's mesmerizing 1970 national team to the tactical brilliance of FC Barcelona, these teams have captivated fans and set new benchmarks for excellence. Their legacies continue to inspire and shape the future of the beautiful game.
This blog was previously published on July 25, 2023 at HughBarndollar.net
About Hugh "Hobby" Barndollar
Hugh "Hobby" Barndollar is a business owner and professional based in Land O Lakes, Florida. However, this statement doesn't encompass all that Hugh is, as he is also a father of four and an avid sports enthusiast. Hugh was lucky enough to learn about business and trust from his father. This gave Hugh a headstart in life, especially in the business world. He learned to dream big and chase after his passions at a young age, turning him into the man he is today.
As a business owner, Hugh "Hobby" Barndollar has had many interesting experiences over the years. He founded PurePath Wealth in early 2014 and still plays a significant role in the company. PurePath Wealth is a financial and retirement planning company. Hugh and PurePath Wealth help clients achieve their retirement goals. They do so by offering a more holistic approach to finances. This may sound counterintuitive, but it is effective and practical. PurePath Wealth provides estate planning, life insurance, probate, long-term care, and many other services. Hugh "Hobby" Barndollar is the company's CEO, owner, and Investment Advisor. This makes him responsible for handling all compliance issues and the company's day-to-day operations. However, when dealing with clients, Hugh's primary concern will always be achieving their goals. He always tries to create comprehensive, holistic, and understandable financial plans for his clients.
About the Creator
Hugh "Hobby" Barndollar has been a CEO for more than 15 years. His two businesses are HotRocks Pizza and PurePath Wealth. Visit his website to learn more info.
Reader insights
Be the first to share your insights about this piece.
Add your insights