How I Graduated College in 3 Years
(And how you can, too.)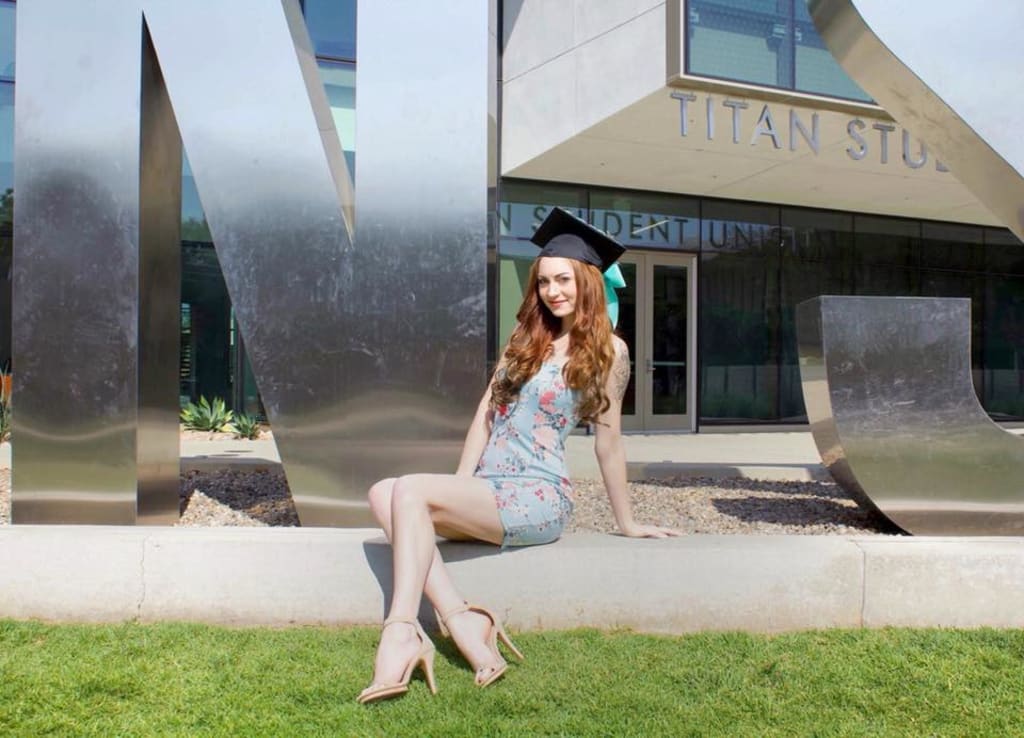 Graduating with a Bachelor's in Arts Education from CSUF at age 20, 3 years after graduating from High School.
I came out of high school asking the same question all my peers had: what now? Being someone that has always struggled with school in general, I knew I had to play to my strengths or I was going to be miserable. The following 10 secrets to my success will help you not only construct a graduation goal, but also achieve it.
1. Community College
You will watch your peers get swept away to out-of-state-four-year universities worth hundreds of thousands of dollars. You will hear all of your counselors and professors tell you the four-year route is the best choice. You will feel the pressure of applying to these special schools—don't think that I didn't—but graduating at 20-years-old with zero debt, I couldn't be more confident that this is the first step in your journey to success. Another key aspect of this stage is that all of your general education courses need to be completed here. It's cheap, fast, and painless. Here's what you need to do:
2. Course Catalog
Every community college will have a course catalog available for review for free on their website. Open it up and save it on your desktop. Now, open an organization program such as Microsoft Excel and create a spreadsheet for your classes. You will make a section for each semester with the year and season labeled—I.E. Spring Semester 2018—including summers. Under each semester, decide which courses from the catalog you would be willing to take together each semester, typically with a few hard classes mixed in with easier ones. For example, my first semester at Orange Coast College, I chose a statistics class as my hard course considering my up-hill battle with mathematics, and balanced it out with four Science and English courses that I knew wouldn't be as demanding. Follow the catalog requirements so that every subject is fulfilled.
3. General Education List
All of your general education courses should fit into your first year. Your goal is to choose a minimum of four to five classes a semester, which will be anywhere from 15-18 units depending on the maximum allowance of the college. I took six and seven classes at once some times to make up for a few fours I took while working full time. You just have to rearrange them to fit into each semester in one year. Keep in mind that when you go to enroll in your courses, many of them that you may want or need could fill up fast. Do everything you can to get early enrollment and snatch those classes as soon as the online doors open.
4. Pick a major and stick it out.
One thing I saw a lot of my peers doing was a constant switching of their majors. This is totally allowed, but if you're not careful, the units you earn for one major might not apply to another one. If you do decide to switch, it would be wise to pick a major in the same field as the one you had originally. I ended up adding education onto the end of my painting and drawing major after my second year, but only when I was sure that it wouldn't set me back. You can ask any counselor about the change and how it might affect the work you've put in thus far at any stage in your college endeavors.
5. Rate My Professor
Rate My Professor. This website is the college equivalent to the holy bible. Not only will this site allow you to search any professor at any college to see what previous students thought about them, you can also search any class and see the level of difficulty and the workload expected along with it. I was able to dodge heavy readings, tough graders, 2,000-page essays, and boring lectures by doing my research on the classes available before I enrolled in them. The easier the classes you pick, the more of them you can handle each semester, which will propel your overall progress to your graduation goal.
6. Summer/Online Classes
Summer courses are vital to finishing in three years. Now I know what you're thinking: either your summer is viewed as a chunk of time that needs to be dedicated to a full-time job, or you view your summer as a sacred break deserving of a vacation or quality "me" time. Well, what if I told you that all three are possible? Yes, I did all three. Community colleges and Universities typically cap the amount of summer classes you can take to 2 at a time, which would be 6 units max. If you sign up for online classes only for the summer, this not only frees you up for a job, but it also frees you up for that concert or movie night you were looking forward to. Online classes are also helpful for regular semesters, and especially if you want to hold a job and still take 15-18 units. I took seven classes my last semester at OCC. This was only possible because two of them were online. I could log onto one class while I physically attended another and get them both done simultaneously.
7. Time Management
Because you have to take so many units, the most important factor in making sure you keep track of all your assignments and complete them on time is time management. Buy a planner or use the one some colleges give at orientation. Color code each class and write down the professor's name, the location of the class, and the time of the course in the front section of the planner. After I receive the syllabi from each class, I also log each teacher's email in this section in case I have any course questions. If the syllabus contains a schedule, only make note of major assignment due dates or readings in the calendar. This is because I find as the semester progresses, some classes can get behind or speed ahead and suddenly your entire schedule shifts. This next section is completely on you to apply discipline to; record every single task as you hear them in your planner and remember to check it weekly. I usually check my planner every morning in my first class so I know what I have to be responsible for during the rest of the day, but once a week will still ensure a good amount of organization.
8. Transferring
The transfer process from community college to a four-year university is easy if you maintain a 3.5 or higher GPA and you complete all of the necessary requirements in advance. You can make an appointment with a counselor to work out the details and stay updated on every requirement. You will have to order transcripts, complete an application, and pay the application fee. CSU Fullerton's application fee was $50 and took me a little under an hour to fill out. I got an acceptance email about four months after I sent all of transcripts through. With a 3.87 GPA, I knew I had a pretty good chance of getting accepted, so CSUF was the only University I applied to transfer to. It also has a high transfer rate from OCC. However, if you aren't so sure about the circumstances surrounding your acceptance, it doesn't hurt to apply to multiple back-up schools if you can afford the application fees. Once you pick your top school, make sure you accept your admittance as soon as possible so that other applicants at other schools have a chance of also receiving acceptance.
9. Join a club.
The easiest and most enjoyable way to maintain a social life that's local and affordable while you power through college is by joining a club. All schools offer a wide range of clubs that can cater to any hobby or interest from culture, to politics, to sports, or even a distinction within your major. After I joined a club, a variety of opportunities opened themselves up for me in ways that never even crossed my mind. I met like-minded people, got to go on trips that were paid for by the club through donors and alumni, and learned a lot about the topics that fascinated me in the first place. All of my current friends are members of this club, and I intend on staying in close contact with them well after graduation.
10. Sleep Schedule
Psychologists who study irritability and chaos as it pertains to an individual's drive often correlate this imbalance with that individual's sleep schedule. Jordan Peterson, a professor of psychology at the University of Toronto, states that the key to a successful sleep schedule that will help assist you in taking on the next day is to wake up at the same time every single morning. Doesn't matter if it's 6 AM or 10 AM, it just has to be the same time, every time. Another aspect of this is to try and not go to bed earlier to 'catch up on sleep.' It's actually more beneficial to stay up later until you get tired naturally and fall asleep then. You still have to wake up at the same time in the morning, but this will help your sleep schedule improve if it becomes routine.
It's that simple! Contact me with any comments or questions!
IG: @queenamidalaa EM: [email protected]