How does Learning MS Excel in Your Native Language Help You Better?
Learn Online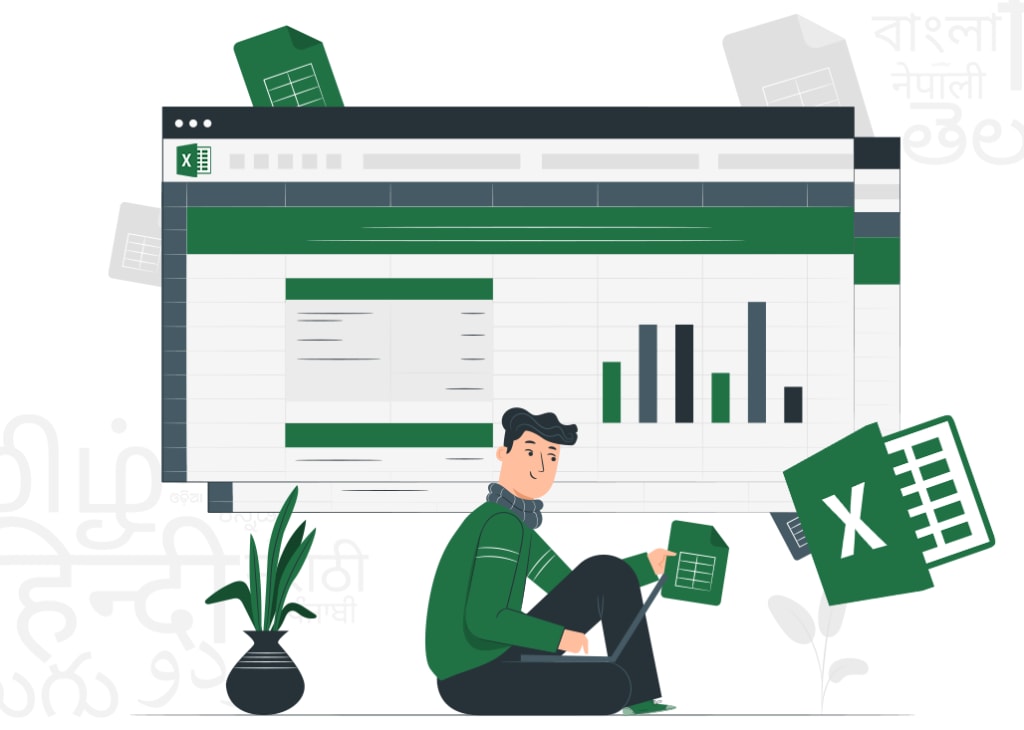 MS Excel is the most used spreadsheet application in the world. It is a spreadsheet used for all types of analysis, from financial analysis to statistical analysis. Microsoft Excel is one of Microsoft's most popular software products, and it has been available since 1985. Excel was developed as a tool used for data entry and calculation by business professionals and data scientists.
Microsoft Excel provides various functions and features to help users perform calculations, analyze data, and share results quickly and easily. It can be used for many purposes such as creating graphs or charts, making complex tables or lists, managing financial data or tracking time.
Table of Content
Usage of MS Excel
Why should you learn Excel?
Why Learning MS Excel in your native language gives you an advantage?
Usage of MS Excel
Microsoft Excel has been used for more functions than any other software. For example, it is often used to keep sales, inventory, or employee time reports. It also helps people track their finances by doing budgeting and tracking expenses. Some of Excel's most powerful functions are its ability to make graphs and s s-curves that help analysis.
Excel has many uses. From being a tool for web design to being an aid in financial planning, it can be used for anything. Many like to use Excel as a data visualization tool because they can use different colours to represent different categories of data. In addition, it allows the user to understand how the data is clustered and where the outliers are by using conditional formatting on the rows and columns of the spreadsheet.
The versatility of Excel is one of its most essential features. You can make pivot tables or charts or even create interactive dashboards with interactive graphics on them. It is a necessary tool for many different professionals such as accountants, engineers, and tax preparers. It is also a valuable data source for business intelligence and analytics. Its importance has increased in the digital world because of the access to large amounts of data it provides, which can be utilized in multiple ways.
The importance of MS Excel cannot be overstated. It has been around since the early 80s and has kept up with new technologies and changes in the workplace. The Microsoft Excel spreadsheets are one of the most common tools used by modern professionals. Excel is also useful for keeping track of financial data for businesses of any size. It's not just a tool used in organizations but personal as well - so it's easy to see why so many people prefer it as a tool on their desktops or laptops.
Why Should You Learn Excel?
In today's competitive world, skills such as MS Excel are essential for career growth. The use of this spreadsheet program will give you an edge over your competitor and maintain your work efficiency. The increased use of Excel in the business environment has led to a surge in demand for skilled Excel users. Candidates need to learn how to use Microsoft Excel properly so that they can ensure their career growth.
Microsoft Excel has become the default go-to program for data-driven organizations across the globe. It is used to track data, execute calculations, prepare financial reports, and much more. MS Excel is used by businesses and professionals all over the world. It can help them create, share, and visualize their data efficiently. In addition, it has a wide range of functions that make it easy for users to manage large amounts of data.
Employers widely demand Excel skills, and employees can quickly learn the skillset through online Excel tutorials or by enrolling in an online Excel course. Learning this software will also help you land better-paying jobs because many employers require their workers to be familiar with MS Excel.
MS Excel is an essential tool for project managers. They will need it to create detailed presentations, workflow diagrams, and other detailed data-driven documents. Software developers will also rely on MS Excel when they build projects from scratch or figure out how something works based on data without breaking their heads in the process. Accountants use MS Excel to handle extensive financial records and look into details about clients' transactions. Statisticians use this powerful spreadsheet when they have to take in vast amounts of information and crunch them.
Why Learning MS Excel in your native language gives you an advantage?
When you are learning a course in your native language, you can focus on the language, making it easier to understand. If you can't speak English well, it will be much harder for you. If you are not good at learning languages, there is no point in wasting your time learning a second language when the first one is enough. Learning a course in your native language can have many benefits, especially for the students who prefer to learn from their cultural values and perspectives. In addition, if you take a course in your native language, you will have more employment opportunities and be hired for specific jobs based on your native language abilities.
Whether you're looking for more clients or want to learn a new skill, the benefits of learning MS Excel in your native language can be substantial. MS Excel is one of the most widely used spreadsheet software in the market, and it's only natural for students studying business and finance to learn how to use it. These students need a tool that they can rely on as they begin their careers.
Learning MS Excel in your native language is great because you don't have to make any compromises when it comes to learning a new skill. Learning in your native language will allow you to learn better and quicker. You will be able to grasp the concept faster, thus, understand the skill quicker. It is also easier to memorize things in our native language.
courses
MAMTA SONI is a content writer from Delhi who has been in the industry for more than 7 years.