How do international students benefit from OPT?
The benefits of OPT jobs
OPT stands for Optional Practical Training. OPT allows international students on F1 visas to work in the US for a basic 12 months period in their major field. Students are eligible to obtain OPT after they complete their full-time first year of academics. It is necessary to have an OPT job related to the specialization or any subject in the degree.
There are two types of OPT: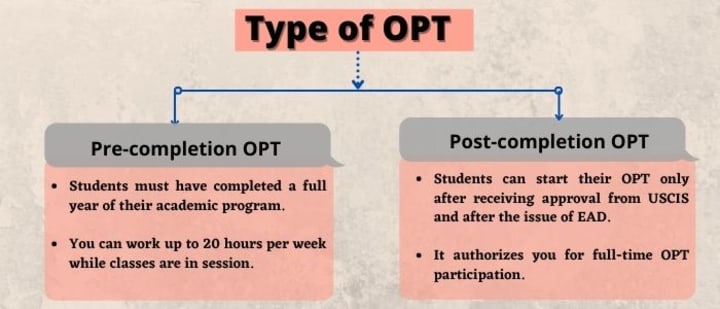 Pre-completion OPT: Pre-completion OPT refers to a period of time during which you are permitted to work before completing your program of study. It's available after you've finished one academic year of education. Up to 90 days before the end of your academic year, you can apply for pre-completion OPT. At the time of application, no employer is required.
Post-completion OPT: OPT program obtained after completing the course of study on valid F1 visa status is known as Post-completion OPT.
Highlights to the benefits of OPT to the international students: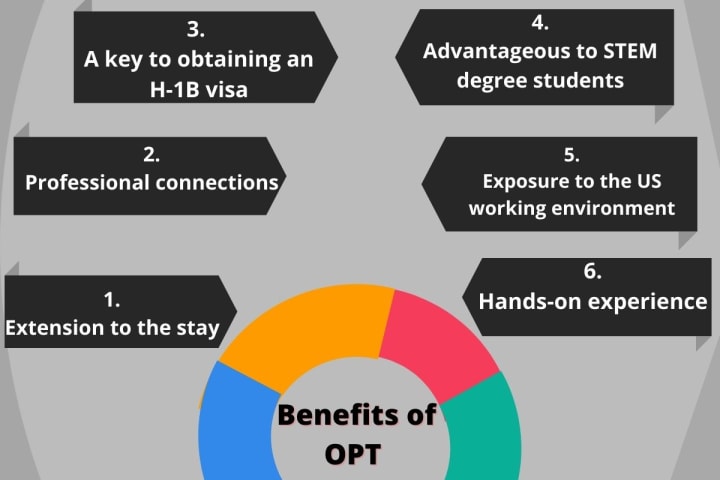 1. Extension to the stay - Most of the international students are looking forward to continuing their stay in the US after completing their course of study. Yes, rather than pursuing an OPT program; an international student can pursue an H-1B visa employment directly. But, international students, on the other hand, have fewer job prospects. It can be tough to find organizations that are prepared to recruit you as a fresher and sponsor your H-1B visa right after you graduate. If, after completing your studies on F-1 visas, you are unable to locate a company willing to sponsor your H-1B visas, you will be forced to leave the United States. As a result, international students must first apply for an OPT program, receive an OPT visa, find an OPT employment, then work in the United States without getting worried about their stay extension in the US.
2. Hands-on experience - It is necessary to obtain Optional Practical Training in your major field or a subject related to your course of study. It is because one of the major purposes of OPT is to provide you practical experience in your chosen major field. International students get an opportunity to gain knowledge in how to convert their theoretical learning into real practice. They get exposure to the practical applications of their field of study in US businesses.
3. Exposure to the US working environment - International students gain experience working for a US organization while on an OPT program. Individuals frequently work with people from many cultures and nations during their OPT. Before going into an actual H-1B visa employment, he or she is introduced to a new working environment and learns about how US companies operate. OPT allows international students to immerse themselves in the professional environment of the United States. Individuals on OPT learn how to work in a specific way.
4. Advantageous to STEM degree students - International students with a STEM degree are eligible for a 24-month extension on their 12-month OPT period. As a result, STEM degree individuals are eligible to work in the United States for up to three years under the OPT program. This extra time is really beneficial to STEM students. International students on an F-1 visa who are studying in the STEM fields may now stay and work in the United States for up to three years after graduation. As a result, they have an option to continue their stay, if they are unable to land an H-1B visa job after the completion of 12 months OPT.
5. A key to obtaining an H-1B visa - International students in their OPT period get a chance to show their talent and skills to the company. If they are efficient and can assist the firm in meeting its targets and goals, they may get an H-1B visa job offer from the same company. International students get an opportunity to build healthy and potential relations with the employer in order to secure their H-1B visas. Hence, OPT program plays a major role in assisting international students to gain an H-1B visa.
6. OPT is available for every higher degree in the US - An OPT program is possible once for every higher degree level even if you have various degrees per level. For e.g. OPT on the basis of a Bachelor's degree and then again doing OPT job based on a Masters' or Ph.D.
7. Professional connections - OPT programs allow students to work for some of the world's most prestigious firms. It allows students to network with professionals in the United States, which can help them advance in their careers. Such connections may also help international students in gaining H-1B visas in the future.
student
United OPT aims to be that website where OPT, CPT, and many international students find employers who are ready to sponsor them for H-1B.