How BML Munjal University's International Collaborations Offer a Better Exposure in Engineering Studies?
BMU is a game-changer and has laid a strong focus on hands-on and practice-based learning.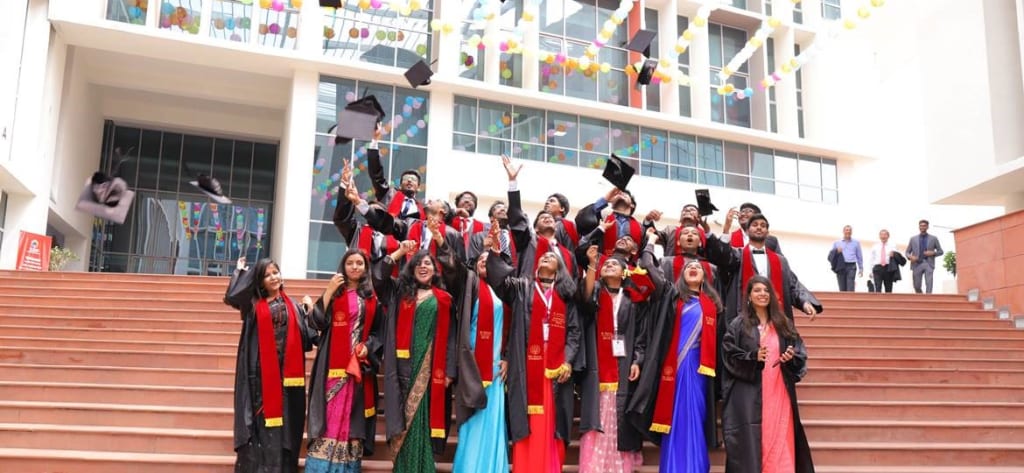 BML Munjal University
International collaborations between universities are always advantageous to all, be it to the students, staff, or the growth of the institutions involved. When talking of BML Munjal University (BMU), it was established by the promoters of Hero Group and has now won accolades like 'the most upcoming engineering college' in 2019 by Assocham. This university is one of the few educational institutions in India that has made meaningful modifications to the curriculum it offers. Unlike many other colleges where theoretical learning is still followed, BMU is a game-changer and has laid a strong focus on hands-on and practice-based learning.
BMU's International Collaborations
BMU is well-known for its international collaboration with various top universities globally. This not only helps the students in getting conversant with the newest trends in the industry across the world but also provides a rich exposure to students in getting trained in a different environment. The university's research collaborations with Fraunhofer-Gesellschaft, Europe's biggest applied research organization and partnership with Warwick Manufacturing Group (WMG), University of Warwick are a huge advantage for BMU. Its alliance with Purdue North-West University aids the B.Tech students immensely.
All the students pursuing engineering streams gain a lot of added advantage and exposure because of these collaborations. BMU offers engineering degree in branches such as B.Tech in Mechanical Engineering, Computer Science and Engineering (CSE), and Electronics and Communication Engineering (ECE).
Advantages of Global Collaborations
BML Munjal University has also partnered with some of the best international universities like Imperial College London and London School of Economics and Political Science. These collaborations help the students in getting world-class learning experience of latest trends, modern technologies, and experiential and truly global experience. These international universities also offer assistance in an array of activities such as:
Curriculum development and carving out the program structure: The curriculum of B.Tech in Mechanical Engineering program and B.Tech Computer Science and Engineering degree is globalized and hence the students get world-class education which is not only internationally-relevant but it also prepares them for their future careers. The engineering students have an option to take specializations such as Data Science, Artificial Intelligence, Internet of Things, Cyber Security, Robotics and Automation, and Automobile Engineering.
Ample research opportunities: These global collaborations add to BMU's research capabilities and inspire the students to engage in research practices as a powerful way to learn by application or doing.
Various immersion programs: The students of BMU get an exclusive opportunity to study some courses at the global partner universities, which gives them first-hand experience in an international education environment and keeps them abreast of new trends.
Guest faculty from partner universities: Top-notch and highly experienced faculty from these international universities take lectures and enrich students by offering an additional perspective to research.
Mentoring from Imperial College London
Imperial College London has held a mentoring role in the establishment and operation of BMU's School of Management and School of Commerce. It also plays the role of an academic mentor for the engineering wing – the School of Engineering and Technology. Imperial College London has a huge part to play in various activities like curriculum design, development of content, student exchange programs, summer study programs, digital learning platforms, joint research activities, Ph.D. programs, faculty training and grooming, educational outreach, and importantly, the executive education programs.
Three-Week Exposure At Imperial College London
The best part about pursuing an engineering course at the BML Munjal University is that the students get an opportunity to spend about three weeks period at the prestigious Imperial College London, which is ranked 8th globally by the 2019 QS World University Ranking. What's more? The students get to join live projects, innovation camps and get other experiences. Besides, 25 BMU engineering students get an opportunity to pursue a post-graduate one-year Master of Science (M.Sc.) program at Imperial College London Business School. Other than that, all B.Tech, B.Com (Hons), BBA, and MBA students get a chance to join innovation camps and some credit-based courses, which provide the students to attend lectures, workshops, site visits, or say and write a business plan.
Good Placements So Far
B.Tech students at BMU have gone to work with reputed companies like KPMG, Google, CultGear, Deloitte, ServiceNow, TVS Motors, Hero Group, EY, and HCL Technologies in various job roles. Engineering graduates from BMU are very much in demand and because of their exposure and level of knowledge, the highest salary package that an engineering graduate has secured is about Rs. 40 lakh per annum.
Therefore, the specialized programs that are run at BMU in association with these global universities provide holistic development of students along with rich exposure in a global environment. This makes this college one of the best in the country for pursuing engineering or any other non-technical degree course.