Homeschool Curriculum
What we have used and my thoughts on it.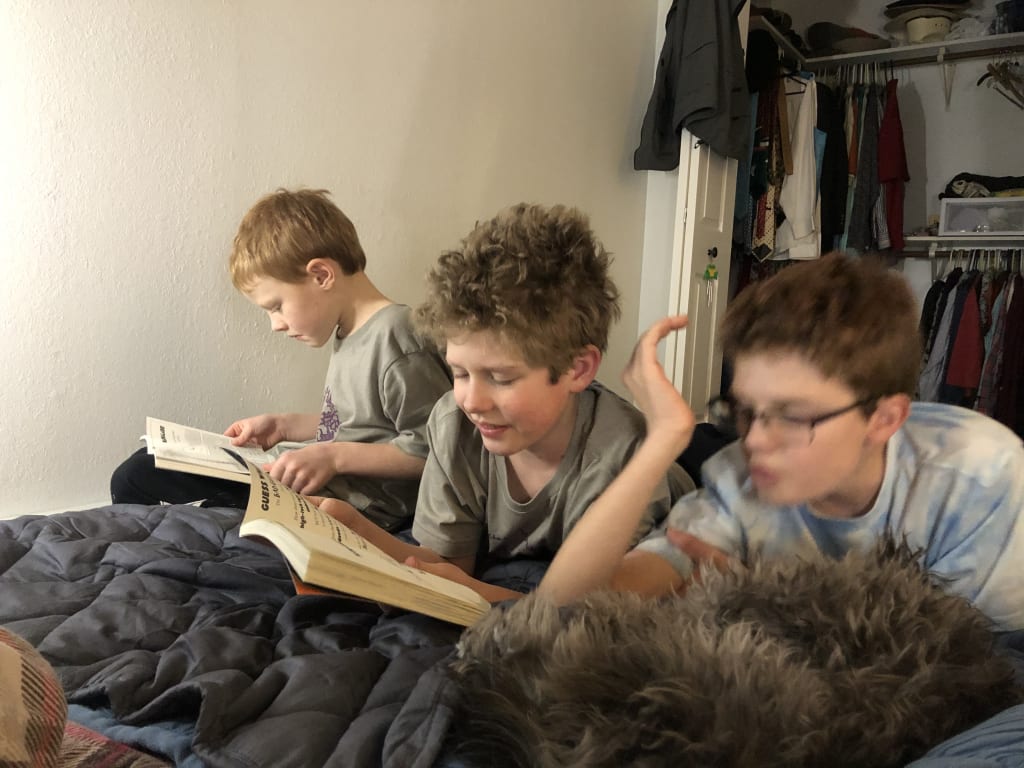 If you are looking into homeschooling a major stress is probably going to be what curriculum to use. I myself went on a frantic hunt for curriculum when I pulled my kids out of public school mid year. I know just how frustrating it can be to figure out what will be best to use. Here is a list of what we have or are currently using with a little information about what I liked and/or disliked about it. My hope is this will give you some ideas and help you on your path to finding what will work for your family. Keep in mind every family is different and what works for one may not work for another. These are just the curriculums we know and have used. There are many curriculums out there to choose from, so do some research and pick what seems the best fit for your family.
I was able to add in links for some of the curriculum, but others would not allow me to add a link for some reason.
History:
We have used The Story of the World, which we enjoy a lot. It will generally start each chapter with a story then give more details. The story gets the kids interested and often helps them remember better. You can also get workbooks and a big active book with coloring pages and various fun things to do that go along with each lesson. Often it will have a recipe to try from the time or area it is talking about. We enjoyed one year trying to do a meal at the end of each lesson with the recipe they gave or researching others for the location/time in history. My con with this curriculum is that they don't have various levels of workbooks for each book level. It has four levels of books starting from ancient history moving through to modern. The workbooks are made to be progressively harder as you advance through the four different book levels, which is great if you have one kid doing the curriculum. If you have kids all in different levels they are all capable of listening to me read from the lesson book, but not always capable of doing the more advanced workbook. I had moved through the first three levels with my older kids by the time my youngest was capable of doing some reading and writing on his own. It would have been nice to have a simple multiple choice like they had for the first book level for him to do on the last book level instead of the essay/short answer workbook and vice versa, would be nice to have a more advanced workbook for the older kids to do on the first book.
We also just started Curiosity Chronicles, which, thus far has been good. It does not have as much detail as Story of the World, but enough especially considering it is geared towards elementary ages (which I did not realize until it came, so had to come up with some additional stuff for my middle schooler. My fault for just going off someone's advice that it was good and not looking into it much). It has two kids who share a dialogue as they explain key points in history. It also has some extra research suggestions at the end of the lesson. You can buy workbooks to have worksheets, coloring pages, and fun activities to go along with each lesson. My only con so far is the time it took to get it. I did not know until I ordered it that they don't keep any on hand and they only print them once they have been ordered. So, you have to wait for it to reach its turn in the printing line up before they can mail it to you. Not a huge deal unless you didn't know this and had procrastinated ordering school books until a week before you plan to start school, and you expect it to come in about a week like your other curriculum items. Instead the curriculum takes a month to come, so you keep procrastinating starting school because "for sure it will come today." Hum, maybe someone should stop procrastinating.💡
Science:
We use Apologia and have really enjoyed it. They have different books that follow the creation story each book goes into detail about the various creations from each of the 6 days as outlined in the Bible. I don't really have any cons with using this curriculum. It is obviously religious based, so if that is not your thing this may not be for you. You can easily just skip over the lines about how amazing God is for doing this or that and the scripture verse that goes along with each chapter. You can buy workbooks that have activities and a place to do or write about the projects and experiments given to try during each lesson.  You can also buy a premade kit that is filled with all the items you will need to do each of the experiments/activities in the lessons. I got this once for the chemistry book and was mostly ok with it. Some items were pretty cheaply made or didn't work/fit quite right which was frustrating. Overall it was nice to not have to go hunt down some odd items or buy a large quantity of some chemical I only needed a pinch of.
We have also used Super Charged Science a little. It is all videos online with a lady named Aurora doing all the instruction, sometimes there are live classes to join if you want. You can follow a syllabus they have worked out or you can just log on and do whatever lesson you want, which is what we have done. I got it mostly just to help supplement our science. Each lesson will have an experiment or activity to do that she walks you through. There are also downloadable worksheets and lists of items you'll need for the experiments/activities. They are all supposed to be items you would typically have around the house or can get from a store easy enough. They have sent me a few items randomly with a note saying which lesson it's for and explaining that they can be hard to find, which is pretty awesome I thought. I like that I can just let the kids sit and learn about whatever they have an interest in while I can do things I need/want to get done. The down side of doing it this way is they often want to try the experiments and I have to try and search around and see if I can find the needed items and supervise, which I don't always want to do.
Language arts:
I use The Good and the Beautiful, and I love this curriculum! One very nice thing about this curriculum is the first 5 levels you can download for free! I have printed them off and with each kid I just have to reprint the work pages. I did purchase the readers to go along with levels instead of printing them off. They were in book form and it just seemed a better idea in my mind to buy them. She incorporates a lot of art and love of nature into it which we have enjoyed. This curriculum is also religious based, but same as with the science you can easily skip over the references to Christianity if that's not your thing.  I love that it has everything right there ready to go and you can just pick up the binder and go with it.
We also just started using Institute for Excellence in Writing or IEW. My boys were really struggling to do any writing assignments, and a friend suggested this curriculum. It has videos to watch where he is instructing in a classroom, so you get to hear the other kids responses and thoughts. He starts out doing everything together and teaching how to take the important parts of a story and rewrite it in your own words. You listen and work, then there is some work to do by yourself after the video ends. I was very impressed my kid who hates and refuses to write even a sentence on his own was writing a whole paragraph without complaining. That being said the con with this curriculum is there are just so many different books and papers that come, it was very overwhelming at first. It had two binders, two spiral bound notebooks, and a bunch of papers. Nothing was in where it needed to be and we had to first figure out where they wanted which papers and under which tabs. Then trying to figure out just how it all worked was irritating, you had to log in and "purchase" all the videos using the codes they provided so it was free. The directions they sent on one of the many papers piled in the box did not match how the system is online now, so I just hoped I was doing it right. I was pretty well done with it before we even got started because it seemed so convoluted. I'm still not 100% sure I'm doing it how they intended, but what we have figured out seems to be working well. As mentioned above he actually has my "I hate writing" kid writing and not complaining about it; a feat I thought impossible.
My youngest son used Sing, Spell, Read, & Write for his language arts for preschool, kindergarten and 1st grade. It was pretty good all in all. I got a combo kit with everything for PreK through 1st grade for free which is why I decided to use it, but I honestly can't decide if I would buy it. My son is reading extremely well though, so no complaints with that. Cons are it was definitely written for a past generation so some questions and pictures are very outdated for this day and age. Maybe it has been been updated and I just have an older version. We didn't do the songs at all, my son did not like them. I personally didn't like that there are 3 (4 if you count the readers) different books to do work from. I am more of a pick up the one binder and go type of person.
Here are some additional resources I have used and found helpful. "6+1 traits of writing" has some great information to help kids with their writing skills. It gives the 7 different things to help improve writing skills. It also gives you some samples of work for various ages so you have an idea of what your child should be capable.
"Now What" by Rachel Harrison has a lot of fantastic advice and helps for teaching reading skills after phonics have been learned. Rachel is also a homeschooling consultant and she is AMAZING! She taught in public school for years, has and is currently homeschooling her own children, and has a master's degree in Designing Curriculum, Instruction, and Assessment. She helped me start on my homeschooling journey and was a huge blessing! She gave me options of curriculum and looked over options I found on my own to make sure they were good ones and covered everything important. Here is a link that shows her book on her webpage so if you want to explore her page more you can.  
Math:
I use Saxon math which we like well enough. When I was trying to find a math I went with this one because I'm not very good or confident in my math. I had looked at various friends curriculum and I saw that this one told you word for word what to say and that definitely appealed to me. Apparently I did not read through more than one lesson though, because I quickly realized that the word for word was a bit irritating. The first couple pages of every lesson are basically the exact same.   After two weeks of asking my son to count by 10's to 100, tell me all the days of the week, what yesterday was, what tomorrow will be, the even numbers to 20, and all the other things similar to that I was sick of it myself. He knew it all, so why spend 20 min going over it still everyday. Now I do everything the first day and see how they do. If they still need practice on something we go over it until they have it. The word for word lessons only go up to level 3, I believe after that the lessons are just an explanation and a few examples. The kids can read over it and do it themselves if they want and are willing.  
I did use Preschool Math at Home by Kate Snow with my youngest and we really liked it. She uses games and fun activities to help teach number sense. It was a great start for my son for sure. 
My oldest is trying out an online math through BYU independent study this year, which has courses for 7-12 grade. It has been going pretty good other than when we spent almost a month traveling in an area with no cell service, so he couldn't do any math during that time. One downside of online school. I was not sure what to expect with it and initially was a little disappointed because I assumed there would be videos of the teacher explaining each new concept. It just has a few pages of written instructions then there are questions to answer. It is nice though because he can do the work over and over again until he understands the concept without it counting against his grade. Every time you submit and start a new assignment it gives you a different set of questions which is very nice. The tests at the end of each section can only be done once, so the first score is the final score.
A resource I use for all subjects, that is helpful, is the book "The Well Trained Mind" by Susan Bauer. It has a lot of great information for what kids should know and learn for each grade. It is a big book, but keep in mind you don't have to read it all at once. Just focus on the chapters your kids need right now.
Of course Google, Siri, and Alexa are great go tos for finding out quick answers to questions. Although they do not always have the answers either. Like the day my son asked me how many volts of electricity a human heart puts out; all Google wanted to tell us was how many it would take to get it beating again, to kill you, or how many your whole body produced.
There you are, the curriculum and resources we use. I have found buying curriculum through Christian Book and Rainbow Resources often have the best prices. Amazon will as well, but not always. You can shop around and find the best price. Christian Book will generally have a code to get free shipping on items or will give you free shipping if you spend x amount. They also have great customer service when you need assistance.
Another way to get curriculum is to look in the area you are and see if there might be a homeschooling group. They could let you know if they do a homeschool curriculum sale event or you could just ask if anyone might have what you need for sell. You can also look on thrift books sites. You might end up with an older addition doing this which every once in a great while could cause issues.
Good luck with your research and hunt for the curriculum that works best for your family!
If you'd like to learn more about homeschooling check out this link all about homeschooling questions you might be asking.
If you'd like to learn about homeschooling while traveling check this one out!
Here is one about what got us started on homeschool.