High School: It Wasn't the Worst Experience of my Entire Life
It was actually (strangely enough) one of the best.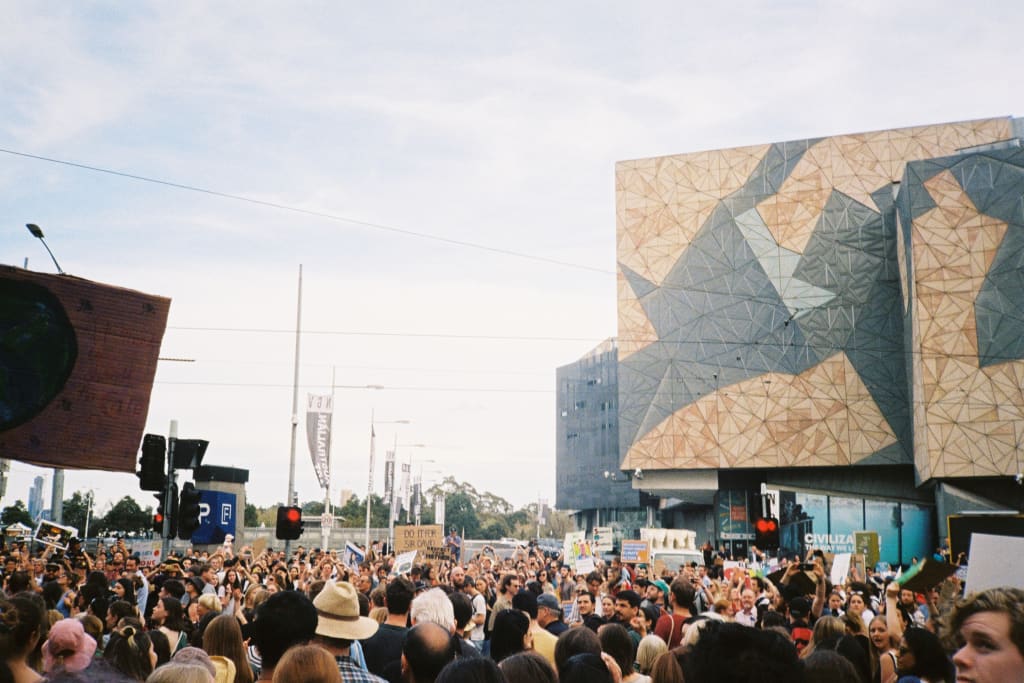 Melbourne Climate Strike 2019
A narrative often fed through pre-teen and teen media is that high school is one of the most damaging and scarring experiences that can happen to a person. I'm not here to totally disqualify that sentiment; for many people, high school is a very unpleasant and traumatising chapter in their lives and I am not writing this article to say those feelings are invalid. I am here to say, however, that high school for me (particularly in the last 2 years) was a time of great enjoyment. That's not to say it didn't take me a while to get there - trust me, I have many a story from my early high school years - but I recognise now how lucky and indebted I am to my high school for the education I recieved and the friends I was able to make. To get more of an understanding of how I got to this place though, we need to start at the very beginning: primary school.
I attended a very large private school in Melbourne, Australia from the age of 5. My campus was sitauted in the Bayside area, which is notorious for being home to very wealthy families with very expensive hobbies. I lived across the highway (and still do) in a suburb that, 13 years ago, was filled to the brim with geriatrics and young families. It was a nice suburb, but was no where near as upmarket as the Bayside suburbs were. My family has been very lucky and we've always been able to live a comfortable lifestyle, however, sending 3 children to an expensive private school in an expensive part of the world has never been an easy feat. My parents have had to sacrifice alot to make sure my sisters and I were able to get an amazing education with amazing opportunities. It took me a while to recognise this, but I do now.
To put it simply, primary school was my personal version of hell. I was an extremely quiet kid with pretty bad anxiety issues that got worse with a lack of self worth and confidence that manifested itself well into my late teens. Girls that I had known since I was 5 suddenly began to turn around no longer wanting to be friends with me in Year 4 and I soon found myself walking around the school with teachers at recess and lunch. I vividly remember running for class representative in Year 4 and losing to another girl far more popular than me in Assembly. My Dad was there and had to console me as I broke down in the school gym and the entire walk to the car. I wasn't crying because I wanted to be the class representative that badly; I was crying because I knew even before we had to stand up and read out our speeches that I was going to lose. I was crying because it didn't matter how better suited to the position I was or how much more I deserved it, I was never going to get it. I never stood a chance.
When I moved into Middle School in Year 5, I began to 'find my tribe' to an extent. I had recently picked up an obsession with One Direction (that still continues to today) and found a girl who was similarly into them. I started to come out of my shell with the help of what I now refer to as 'confidence classes' (a nice way to describe weekly sessions where you socialise with other socially disadvantaged kids and mumble silently to yourself during your weekly checkups with the over-enthusiastic workers there). It was going alright for a little while, until the end of Year 7/start of Year 8. I was 'officially' in high school, and my best friend of a few years had left my school at the end of Year 6. I was a little bit lost. I was lucky though, I had a good friendship group to fall back onto in Year 7 and found myself becoming more apart of their group as time went on. To save time I won't delve into all the happenings of the end of 2015 and start of 2016, but it wasn't nice. I had gone back to being in a position of great loneliness and with the final straw being the great double wrist sprain incident of 2016, I went to my parents and asked to change schools. So, in the middle of Year 8, I moved to another school.
Spoiler alert! This new school didn't work out - at all. I went from a private co-ed school that promoted single-sex learning but mixed interation at lunchtimes to a girls only private school that did well and truly live up to the stereotype of girls' schools. I remember having a discussion about my time at this school with my current best friend of 5 years at a shopping centre a little while back, and we both came to the conclusion that the group we were both apart of during that time was so incredibly toxic with its skewed morals and principles that it had ultimately made us grow up very quickly in a time when we should've just enjoyed being kids. You shouldn't have to play adult games when you're 15. You shouldn't have to know where the nearest abortion clinic is or how to bulk-bill at the doctor's or worry about your friends being taken advantage of sexually. Society is increasingly cruel to teenage girls, and I will never know why.
Ultimately, I moved back to my old school. This is where the story starts to become good. After spending 18 months at an all girls hellhole, I started Year 10 back at my previous school but a different campus. I feel weird being only 18 and saying this but from that point of view, it feels like my life really started then. My final 3 years in high school were the best 3 years of my life. I met amazing people, incredible teachers and had access to some outstanding opportunities. I got to travel to America and go to the Julliard School, see School of Rock on Broadway and stay with two amazing families in Boston and Los Angeles. My final year, Year 12, was the best so far. It was a celebration of getting through 13 years of waking up, going to the same place for 8 hours a day and then going home to do another 3 hours of work. It was a celebration of pushing through the obstacles that had presented themselves for 13 years. It was a celebration of the end of our childhood for a lot of us, including me.
I remember my Dad asking me a few weeks ago if it was all worth it. Honestly? Yeah. I am off to study screenwriting at my first preference university next year, I'm going to Europe in February with my two best friends and I am at a point in my life where I can whole-heatedly say I am happy. I love my family, I love my friends and I'm looking forward to my future. I owe a lot to my school, but it was shaped by the people in its community. So thank you to those people - you know who you are.
High school is never going to be a perfect experience for anyone. There's always going to be someone more popular, a mark that's better or an award you miss out on. But it's the intangible things that I've been able to take away that will stick with me forever and that have shaped me into the woman I am today. So what am I getting at here? It's ok if high school wasn't great for you. There were many points in my time where I was counting the days to graduation. But it's also nice to look back on the good parts and feel proud of how far you've come. I am lucky. I got a resolution on my high school career. For those of you who didn't though or are still in high school, don't fret. You will get there. Life after high school, I have since realised, is more fulfilling than the first 18 years of your life. That is something I am sure of.