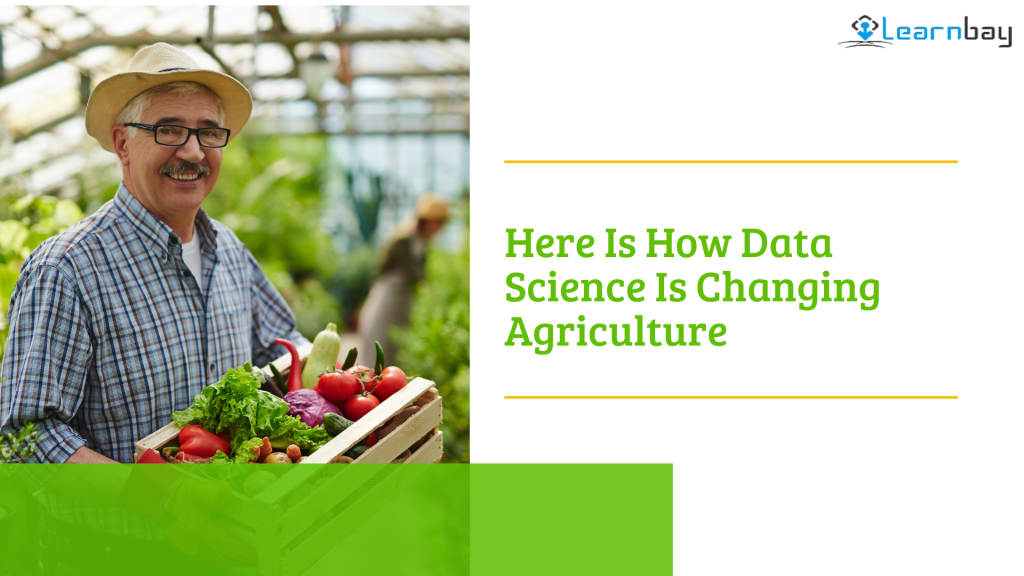 One of the most influential eras in agricultural history will occur in the twenty-first century. This is nothing less than a revolution in data. The following list of 5 ways data science is changing agriculture:
Increased Productivity

By the year 2050, the world's population is expected to reach 9.1 billion people, according to estimates from the UN's Food and Agriculture Organization.
With data connectivity, farmers and the agribusinesses they work with can easily connect with one another (even if they use entirely different systems) to save costs, foster efficiency and innovation, and ultimately increase profitability. Farmers have never been in a better position to get the help and direction they need from supply chain partners, allowing them to work smarter — not more challenging — and experience an unheard-of increase in output.
Businesses in the agriculture sector that take advantage of the opportunities presented by the data revolution are better positioned to survive and thrive as we enter a period of increased market volatility and environmental scrutiny.
IoT (Internet of Things) Adoption Soars

With intelligent gadgets becoming more common and capable of sharing more frequently, the Internet of Things (IoT) has experienced a significant acceleration in recent years. By 2020, 20.5 billion connected gadgets are anticipated to be in operation, outnumbering people by a ratio of 4:1.
IoT-enabled farm equipment may do away with the need to repeatedly enter the same data sets into several systems, significantly lowering the time and money lost to human mistakes. Farms already utilise sensors to monitor things like soil moisture, temperature, and nutrition. Tying all those systems together eliminates the need to enter data into many disconnected apps continually. Think of a farm where all relevant data is automatically and seamlessly unified, allowing the farmer to focus on essential tasks. The in-depth explanation of IoT can be found in a data science course online.
According to recent studies, the IoT generates $14.4 trillion in value for all types of enterprises. As a result of adoption, the agri-supply chain will use data more intelligently, resulting in better agricultural and food production.
Redefined Business Interests

Big data has altered not only how we conduct business but also how we establish and sustain those partnerships. For farmers, this means having the capacity to transmit critical information to their veterinarian or agronomist securely. Consequently, this enables partners on both sides to provide one another with more accurate and beneficial services. Agronomists can provide better advice and have a better understanding of crop status. Veterinarians can also treat livestock. By practising more productive farming, farmers can spend less time managing their relationships and more time increasing productivity.
Better and quicker communication that is more sensitive to actual occurrences would improve the current interaction between farmers and their supply chains. The advantages are clear: utilising sensor data to improve farm plans with agronomists or modifying fertiliser consumption. Farmers will have a more genuine and educated relationship with their advisors instead of a typical transactional model, enabling more productive decisions that provide better results.
Precision Agriculture Will Become More Reliable

The market for precision agriculture is predicted to expand from roughly 5.09 billion US dollars in 2018 to 9.53 billion US dollars by 2023.
Large amounts of data are generated daily throughout the supply chain and used to enhance each business' specific mission. Farmers may improve performance and output by utilising the value already existing in that enormous data lake and making it dynamic.
With the help of more immediate, effective farm decision-making, such as recognising pest threats earlier or preparing for severe weather events, precision agriculture enables farmers to do more with less by pinpointing the key areas of their farm that offer the best ROI for the suitable investment.
With smart data, precision agriculture can pinpoint the areas of a farm that will generate a profit or would be better suited to achieving sustainability and conservation goals. By utilising data wisely, it's feasible for farmers to have a better understanding of their output procedures and determine what improvements can produce the most benefit. Check out the trending online data science course for better understanding of the DS and analytics concepts.
Actionable Insights - Data-Based, Better Decisions
The advantages provided by data insights seem to have no end as we continue to be able to gather ever-increasing amounts of geographical data at the most minute level. Manufacturers can better plan and react to needs further down the supply chain. At the same time, ag retailers may identify their best and worst suppliers, score stores based on agreed-upon efficiency standards, and even assess their real-time market share.
As a result, farmers will feel more powerful since they will have a knowledgeable and trustworthy supply chain behind them, as well as helpful data insights that will make them more compliant, effective, and profitable.
Agronomists and retailers are currently trying to provide items that directly address the requirements of their farmers on the farm. Still, they are being impeded by a lack of visibility and understanding of the actual situation on the farm. Data analytics makes that visibility possible, even if a farmer is reluctant to share all of their data because of privacy concerns. Intelligent data analytics may create validated and helpful advice for use on farms, resulting in higher yields and greater profitability for farmers. This will also benefit the advice provided by agronomists. This will not only assist farmers in avoiding any recurring problems but also help them discover previously unidentified crucial areas where improvement is possible, resulting in a higher financial return.
These technological advancements have allowed farms to comprehend better all the opportunities available to them and the limitations preventing them from achieving their full potential.
The agricultural industry is evolving, and more changes are to come. For companies that adopt, proper connectivity will unite the supply network and create a good infrastructure that can satisfy changing global demands. For further information, visit the best data science course, learn the data science concepts in detail.
Reader insights
Be the first to share your insights about this piece.
Add your insights