He Gave Away Half Million Dollars For His Passion
Money is not important to this man on a mission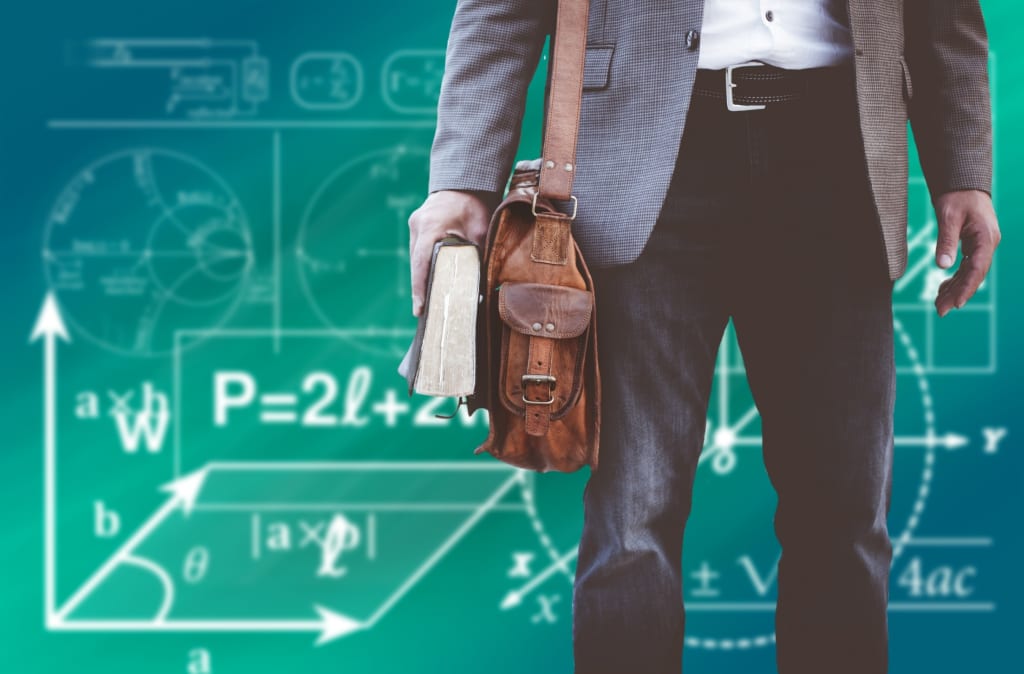 Image by Alexandra ❤️A life without animals is not worth living❤️ from Pixabay
When passion rules your mind more than money; you can conquer the world.
This school teacher of a small dilapidated Zilla Parishad school in Paritewadi village of Solapur district, Maharashtra, India, would have never imagined in his wildest dreams that he would one day be receiving the most prestigious teacher's award in the world — The Global Teacher's Prize 2020.
For Ranjitsinh Disale, who got selected from over 12,000 applications across 140 countries, this was the proudest moment of his life. He was the first Indian teacher ever to receive this award and to make his nation proud.
Disale never wanted to be a teacher. His first preference was to become an IT engineer. But when his engineering plans didn't materialize, he considered his father's suggestion to enroll in a teacher training course. It was during this course, Disale realized the power of education.
What started as an alternate profession immediately turned into a passion.
Beginning of a teaching journey
In 2009, when Disale's first entered a decayed building sandwiched between a cattle shed and a storeroom, he had never thought that the school could also look like this. The students were all girls from nearby tribal communities.
The orthodox community never prioritized girl's education, and teenage marriages were common. The lack of interest in education was evident from the mere 2% attendance that the school enjoyed. All in all, the future of the school was in a sad state.
Disale could have easily walked out for better opportunities, as this was just the beginning of his career path. But he was a man on a mission, a mission to change the lives of people.
Disale started to analyze the grim situation of the school. It didn't take him time to understand the problem. There were two major reasons of failures:
1) Girl's education was the least priority — The village community was indifferent to female education. They were considered homemakers of the future and were told to focus on daily chores like cooking, washing utensils, taking care of the younger ones, and assisting the men in fields. They never considered the capability of education in improving their status in life.
Action
Disale knew that the only way to get girls into the school was to convince their parents. But to change the attitude and an old mentality of parents towards education was easier said than done. He started to do community engagement.
In parallel, he also started learning the native language Kannada, to help him speak to these families in their mother tongue. Over a while, the villagers began to consider Disale as one among them, and the trust built up by constant interaction paid off; as parents started trusting him and sending their girls to school. Enrollment in schools started to increase gradually. But there was one more issue to be solved.
2) The curriculum taught was not in native language — The study material used in the school was in English or Marathi, a non-native language for the students who used to communicate in the Kannada language. It meant that the students first had to learn these additional languages to understand the subject. The added burden of learning other languages kept the girls disinterested in their studies.
Actions
The first challenge for Disale was to inspire students to keep attending school. To attract students to classes, instead of teaching traditional subjects, he started giving them learning through fun, songs, videos, and games, a concept he termed as "Edutainment". He wanted the girls to enjoy their time in school and thereby impart the habit of attending it daily.
The next task was to remove the language barrier hindering the learning curve. It was difficult to teach new languages to his young students, just to understand a subject. So he had to work the other way round and started converting textbooks into the native language. With his newly learned Kannada language skills, he converted all books from 1st to 4th grade in Kannada, making it easy for the girls to learn the subject.
The impact of Disale's hard work has been extraordinary; the school now enjoys a near 100% attendance, and there are no teenage marriages in the village. The school also received the best school award in the district. 85% of his students achieved A grades, and one girl from the village has graduated from university.
Revolutionizing the Education system
During his Edutainment sessions, Disale realized the inclination of students towards modern technology. As there was no electricity or computers in his school, he borrowed money from his dad to purchase a laptop.
He used it to create presentations and show videos and animations to his students. He often copied the content in his students' smartphones so they can refer to it when back home. This had to be done individually in every phone and would sometimes face issues like file corruption and compatibility.
Disale got an answer to his problem in a most unexpected place. During one of his visits to a grocery store, he observed the shopkeeper scanning a QR code to get the details and price of a product on his billing system.
The technology caught his attention, and he decided to try it out for education purposes and experimented on his students. The reaction was very positive.
The idea became a hit, and Disale started to get recognition for his innovation. With QR codes, the children can get links to audio poems, video lectures, assignments, and stories on their mobile devices at any place and time they wanted.
A small idea turned into a revolution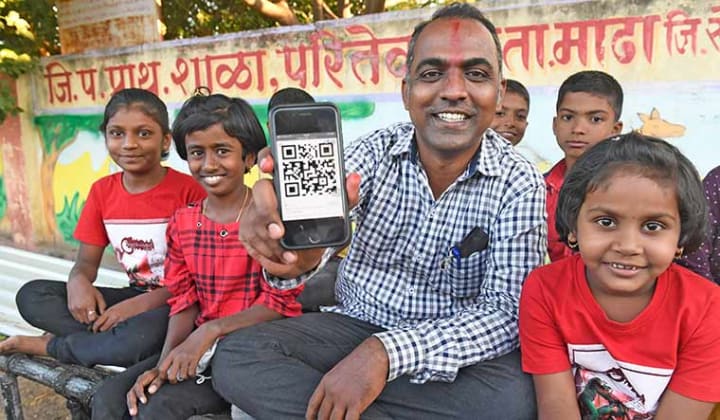 In 2017, the Maharashtra government introduced QR codes across the state for all classes' textbooks. The following year, the HRD ministry announced that all NCERT books across India would have QR codes embedded. It changed the Indian education system, propelling it towards new technology innovations.
Disale was always passionate about his work and delivered many innovative ideas and got recognized for his contribution. He has a long list of awards and accolades to his name. To mention a few :
1) Best Project in India (2015) — Microsoft Corp. for "QR Codes in Textbook."
2) Best Project in India (2016) — Microsoft Corp. for "Virtual Field Trips."
3) Innovative Researcher of the Year (2016) — Govt. of India
4) Innovator of the Year (2018) — National Innovation Foundation
Microsoft C
EO- Satya Nadella recognized Disale's efforts in his book "Hit Refresh."
The mission is primary; money is secondary
In the virtual pricing ceremony hosted by British actor Stephen Fry, Disale was declared the winner a awarded the prize and an amount of $1 million. I was a massive sum by any standards would have ensured a good life for Disale and his family.
But the passionate teacher had other plans. He immediately declared that he would be distributing 50% of his winnings with his nine fellow finalists from other countries. When Stephen asked Disale for a reason for this decision, this is what he had to say,
" I believe that if I share this money with nine teachers, it will help them scale up their incredible work, which is still worth it. I don't feel like a winner; I am just the same among the equals. If I share my winning, they will get a chance to continue their work and lighten many students' lives because sharing is growing. God gives us, and we have to share and not keep it for ourselves."
Disale received appreciation from across the globe for his generous gesture. The "Dalai Lama" himself tweeted to congratulate him on his win.
Disale plans for the remaining 50% winning amount is to use it for working on his other initiative.
He will be contributing some amount to the Teacher's Innovation Fund to help other teachers in innovation initiatives towards education improvement.
Some amount will be used for promoting his project "Let's cross the border," which contributes towards peace missions in countries impacted by conflicts like India, Pakistan, Iraq, and Palestine. Disale currently has 18 thousand students across borders as part of his peace army, and this number would be scaled up to 50 thousand by 2030.
Whatever remains, post the above initiatives would be donated to other teaching projects.
My Key Learnings from the Life of a Real Hero
Find a meaning in whatever you do in life — Even before starting his career, Disale realized the true meaning of his profession. He understood the power of a teacher and the change he could bring to so many lives. This gave him a whole new spectrum to look at things. What has considered a challenge by others became his opportunities. He found meaning and a goal in life, and now nothing could stop him from achieving it.
Believe in yourself — You cannot achieve anything in life without trusting your own abilities. Who would have believed that a person teaching in a school which looked like a cattle shed can revolutionalize the entire Indian education system and win the best teacher's prize in the world? But it was Disale who followed his dream and made it possible. No dream is impossible if you have a big dream and a will to make it possible. What is required to believe in yourself and the world will follow you.
Follow your passion, and money will follow you- Disale started on zero. He just followed his gut. The hardships he went through were never with the intention of monetary benefit. He just wanted to add value in the life of his students, which was the basic purpose of his profession. He followed his passion and brought a change that affected so many lives. Money followed but Disale never deviated from his goal and continues to invest in his mission to change the world.
Always be humble no matter how much you achieve — One problem with success is that it creates an ego that changes your attitude and arrogance takes over, ultimately leading to your downfall. Disale, in his interview, mentioned that he was not a winner but one among equals. Even when he wanted to convince the villagers to send their girls to school, he tried to comingle with the families and be one of them. Had he considered himself to be superior, he would have never achieved the success he got in life.
We require more people like Ranjithsinh Disale, who can change the world and make it a better place for our future generations.
teacher
A banker by profession and a writer by passion. My life has always been full of ups & down, a treasure which helps me to pen down my memories. Technology and self-help are my drivers and reading is my hobby.
Thanks for your time.