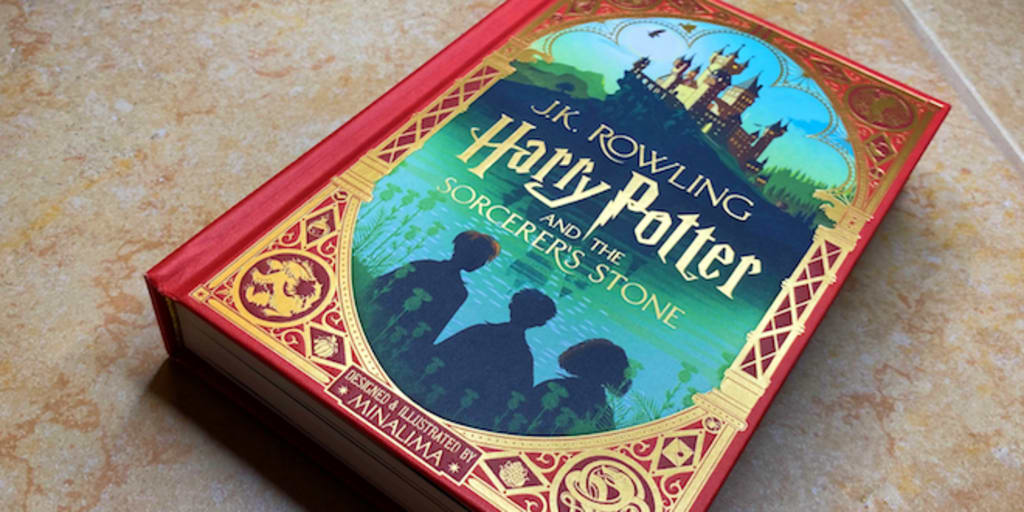 Book 1: Harry Potter and the Sorcerer's Stone
(Published as "Harry Potter and the Philosopher's Stone" in the U.K.)
dek
When it hit shelves: June 30, 1997
What happens in the book: After murdering Harry's parents, James and Lily Potter, evil Lord Voldemort puts a killing curse on Harry, then just a baby. The curse inexplicably reverses, defeating Voldemort and searing a lightning-bolt scar in the middle of the infant's forehead. Harry is then left at the doorstep of his boring but brutish aunt and uncle, the Dursleys.
For 10 years, Harry lives in the cupboard under the stairs and is subjected to cruel mistreatment by Aunt Petunia, Uncle Vernon and their son Dudley. On his 11th birthday, Harry receives a letter inviting him to study magic at the Hogwarts School of Witchcraft and Wizardry.
Harry discovers that not only is he a wizard, but he is a famous one. He meets two best friends, Ron Weasley and Hermione Granger, and makes his first enemy, Draco Malfoy. At Hogwarts the three friends are all placed into the Gryffindor house. Harry has a knack for the school sport, Quidditch, and is recruited onto the Gryffindor team as its star Seeker.
Perusing the restricted section in the library, Harry discovers that the Sorcerer's Stone produces the Elixir of Life, which gives its drinker the gift of immortality. After realizing that Voldemort might be after the stone, Albus Dumbledore had it moved it to Hogwarts for safekeeping.
Harry finds out that when she died, Lily Potter transferred to her son an ancient magical protection from Voldemort's lethal spells. This protection is what allowed Harry as an infant to survive Voldemort's attack. It also helps Harry keep Voldemort from possessing the Stone, which Dumbledore agrees to destroy.
The Players:
Albus Dumbledore: Headmaster of Hogwarts. He becomes Harry's mentor and father figure
Ron Weasley: Harry's friend who comes from a large and economically struggling family
Hermione Granger: Another friend of Harry's and a smart witch, though her parents are Muggles (non-magical folk)
Draco Malfoy: Harry's nemesis. Comes from a lineage of wealthy wizards who not only support Voldemort, but also believe that magic should be performed by pure-bloods alone
Rubeus Hagrid: Half-wizard, half-giant and Keeper of the Keys and Grounds. Develops a close friendship with Harry, Ron and Hermione
Severus Snape: Professor of Potions. An unfair teacher to those he doesn't like. Has a strong dislike for and animosity toward Harry
Lord Voldemort: A dark wizard. At one time the most powerful wizard, second only to Dumbledore
The Philosopher's Stone is the first in J.K. Rowling's Harry Potter series of seven novels that have made her the most successful literary author of all time, selling in excess of 400 million copies world-wide. The books are read and enjoyed by children and adults alike and have also been made into hugely popular films.
Do the Harry Potter books live up to the hype? When I first began reading the Philosopher's stone I was immediately struck by how good - and laugh-out-loud funny - the humour was. You usually need to read a Terry Pratchett novel to ensure constant laughter throughout but Rowling has managed to infuse this book with a lovely wit and charm that will both amuse and delight adults and children.
Here is an example, with the ending being particularly good:
"Harry was frying eggs by the time Dudley arrived in the kitchen with his mother. Dudley looked a lot like Uncle Vernon. He had a large, pink face, not much neck, small, watery blue eyes and thick, blond hair that lay smoothly on his thick, fat head. Aunt Petunia often said that Dudley looked like a baby angel – Harry often said that Dudley looked like a pig in a wig."
Harry Potter and the Philosopher's Stone: The Vanishing Glass
There are characters in this book that will remind us of all the people we have met. Everybody knows or knew a spoilt, overweight boy like Dudley or a bossy and interfering (yet kind-hearted) girl like Hermione. A large number of the younger readers will also be able to easily identify with Harry, especially with his initial feelings of isolation and not belonging, and then through to his excitement at finally leaving that life behind in favour of one where he belongs and will be happy.
When Harry begins his first term at Hogwarts (a wizarding school) he is not alone in being overawed:
'Yeh'll get yer firs' sight of Hogwarts in a sec,' Hagrid called over his shoulder, 'jus' round this bend here.'
There was a loud 'Oooooh!"
The narrow path had opened suddenly on to the edge of a great black lake. Perched atop a high mountain on the other side, its windows sparkling in the starry sky, was a vast castle with many turrets and towers.
Harry Potter and the Philosopher's Stone: The Journey From Platform Nine and Three-Quarters
Hogwarts is a truly magical place, not only in the most obvious way but also in all the detail that the author has gone to describe it so vibrantly. It is the place that everybody wishes they could of gone to when they where eleven. And there many adventures befall the trio (Harry, Ron and Hermione) and the stone in the book's title is centre to all that happens. The story builds towards and exciting conclusion that has the ultimate feel-good factor.
J.K. Rowling should be commended for getting so many people reading and excited by books. The biggest surprise must be the effect that this novel had on the adult population, both male and female - at the time the books were published many a commuting train was spotted with Harry Potter books providing world-weary workers with a wonderful sense of escapism. This book is highly recommended to anybody between the ages of 8 and 80.
Is all the hype about the Harry Potter books justified? In a word, yes, the books are a joy to read and possibly the most rewarding young adult's book since The Hobbit.
Reader insights
Be the first to share your insights about this piece.
Add your insights