Granada Hills Charter Will Try Again To Defeat Scott Schmerelson
The charter school's testing coordinator, Dr. Janie Dam, declares her candidacy against the incumbent in LAUSD Board District 3.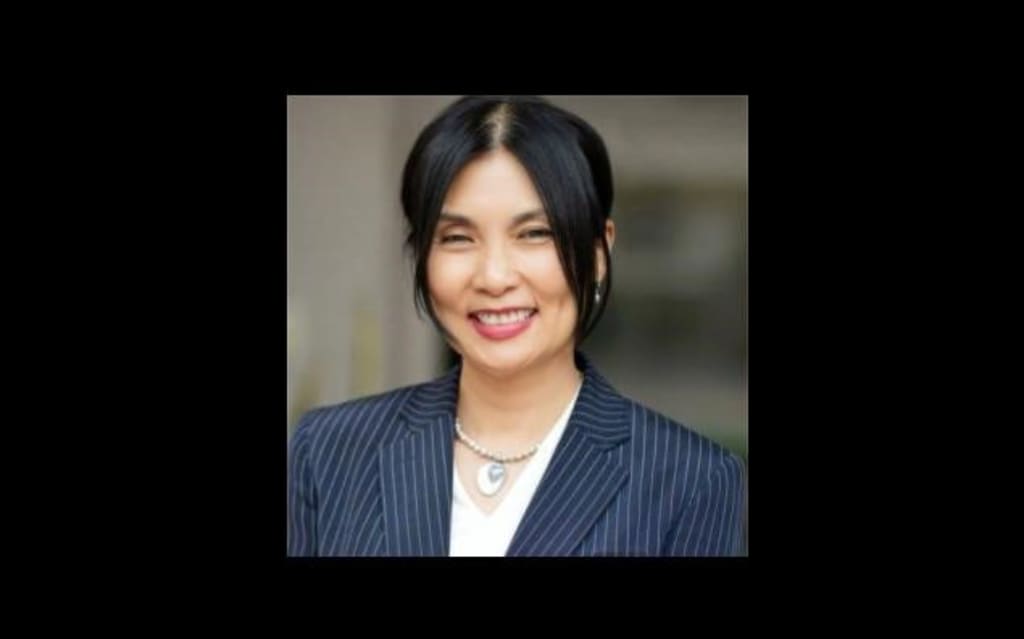 "What does stricter regulation of charters actually accomplish?"

– Dr. Janie Dam
When Granada Hills High School converted from an LAUSD public school to a privately operated charter school, it did so with the promise that the change would give parents more opportunities to engage with their children's school. Accordingly, representatives elected by parents were included on its governing board.
Today that democratic representation is no longer present. There is only one Parent/Guardian Representative on the Governing Board and this member is selected by the members of that board. The person who is appointed must agree to "support the Charter School's goals, mission, and vision." Anyone who is critical of the school's operations need not apply.
While Granada has eliminated democratic principles from its own governance, it has a history of trying to insert itself into the electoral process used to select representatives on the LAUSD School Board; a District that it decided to remove itself from. Upset that Board Member Scott Schmerelson dared to vote against their successful effort to expand from a high school to a school covering grades TK - 12, Granada ran Marilyn Koziatek, their Director of Development and Communications, against the incumbent in the 2020 election. The school even reduced her responsibilities during the campaign while maintaining her salary, resulting in an ethics complaint.
Despite supporters of the charter school industry spending $6,569,334 on her campaign, Koziatek lost to Schmerelson by 17,908 votes. Undeterred, a recent filing with the Los Angeles Ethics Department shows that Granada will try again to beat Schmerelson. In 2024 they are going to try their luck with Dr. Janie Dam.
According to Dr. Dam's LinkedIn profile, she has been an employee of the LAUSD for over 22 years. This contradicts the bio that she included with a commentary that was published in EdSource stating that she "is a math teacher and the testing and data coordinator at Granada Hills Charter in Los Angeles," an independent charter school that is overseen by the LAUSD, not part of it. While the article was published last year, her LinkedIn profile states that she stopped being Granada's full-time LEA Testing & Data Coordinator in 2020. It also states that she has been a classroom teacher at Oliver Wendell Holmes International Magnet MS concurrently while teaching at Granada Full-time. Holmes is a public school operated by the LAUSD.
As parents of Granada Hills Charter High School graduates, my wife and I had a troubling experience with Dr. Dam in her role as an LEA Testing and Data Coordinator. We are opponents of corporate standardized testing and concerned about the undue stress that this placed on our daughter, we exercised our rights under California law to opt her out of "not only from the State of California testing but from all standardized testing." It was a directive that was ignored by Granada when our daughter was forced to take the tenth-grade NEA MAP test.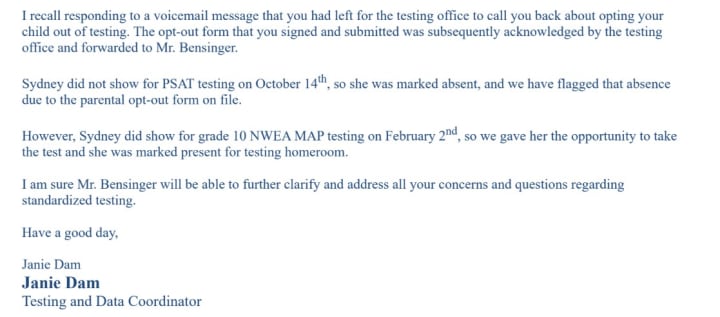 Dr. Dam's excuse for ignoring our instructions was that our daughter was at school, so the school "gave her the opportunity to take the test." Her use of the word "opportunity" was particularly galling considering that one of our stated reasons for excluding our daughter from these tests was the undue stress that the school caused by emphasizing the results.
Dr. Dam's response implied that if we had not sent our daughter to school that day, she would have been excused from taking the test. This was contradicted by David Bensinger, the Administrative Director for Instruction, who said in another email that "the school must create meaningful, alternative activities for students whose parents exercise" the right to opt out.
Also, in Bensinger's email was the real reason that the school's administration forced our child to take a test that we, as her parents, had specifically exempted her from; Granada took the position that standardized tests that were not required by the state were not covered by education code's opt-out rules. Instead, they were considered to be "assignments in a class" and there was "not an option to opt-out."
Even more concerning was that Bensinger indicated that students were graded based on the results of the NWEA and that "if a student does not complete the assignment, he or she will earn a grade that indicates a lack of completion." The NWEA is administered using an "adaptive test design." This means that questions are selected for the student based on their answers to previous questions. The test is designed to find the level where the student fails. If no two students were receiving the same test, how could it be graded on a scale where the class is ranked?
Another issue Dr. Dam will have to answer for during the campaign is her role in Granada's SAT scandal. According to her LinkedIn profile, she was named the LEA Testing & Data Coordinator in July 2007. The following year "seven students from Granada Hills Charter High School in Los Angeles, the largest charter school in the country, stole SAT tests from the school and cheated on their exams." Students alleged that the investigation into the incident was "rushed" so that the school could "dish out punishment fast and swift." The LA Times reported that they received emails claiming that "the tests were left in the open in a school office that was frequented by students, and that there was no adult supervision when the security breach occurred."
While Dr. Dam is Schmerelson's first declared opponent, the primary is still about a year away. If Schmerelson continues to defend the North Valley Military Institute and neglects to hold Superintendent Carvalho accountable for his lies and arrogance, she may not be the last.
____________________________
Carl Petersen is a parent advocate for public education, particularly for students with special education needs. He was elected to the Northridge East Neighborhood Council and is the Education Chair. As a Green Party candidate in LAUSD's District 2 School Board race, he was endorsed by Network for Public Education (NPE) Action. Dr. Diane Ravitch has called him "a valiant fighter for public schools in Los Angeles." For links to his blogs, please visit www.ChangeTheLAUSD.com. Opinions are his own.
About the Creator
Carl Petersen is a parent advocate for students with SpEd needs and public education. As a Green Party candidate in LAUSD's District 2 School Board race, he was endorsed by Network for Public Education (NPE) Action. Opinions are his own.
Reader insights
Be the first to share your insights about this piece.
Add your insights