First Grade Technology?!
iPads, Apps, and Kiddos Galore!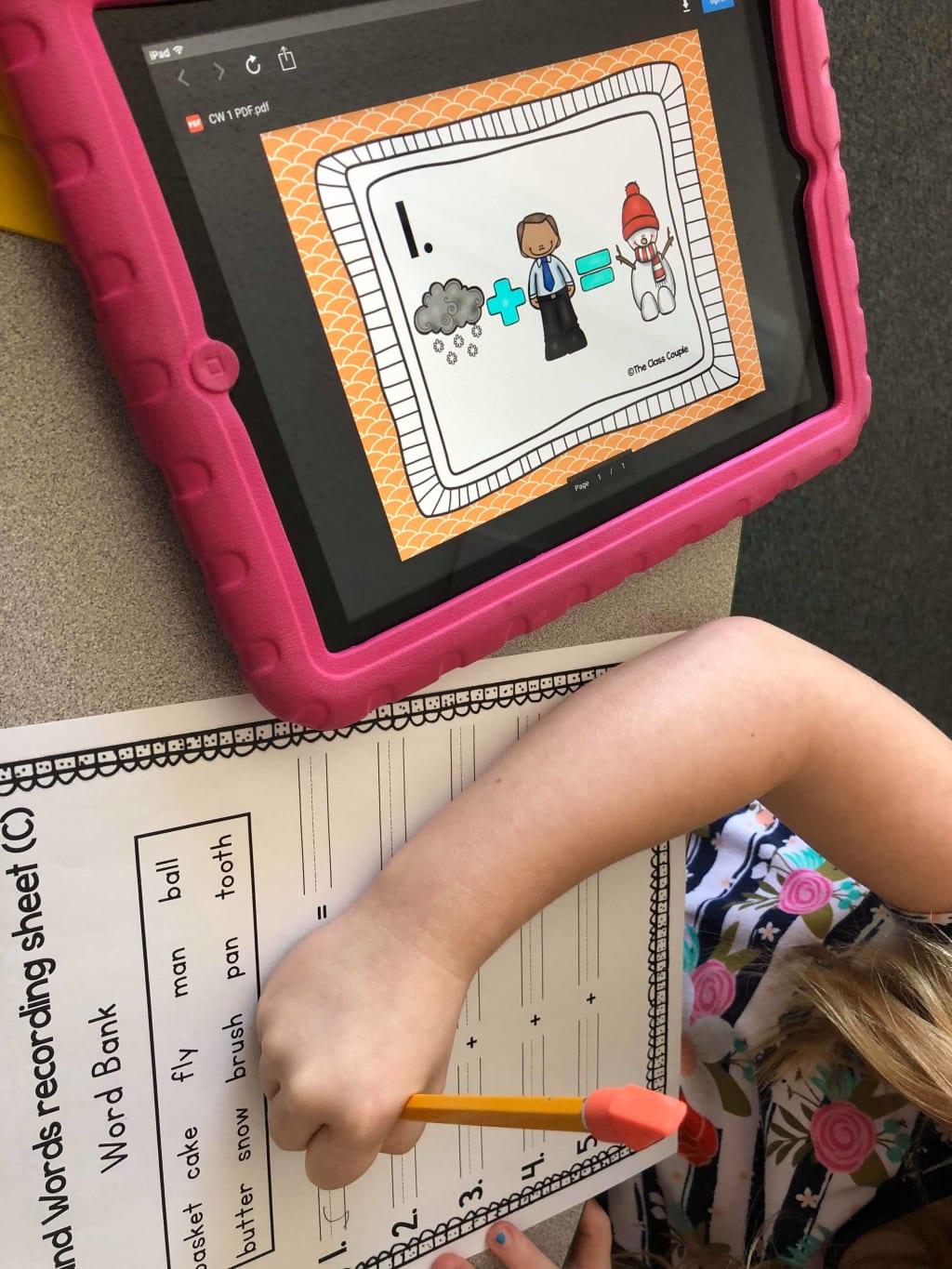 A student using a QR Code Reader to complete a compound words worksheet. 
When I was in first grade I think the greatest technology I'd ever seen was a crayon melter and an old school projector (those were cool back then)! Now, I teach first grade and what I had handed to me (basically) scared me! My school's tech person handed me 12 iPads, an Osmo, a Tiggly set, a Sphero, and confidence that I'd make it work. Boy... I think it took me awhile to realize that hey... I have technology and I can use it!
Have you ever handed your phone or iPad to a 4-year-old and said, "Damn, how'd you do that?" I handed the iPads to the 7 year olds and watched. I was completely blown away. They all knew how to use them and where to go. They taught me. This was nearly 3 years ago. I had never used an iPad. I had never touched any of the technology tools I was just handed. The best I had was a few years with an iPhone and I was still learning how to use that.
Currently, I'm a first grade teacher to 10 wonderful students who keep me inspired daily. We use technology every single day to learn. EVERY DAY. We use basic apps to create wonderful pieces of work. Technology has also allowed me to create lasting relationships with parents that are filled with trust and respect. Over the past few years I've created DonorsChoose projects which have provided me with my own set of technology tools to use within the classroom. Our current needs are newer iPads as our growth in using iPads has exceeded the capacity to which our current iPads can handle (my iPads are older than my students).
My children have created and published books on their iPads, they have grown as readers using familiar apps, they've become mathematicians and they have become critical thinkers. They know how and when to use technology. They know what to do when something is not working. They problem solve with their peers. They collaborate and they engage.
What apps do we use?
Seesaw, BookCreator, Tiggly, Osmo, Sphero, ChatterPix, Teach Your Monster to Read, Epic, Storyline Online, Raz-Kids, Todo Math, iMovie, IXL, QR Code Reader, Prodigy, and the Bridge's math programs provided apps (Money Pieces is our favorite). We also dabble in a few other apps, but these are our main apps.
Now, there's many ways to use each of these apps. Perhaps my favorite part of using the iPads and the apps is app-smashing. What's app-smashing? It's using 2 or more apps and blending them together to create one product.
Why do we use technology in first grade?
WELL WHY NOT? It doesn't hurt them so don't even bring up the screen time issue. Everything used in the classroom is educational and I have the test scores to prove it! Ask my students what they've learned from using technology and they will tell you. I had one student who wanted to know about Amelia Earhart. She looked her up on Epic! and taught me all about Amelia that afternoon!
Using technology doesn't hurt children IF you do it the right way. Are my kids allowed to play games like Subway Surfers? Heck yes. They're seven. They work hard. They deserve a break. However, for 95% of the school time we use technology they are in learning games. When students are taught that technology is a tool they will respect it that much more!