Finishing School with a Chronic Illness
I never thought I could, but each day, I get one step closer to earning my diploma.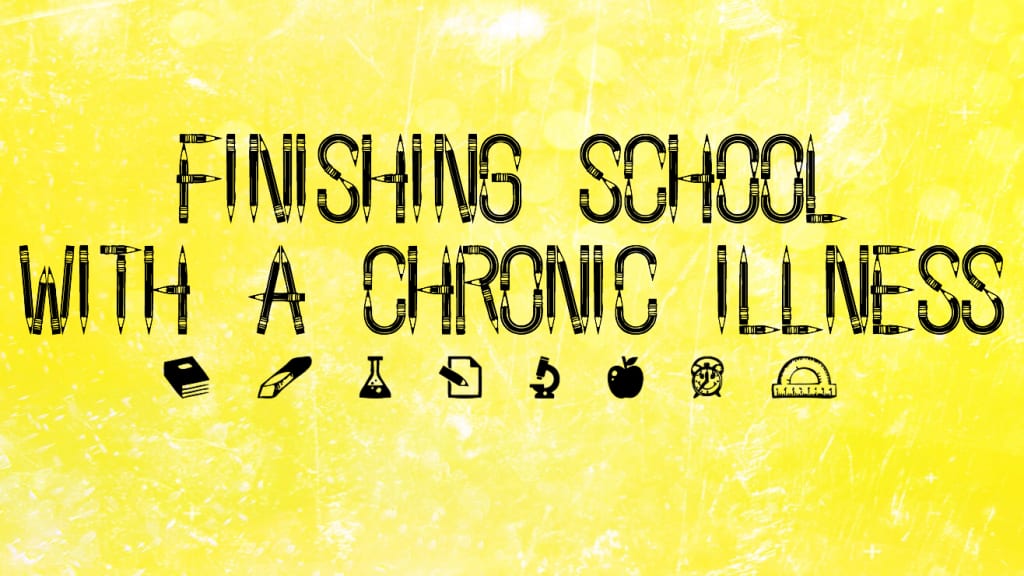 As I am typing this, the lyrics "
I know it's hard when you're falling down, and it's a long way up when you hit the ground, get up now, get up now, get up now"
from "On Top of the World" by Imagine Dragons are on repeat in my head, and well, on my laptop too. Why? Because I just finished another class, and I am one credit closer to earning my diploma.
You're probably thinking "what's so exciting about that?" Well, around this time last year, I never thought that I would receive my diploma. When I had spine surgery, I was in my junior year of high school. I had some complications with healing, but was determined to get back on my feet and attend my senior year of high school. A few weeks after school started, however, I realized that it was too much. As in, I was so stressed out that I would have panic attacks nightly just thinking about school. My counselor, grandparents, and I came up with a schedule for me. I would attend the first three classes one day, then the next three the other day, and so on. Soon, I fell so far behind, I just quit caring. I would attend my first period, skip second period and spend time in the nurse's office, would go to third period, and then would go home. Sitting in class for 55 minutes was too stressful physically and mentally. I was at the point where I almost had to keep pain medicine in the nurse's office in case my pain became too bad. My symptoms of Ehlers-Danlos Syndrome and Dysautonomia also intensified at this time, so that made it even harder for me. It came to the point where I knew in my heart that I had to drop out. I wouldn't attend prom, I wouldn't attend graduation... it was heartbreaking. In those months leading up to when I was supposed to graduate, I was in a deep depression. I couldn't even drive past my high school without bursting into tears. To this day, when prom season comes around, I can't walk past the displays of dresses because I get this nagging feeling on what I missed out on.
In early September, my cousin, Lisa, talked some sense into me. She said, "look, don't go for a GED, go for a diploma," so after our talk, I decided to contact my counselor from high school. He informed me about a program called Graduation Alliance, and when I said I was interested, he gave them my contact information and pretty soon, I was enrolled in school again. With Grad Alliance, you are given two classes to finish a month. You have an Academic Coach who helps to keep you on track and assigns your classes, and you have a local advocate. My local advocate is AMAZING. The minute I met Laurie, I instantly felt like we had a connection, and we do. We both suffer from chronic conditions, so she understands me on that level. In Grad Alliance, you meet up with your local advocate every week to check-in. I love going to meet ups, it's like a group therapy session. Plus, Laurie is a lot of fun to be around, and I can talk to her about anything, because I trust her.
There have been a couple of times where my depression took over and I had to repeat a class, but I did it. Just yesterday, I finished English with straight A's. For me, having surgery and a chronic illness was a blessing in disguise. Instead of attending classes physically, I can do them from the comfort of my own bed, even when I'm feeling really bad. Plus, I've made new friends by going to our weekly meet-ups.
You CAN finish school, even if you have a chronic illness. I never thought I could, especially around this time last year, but now I'm one credit closer to earning my diploma.
Nothing in life is easy, but if you have an end goal, you will be more motivated to finish. Trust me, with each credit I earn towards my diploma, I can see myself holding it, knowing that I earned it, and when I hold that diploma in my hands, I will know that all of my hard work paid off, because I earned it.