Filipino Takes Part in Taiwan Experience Education Program (TEEP)
The Taiwan Experience Education Program (TEEP) is a great chance to be engaged in English immersion and a unique experience of Taiwanese lifestyle and passion.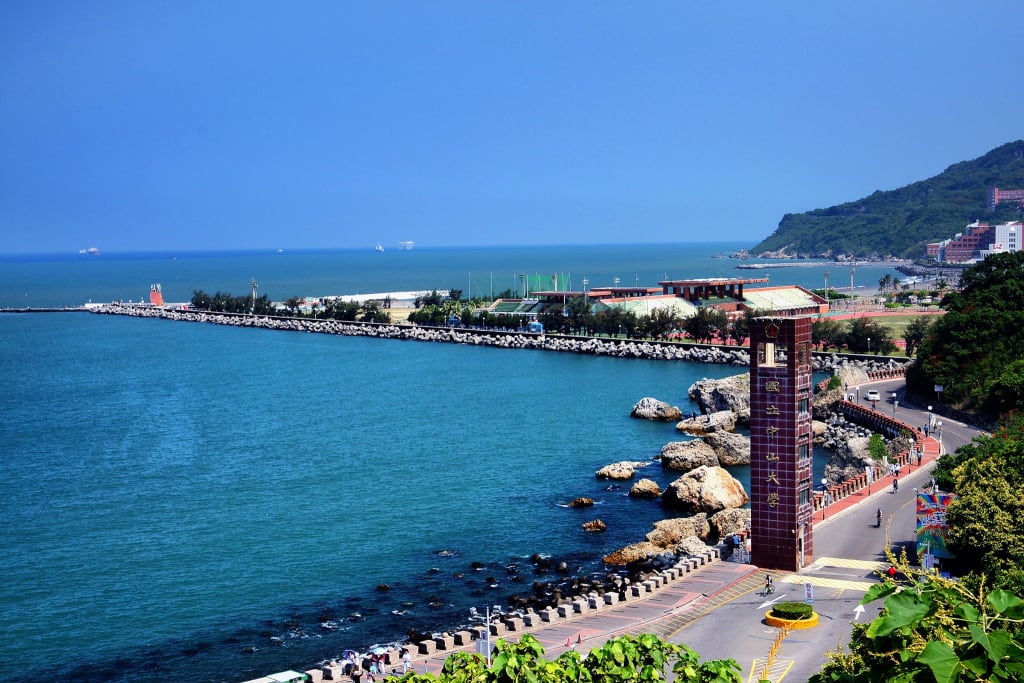 The main entrance of the National Sun Yat-sen University, Kaohsiung City, Taiwan.
There are many professions which man has adopted according to his knowledge and ability. A profession is an occupation that seeks to regulate itself by (a) developing a consensus concerning what its practitioners must know and be able to do and (b) developing an accreditation and licensing system to ensure the transmission of that knowledge and skill (Wise, 2005). A person can adopt any profession depends upon his aptitudes and capability. All profession is important for human development but teaching is the profession which can lead people to its stairways of success. According to the respected A. P. J. Abdul Kalam teaching is a noble profession because teachers must go beyond the fullest of having a great effort to deliver a good quality of education to educate their students. Teaching as a profession requires great motivation and moral strength, it aims at enlightening and contentment of mind in men broadens and illuminates the corners of human hearts and minds. Teaching has been one profession that has maintained its sanctity right from its inception (Raman, 2014). Let me say that teaching is the profession which shows man the road which leads him to God as the teacher touches not only the mind of the learners but also their heart. Effective teachers motivate students by helping them get hooked on learning, a habit that will satisfy for a lifetime (Reifman, 2008). If we have the jar of heart to teach, a mission and vision in life to share our knowledge to our students then it's our vocation to reap a good fruit through students who gain knowledge and discover their capabilities from our guidance.
"Teachers teach - teach to make difference. Teachers know. Teachers change lives. Teachers care."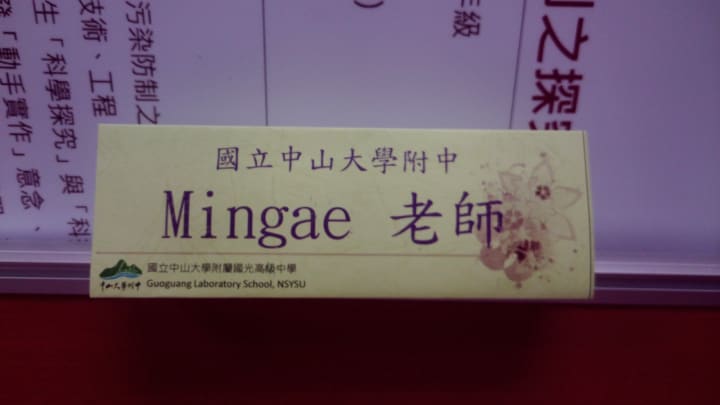 My Philosophy of Teaching
I believe that a teacher is like a computer system. A computer with a "heart" - dignity and reputation with higher ethical and moral values. I believe that a teacher and learner are like clients and servers - what is one without the other? Combine them together and one will have the strongest and fastest interconnection towards knowledge that rants all over the nation.
The complete computers are made up of motherboard, CPU, memory and related electronics (main cabinet). Similarly, a complete teacher is made up of wisdom, faith, lovingness, attitude (good disposition in life) and all the peripheral skills connected to it and its operating system. Clients are the heir users of teachers given not only of his wisdom but rather of his faith and his lovingness while servers share their knowledge, skills, and attitude to multiple users with a unit of competency in computer system servicing:
Install Computer System. Install the world of wonders with excellent teachers that produce well-developed holistic and exemplary learners in long-term and sustainable nation-building. A teacher assembles and disassembles a scaffold that serves as a temporary structure until such time the learner meets the standards.
Diagnose and Troubleshoot Computer System. Diagnose and troubleshoot the right and duty of teachers to determine the academic works and promotions of learners. Evaluate the learners work in merit and quality academic performance. Interaction between teachers and students is the most important factor in student motivation and involvement. The opportunity to know a few faculties well often enhances student's intellectual commitment and provides a valuable role model.
Configure a Computer System. Configuration of teacher's and learner's engagement - attention and commitment. A teacher shall recognize the interest and welfare of the learners in fairness and impartiality. Configure the installed knowledge of the students by applying a variety of assessment tools and strategies. Both teaching and learning are enhanced by descriptive feedback. Without feedback neither learner nor teacher can improve because they will not know what they need to know or to what extent they are fulfilling their goals.
Lastly, maintain a Computer System. To maintain means to assure and ensure the integrity and accountability of the profession. Maintain a learning environment of courtesy and respect for different learners. Establish and maintains consistent standards of learner's behavior. Teachers do not just maintain dignity and reputation but must upgrade technical and professional competence. Teachers must behave in a manner that upholds the status of teaching. Teachers must allocate time for personal growth and professional development. Teachers teach - teach to make a difference. Teachers know. Teachers change lives. Teachers care.
A brief description of the school
Established in 1947, the Chinese Petroleum Corporation Education Group began with a 6-class mini primary school for the children of the employees of Kaohsiung Oil Refinery. Over the decades, it has grown into a multi-level education group with three Boards of Directors in charge of three school units—elementary school, junior high school, and senior high school which accept not only the children of CPC employees but students in the Kaohsiung area. Currently, Guo-Guang has a total of 111 staff members, 1909 students, 45 classes and a beautiful campus of 10 hectares by lease from CPC.
In the school year 2004, Guo-Guang Junior High has 913 students studying in 24 classes, eight classes in each grade. Guo-Guang Senior High has a total of 946 students, 15 high school classes and 6 vocational classes.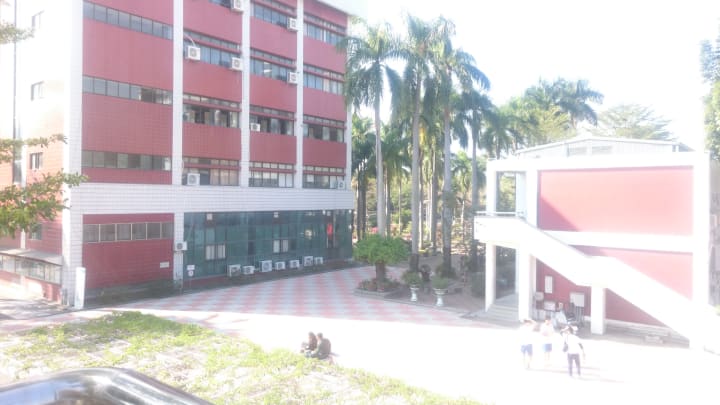 Kaohsiung Ruey Shyang Primary School
Built-in 1st August 1981
Superficial measure of school: 24340 M2
Floor superficial measure: 31728 M2
Number of classes: 87
Number of students: 3130
Number of teachers: 134
Number of employees: 19
Note: The above-mentioned data was offered on 1st September 2003.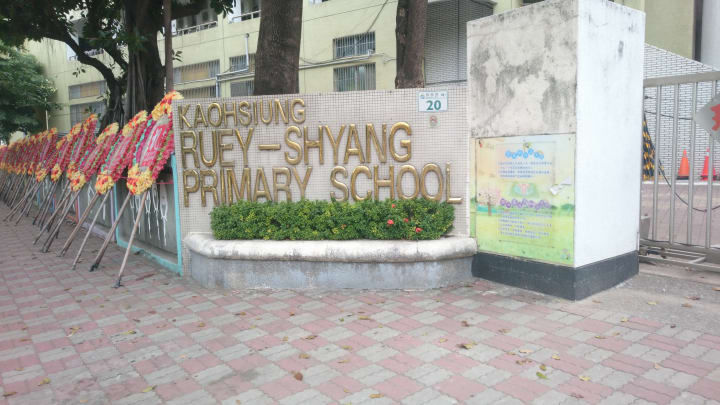 My Experience in the School Campus
Meeting with the Director of General Affairs & Principal
Guoguang Laboratory School, NSYSU
I and Ms. Cary Wang had the chance to have a meeting with Mrs. Wu Chin-Fang, the Director of General Affairs. She was the one who gives us an orientation about the school policies, rules, and regulations. Moreover, she guides us to the respective class I will be handling and introduced me to the faculty and staff of the school, Guoguang Laboratory School, NSYSU.
Kaohsiung Ruey Shyang Primary School
I was given the chance to meet all the faculty and staff of Ruey Shyang Primary School on the 18th of November 2019. Mrs. Lu Yan-Ling, Principal of the school introduced me during their Monday faculty and staff meeting.
Meeting with the Cooperating Teacher
I am grateful and enjoyed my first meeting with my cooperating teachers in both Primary and Secondary schools. They are very nice and supportive cooperating teachers. They discussed the things I need to familiarize myself with the teaching-learning process. I saw them as responsible teachers and at the same time friendly and a mother and father to all the students under their care.
Working with My Cooperating Teacher
Working with my cooperating teachers is a grateful and unforgettable experience of mine. They served as my guide throughout my journey in GLS and RSPS. As a helping teacher, I wanted to learn more about how to develop my ability when it comes to teaching. They never forget to give feedback on my weaknesses and strength in facilitating the learning environment. They always give suggestions and collaborate with me about my lesson planning.
My unforgettable Experience in the School
I could never forget the day my students in Primary and Secondary surprised me when they give me a token of appreciation, a card full of inspiring and insightful messages. I never thought that they would recognize me as their teacher. I couldn't help myself but thank them with all my heart. I will never forget how all the faculty and staff of both schools are so kind to me. They welcome me wide-open in their respective schools. Moreover, I could not forget that my Senior II Class B students would personally invite me to attend their Christmas Party.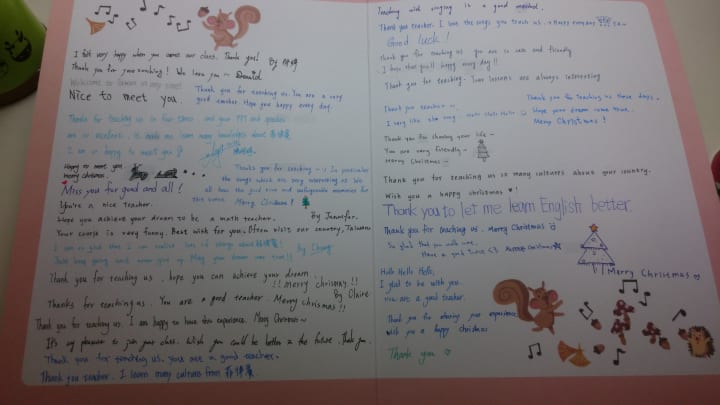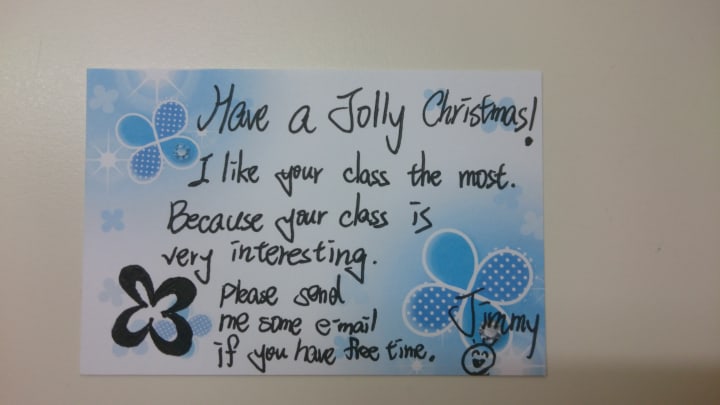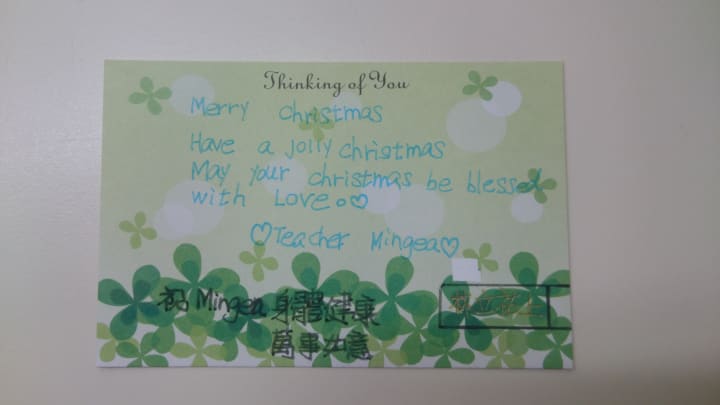 How did I establish Classroom Routine?
When routines and procedures are carefully taught, modeled, and established in the classroom, learners know what's expected of them and how to do certain things on their own. Having these predictable patterns in place allows teachers to spend more time in meaningful instruction - Linda Shalaway
Cooperating Teachers had already their routines on how to make their instruction be very effective and make their students more disciplined. I got acquainted with the routines and also endorsed another way of teaching that I ensured to be very organized, systematic and orderly in my classes. I come to school every Monday morning for Grade 6 pupils of Kaohsiung Ruey Shyang, Thursday morning and Friday afternoon for Junior and Senior High School students of Guoguang Laboratory School, NSYSU. I come to school early before my cooperating arrived; I have a class conversation and asked them to maintain the orderliness of the classroom. I start my every class with an English songs as a motivation to the learners (i.e., Hello How Do You Do?, If You're Happy and You Know It Sing A Long Action Song, Baby Shark, Jingle Bells, and Thank You Ever So Much). I never start my lesson unless all the students were listening. It was gratifying for me to see their enthusiasm. They were not used to sing a song in every class they have and I realized they really liked it. In fact, they are excited when I play the song at the next meeting. They were very kind to me. Some students offered themselves to help me to operate the computer (educational technology) because it was in the Chinese language. They were very respectful and participative. When I assigned some exercise to do and readings, I kept walking around the class to manage and control the learning atmosphere.
Preparation of Instructional Materials (IM's)
I anchored my instructional materials to the objectives of my lesson plan and for the lesson that the Coopering Teachers advised. I used to be creative and artistic in making my Instructional Materials. I always make sure that students understand the lesson and no students left behind. I used different pictures, videos, and PowerPoint presentations. I play an English song and games, group work, activity, and student's English oral presentation. In every activity, I have different teaching strategy, I highlight the brainstorming and brain-writing way to stimulate ideas from the students and I let them study the assigned task with them. After the lesson, I assessed my students to determine if they learned and understood the topic that I discussed. I always used the Active Learning Strategies.
The Authentic Assessment I used
The term "authentic assessment" was first coined in 1989 by Grant Wiggins in K‒12 educational contexts. According to Wiggins (1989, p. 703), authentic assessment is "a true test" of intellectual achievement or ability because it requires students to demonstrate their deep understanding, higher-order thinking, and complex problem solving through the performance of exemplary tasks. Authenticity has been identified as a key characteristic of assessment design which promotes learning. The authentic assessment aims to replicate the tasks and performance standards typically found in the world of work and have been found to have a positive impact on student learning, autonomy, motivation, self-regulation and metacognition; abilities highly related to employability (Villaroel, Bloxham, Bruna, Bruna, & Herera-Seda, 2017).
I used the Active Learning Strategies a teaching strategies folio from the University of Santo Tomas, Philippines College of Education.
School Activities I participated
Junior High school and Senior High School Oral Recitation
On my first day in Guoguang Laboratory School, I attended the English Oral Presentation of the students in Junior High and Senior High. I am one of the commentators giving feedback on their activities, especially in Action/Body Language, and Clarity/Pronunciation.
Junior High School Oral Recitation
Topics:
1. Edelweiss
2. Lyrics – Morning Has Broken
Senior High School Oral Recitation
Topics:
1. A Red, Red Rose by Robert Burns (1759-1796)
2. I look into My Glass by Thomas Hardy (1840-1928)
3. Fire and Ice by Robert Lee Frost (1874-1963)
2019 High School English Debate Tournament
I was part of the team helping students in their 2019 High School Debate Tournament with the topic: Should government band teachers in giving an assignment to the students? The debate was participated by the Senior High School students under the Debate Club.
Bilingual Broadcasting Program (National Education Radio – FM 101.7)
I together with the Principal, one English teacher and two students of Kaohsiung Ruey Shyang Primary School went to the National Education Radio (FM 101.7) for the Live Broadcasting on December 04 and 25, 2019.
National Education Radio (December 02, 2019)
Topics:
Part I
1. Self-Introduction
2. Why I am here in Taiwan?
3. What I like Taiwan?
Part II
1. Do you celebrate Christmas in the Philippines?
2. What do you do at Christmas?
National Education Radio (December 25, 2019)
Topics:
Part I
1. Education System in the Philippines
2. Traffic in the Philippines
3. Climate (Weather) of the Philippines
4. Delicious Filipino Foods
5. Delicious Filipino Fruits
Part II
1. Is New Year's Day a Public Holiday?
2. What Do People Do in the Philippines during New Year?
3. Symbols of New Year in the Philippines
WHAT I LEARNED IN THOSE ACTIVITIES
I learned how to be a multi-tasking helping teacher especially when it comes to participating in school activities. It helped me to strengthen and develop my sense of responsibility and how to be more creative in preparing a plan for a particular activity.
Class Picture
Senior High II Class B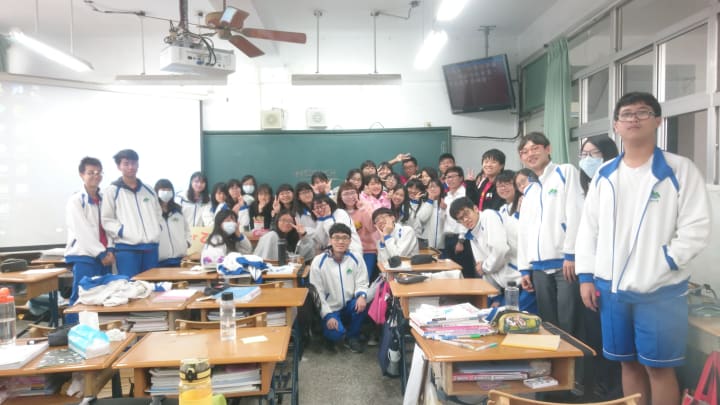 Senior High School Debate Club
Junior High III Class 6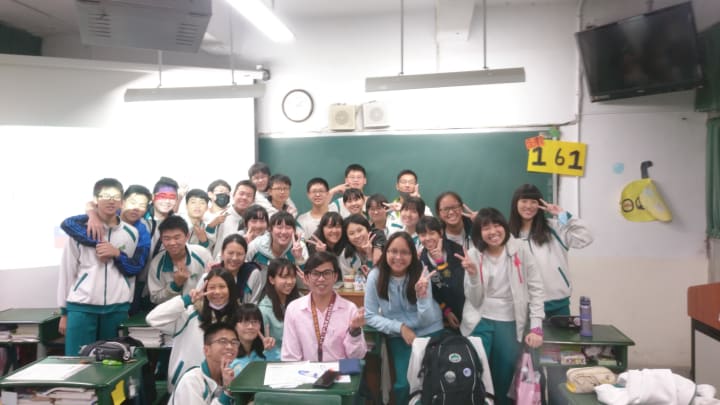 Junior High School English Club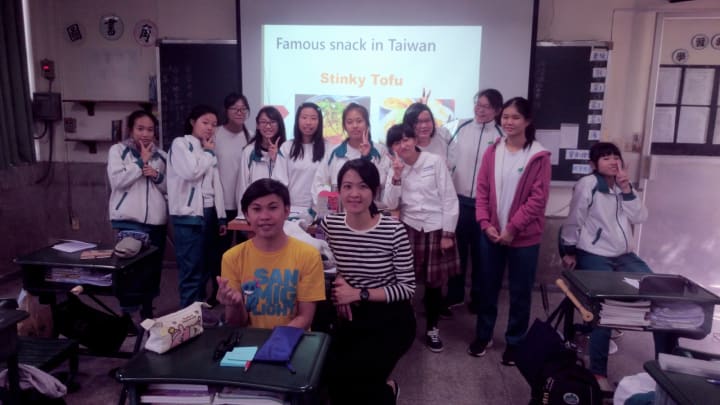 Junior High School II Class 2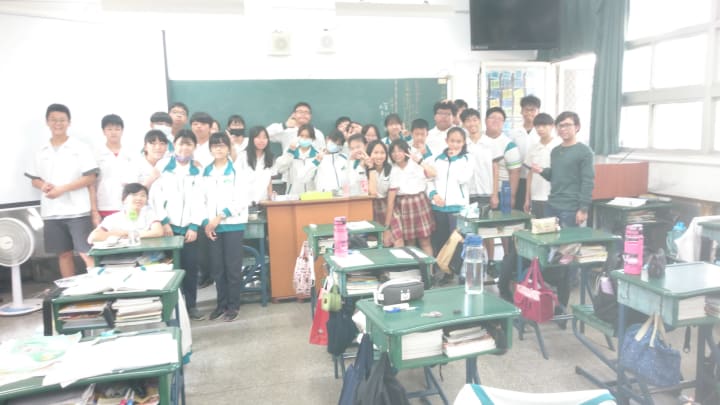 Junior High School II Class 3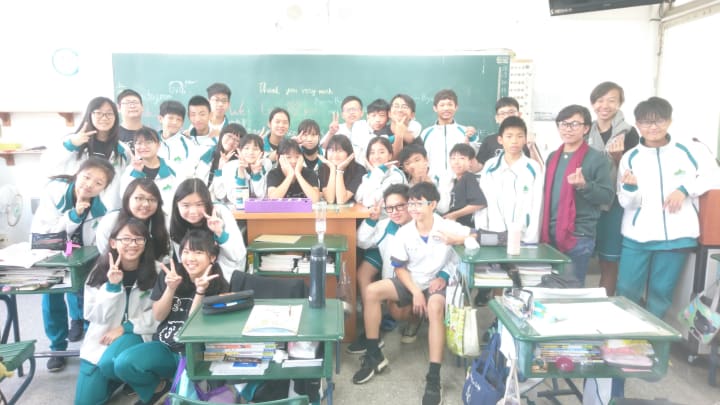 Junior High School II Class 6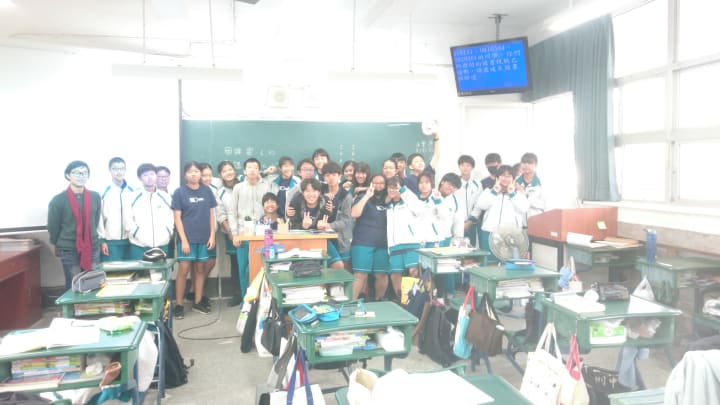 Grade 6 Pupils – 1st Class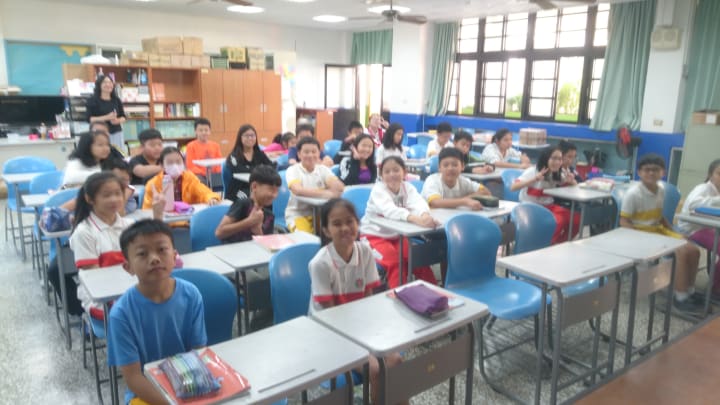 Grade 6 Pupils – 2nd Class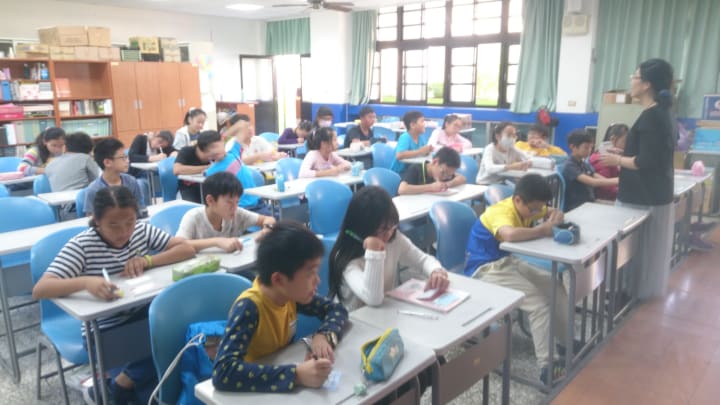 School Activities
Junior High and Senior High School Oral Recitation 2019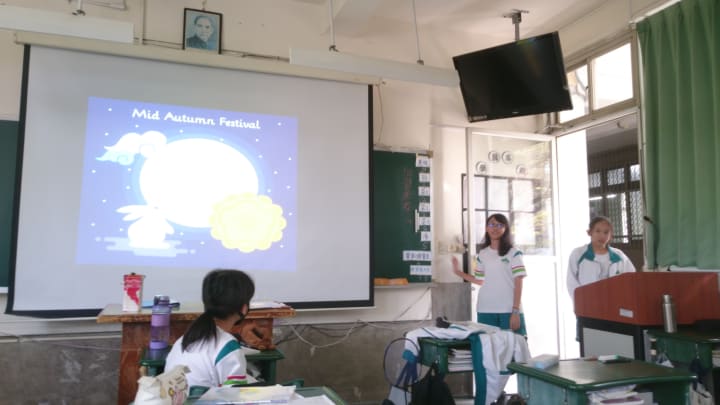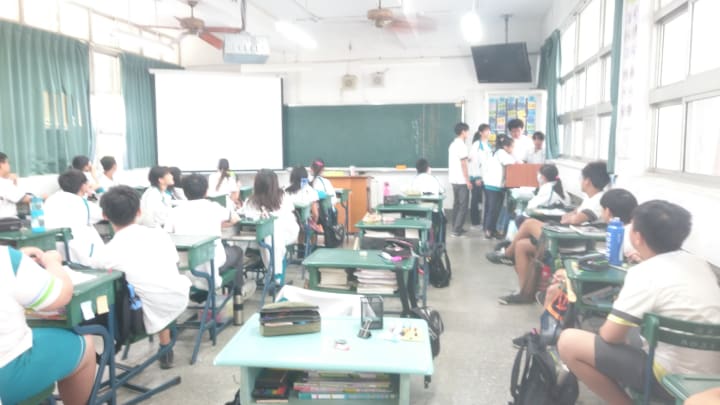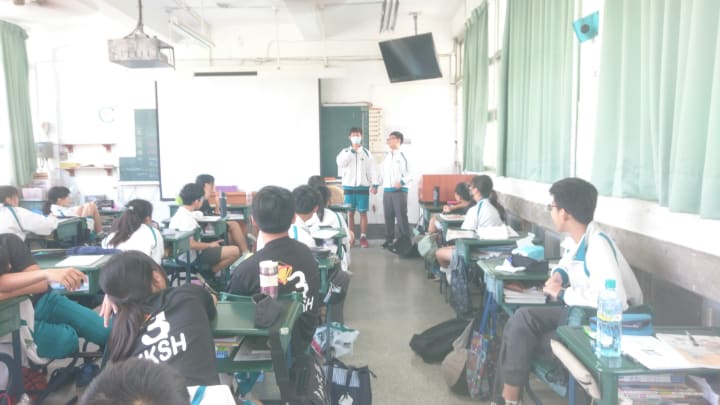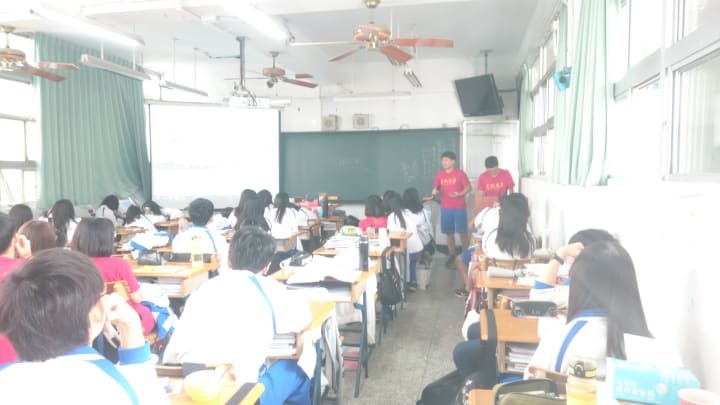 2019 High School English Debate Tournament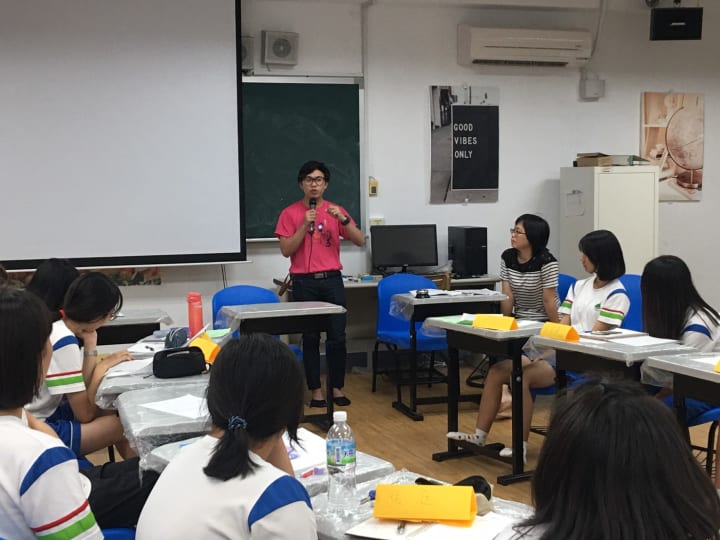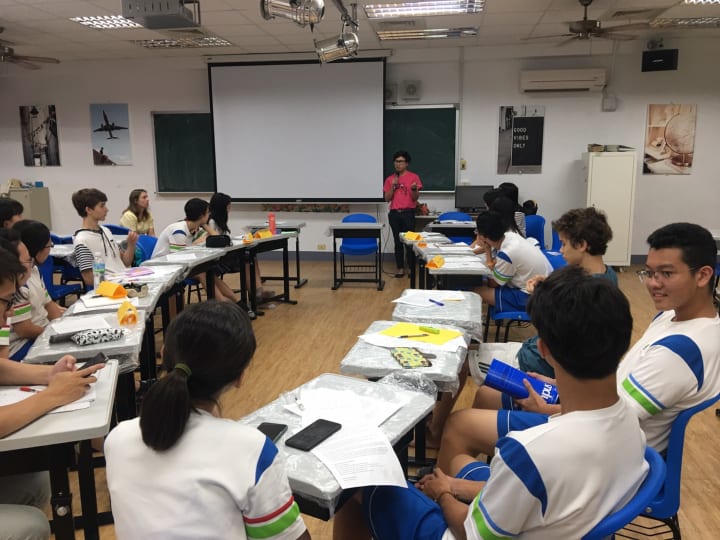 National Education Radio - Bilingual Broadcasting Program
National Education Radio (FM 101.7) Live English Program with the Principal, Teacher, Parents and Students – December 04, 2019.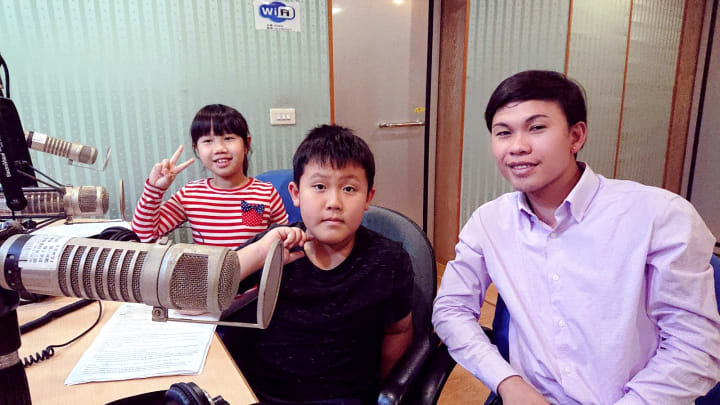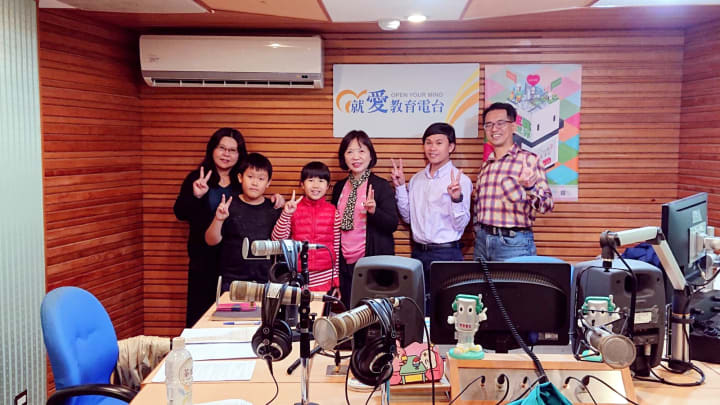 National Education Radio (FM 101.7) Live English Program with the Principal, Director, Teacher, Parents and Students – December 25, 2019.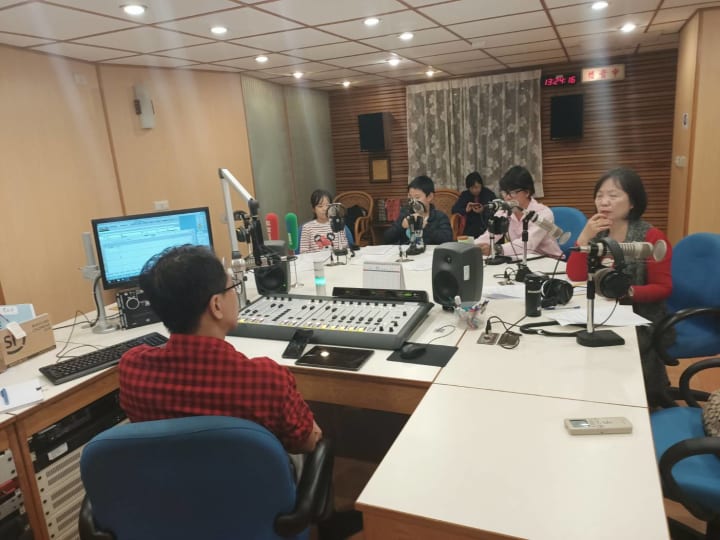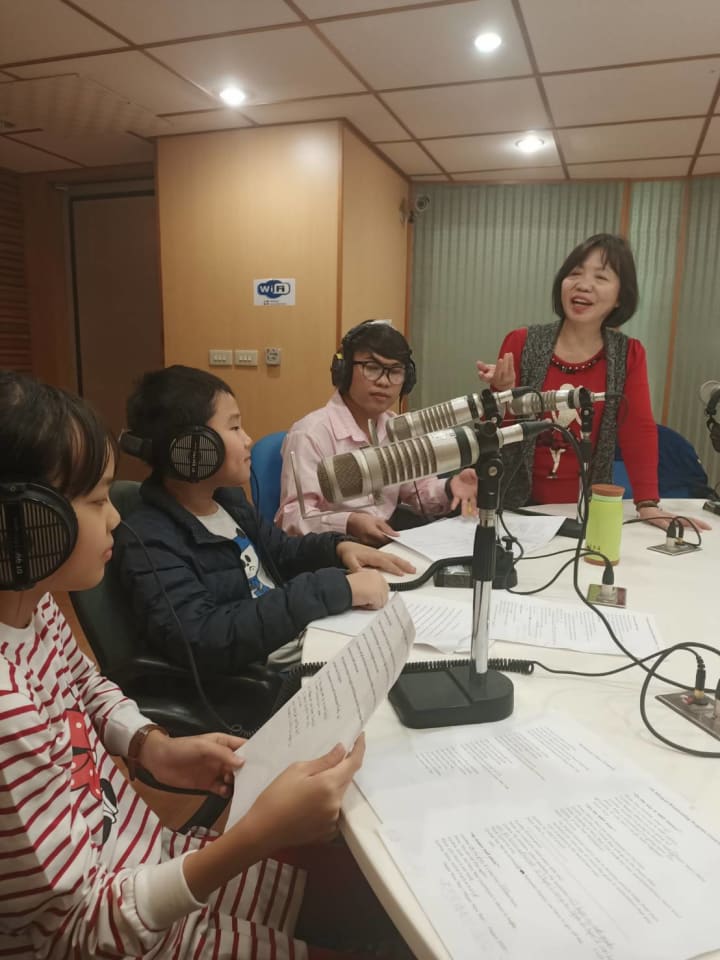 Lesson/Topics Presented to the Class
I started my teaching in Secondary School on October 31, 2019, and ended on December 19, 2019. In Primary School on November 18, 2019, and ended on December 16, 2019. Herewith are the lists of Topics with Intended Learning Outcome (ILO) presented to the class:
1. Taiwan Experience Education Program 2019
2. Groupings, Brainstorming and Brain-writing
3. Top 10 Reasons Why Christmas Is More Fun in the Philippines
4. 7 Things You Should Know About Filipino Culture
5. All About Philippines: Culture, Mode of Transportation, Languages, Education System, Filipino Cuisine and Philippines National Symbols
6. Introduction to Debate (sides, composition, order, points of interruption, and debate rubrics)
7. Introduction to Research (Various disciplines, Importance, Design and Implement Research Plan
8. Cloze Test (Textbook)
9. Story.com (Workbook & Student Book)
Final Presentation of the Students
Students English Oral Presentation 2019
On December 19, 2019 is the highlight of my journey, where all my students presented their respective topics, as my final requirement for the class under Students English Oral Presentation 2019.
1. Chinese New Year
2. Famous Snack in Taiwan - Stinky Tofu
3. Favorite Character
4. Festival in Taiwan (Mid-Autumn Festival)
5. How to make Guava Juice
6. How to make Stinky Tofu
7. Kaohsiung Attraction (Dome of Light)
8. Kaohsiung Ciaotou Sugar Refinery
9. Kaohsiung Zouying Wannian Floklore Festival
10. Local Snacks in Taiwan
11. Love River
12. National Palace Museum
13. Self-Introduction – Favorite (food, subject, and drink.
14. Self-Introduction - Favorite (hobby, food, and animal)
15. Taiwan Mountains
16. Taiwan's Famous Landmarks and Sights
17. Taiwan's Specialties
18. The Pier-2 Art Center
19. What are our hobbies?
20. What do we like to do?
My Reflection
Guoguang Laboratory School, NSYSU and Kaohsiung Ruey Shyang Primary School have been my third and fourth home here in Kaohsiung City, Taiwan. I cannot deny the fact that on the first day of my class I felt butterflies in my stomach because I am a foreign teacher using the English language to teach them. But as long as the minutes passed, I felt more confident and comfortable. I enjoyed helping the teachers in delivering the lessons that hone my skills further. I believe that this institution will produce a quality graduate who is equipped with morally upright values as well as a repertoire of knowledge and respectable skills. I am nay overwhelmed and blessed because I was given the chance to partake Taiwan Experience Education Program a great chance to be engaged in English immersion and a unique experience of Taiwanese lifestyle and passion. In my teaching, a lot of experiences gave me lessons. The different experiments and activities we made inside the class amidst the transformation of behavior and characters. The laughter of my students proved to me that in every problem, there is a big solution. So don't stop and provoke instead step up and grow for the attainment of your desires. The advised unexpectedly delivered when my students need a comfort taught me to become emphatic and serious, all of these and many others are worth cherishing and emulating.
#Teaching #TEEP #NSYSU #Kaohsiung #Taiwan
Read about our travel experiences here!