Dispatches From The Front pt 1
A collection of memories from the classroom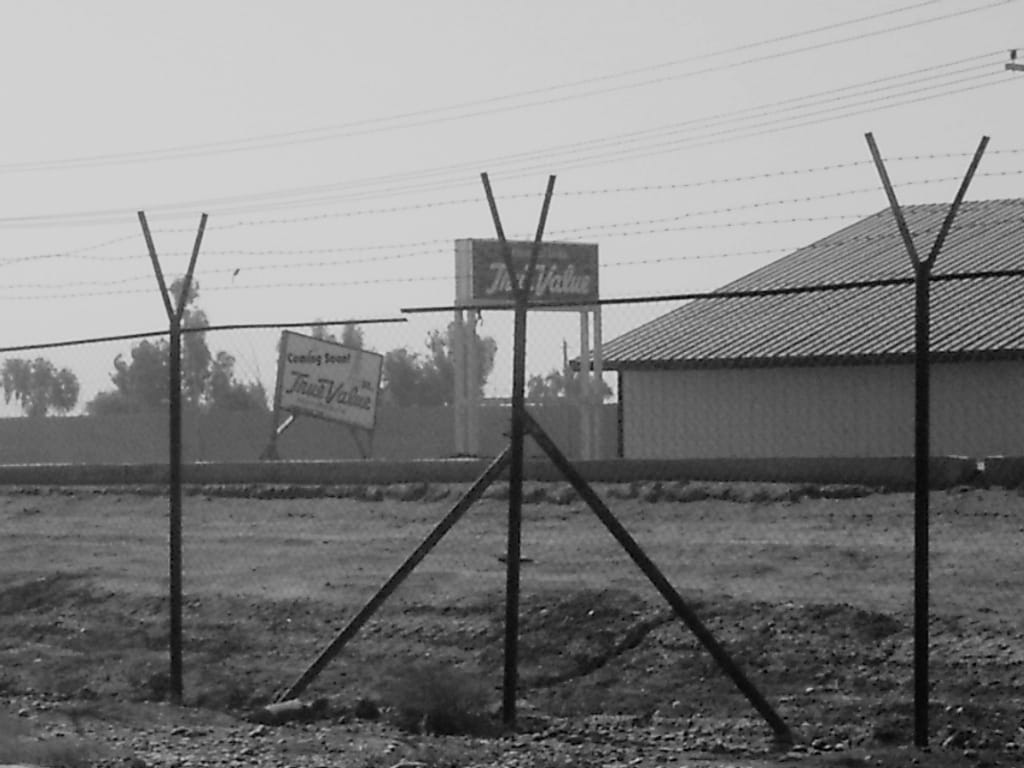 A picture I took on the outskirts of Camp Liberty Iraq
Dispatch: Noun, a message or official report on state or military affairs, usually front the frontlines of military action.
They say that war is hell, that only the dead have seen the end of war, that it is the result of the failure of men to communicate. I have been a student, a soldier, a sergeant, and I am now a teacher. I am a veteran, but I am not a veteran teacher. Currently, I am in my 5th year of teaching, I have taught 2 years in a low-income urban environment, 2 years at a small early college, and I now teach in a rural low-income community. There are days I miss the simplicity of war compared to the classroom, though I remind myself I am serving for the future. In the United States education has become akin to a political warzone. Parents can be both allies and adversaries, regardless, their children are my kids, my mission. These are some of the stories from my classes, these are my dispatches from the front.
Official Dispatch
Date: Too Late
To: General Purse String
From: Platoon Educator
Sir,
I arrived at the forward position this morning. The state of the post is horrendous. I understand that the war against ignorance has raged on for many generations, however, I must make you aware that the state of things is not going well. The supplies and facilities provided for the mission are below inadequate. During my change of command inventory, I discovered many glaring problems that have been left unaddressed by the command structure.
The latrines for the students are not entirely in working order. In fact, one entire latrine is locked, and upon investigation, I am told it has been locked for 3 years now. Inside I discovered that one of the urinals within the latrine had a large clear trash bag taped around it, the bag was filled with approximately 8 gallons of urine.
Of the 4 windows in platoon headquarters, three have been screwed shut, and the only one that does open is unable to be latched in the closed position.
I have been assigned 42 students and only 35 workstations. If this were not issue enough, 6 of the student workstations are broken. Thankfully I was able to rectify the situation with some hasty repairs, though I am uncertain how long the patch jobs will hold.
Lastly, for this communique, there is a large plate glass window outside my platoon headquarters that has a large bullet hole in it. According to other Platoon Educators in the company it has been there at least 5 years. This is a safety hazard as many students regularly stick their fingers through it, yet the company lacks the resources to fix it.
Aside from the health and safety aspects of these issues, I feel they are morale killing issues. How are we to keep the students feeling safe when the building itself shows signs of previous attacks, how are we to keep the kids healthy when the building itself is trying to get them sick? We can not expect the best from our kids if we fail to provide them with adequate facilities, and we can not hold them to high standards when the company has not maintained the facilities to a high standard.
End Dispatch
____________________________________________________
Official Dispatch
Date: August
To: General Education, Commander of the Department for Rudimentary Educational Advancement Doctrination (D.R.E.A.D.)
From: Platoon Educator
Sir,
As we approach the first set of standardized testing for the marking period I am curious about some of the freshmen recruits basic knowledge. Through observation I see they lack many of the skills required to succeed in this company, indeed I am unsure if they were truly ready for advancement to the High School level. I will give two examples.
Mathematics. Many of my recruits are unable to complete simple multiplication and division. I discovered this while demonstrating how to balance chemical equations.
Reading. I have very few students who are able to read at elementary levels, to say nothing of reading at first-year high school levels.
I feel this has set my troops and myself up for failure. Advancing students who are unable to read is the most concerning of these two issues. Students who are unable to, or just starting to read, are unable to read the texts presented to them in most Highschool classes. This translates into students who are unable to even access the material provided. Forgive me General, but the troops I am being sent are inadequate for the war at hand.
End Dispatch
____________________________________________________
Official Dispatch
Date: October
To: Major Muddle, Office of Communications
From: Platoon Educator
Sir,
I am concerned with the latest guidance given to students concerning Spirit Week for Homecoming. The student council, who is under your command sent out the list of themes for spirit week. We have a set of rules concerning the student uniforms, and one of the themes this week definitely went outside those rules. We had students walking the halls in Bikini's and board shorts this week. While I have no objection to the students wearing what they will on their own time, I am concerned that we as educational leaders were directed to write students up for a morale event that was approved by your office. At the next spirit week, I believe we should emphasize the fact their costume choices need to align with current uniform standards or be sure to choose themes that avoid these possible complications
End Dispatch
____________________________________________________
Official Dispatch
Date: December
To: General Education
From: Platoon Educator
Sir,
I need to make you aware of an incident that occurred in my platoon headquarters today. While passing out papers to my students I was walking around the class. One of the students asked me to read over some of his work. While I knelt down to be on his level and read the paper the class was quietly working. At one point the class became quieter than usual so I turned around to see if something was amiss.
There near the center of the room one of my female students was standing up with her trousers undone and pulled down. She quickly moved to cover up and explain that she was trying to show her boyfriend the new lace underwear she bought. I immediately told her to report to the office, she should be there with the Company Commander. My largest concern is that when I emailed the girls parents about the situation their response included phrases such as "Why were you looking at my daughter's crotch?" and the email ended with "Why would you send her out, it's not like you didn't enjoy it?"
Please Advise.
End Dispatch
____________________________________________________
Official Dispatch
Date: March
To: Major Mess, Behavioural Analysis Department (B.A.D.)
From: Platoon Educator
Sir,
My platoon witnessed an attack that requires upper-level command action. During a location change in the halls, a fight erupted. After an intervention, it was discovered that one of the participants was the parent of two students. She had infiltrated one of the buildings and waited in the halls for her two daughters. During the changeover, the three of them attacked another girl.
The parent states that her daughters told her the victim of the assault had called them both cheap prostitutes. The sign in the log shows the mother signing in at the front office for a meeting with the counselors, however, she never made it to the counseling office. Instead, she went to her daughter's classrooms and told the Platoon Educators she was there to take them home. At this point, they waited in the hall outside the victim's location and waited for the bell.
The company has chosen not to press charges against the mother nor has she been banned from company property, and at this point, the victim's family is only seeking legal action against the mother.
End Dispatch
____________________________________________________
Official Dispatch
Date: April
To: General Education
From: Platoon Educator
Sir,
One of my kids has passed away. The student had recently dropped out of school to live with her boyfriend. He is a known drug dealer and gang member. I do not have many details right now, but she was found dead after a drive-by shooting near the mall. I had just seen her a couple of days prior and tried to convince her to return.
End Dispatch
____________________________________________________
Official Dispatch
Date: June
To: Colonel Truth
From: Platoon Educator
Sir,
This year has been trying. I have had students succeed and students fail. I have had a student survive a massive loss, and I have lost a student in the most serious way. Today the senior class will receive their diplomas and I can not help but choke up. This morning one of my students came to me with excitement in her eyes, she is pregnant. I tried my best to hide the disappointment I felt over the news. Here was a 17-year-old girl, whose academic had gone from unsatisfactory last year to turning in truly excellent work, and even being accepted into her first-choice college. Now instead of college, she will be staying at home.
I am already planning for next year and will be back with higher standards, and more rigorous plans. I only hope that the students are able to rise to the occasion and complete the mission.
End Dispatch
End of Annual Log