College Bound
My experiences being a first-year​ college student at ASU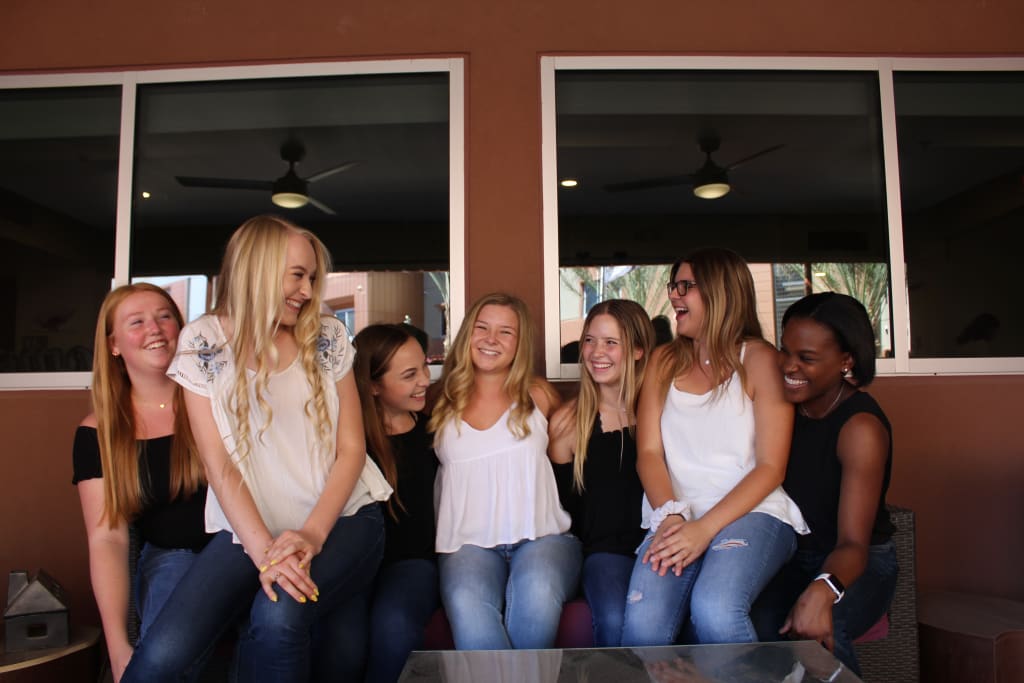 While I did not get my full first year at ASU, I still got to experience most of it. I want to share some of my stories, experiences, and advice for incoming freshmen.
College is definitely a new and different experience coming out of high school. For me it was definitely a culture shock going to a very large university from a relatively small high school in a small town. One of the biggest changes that I went through was adjusting to a city. It was definitely a big change and it was hard to get used to the traffic and noise, but once I got used to consistently being around people I really enjoyed it. It is nice to be within walking distance to all my favorite restaurants, and to have Insomnia cookies close and ready to eat at all hours of the night. I learned to sleep with noise. Especially moving into the greek village, you never knew when you would be woken up to loud music from the frat house next door or someone screaming from outside. This was definitely a new experience for me, however, I learned to sleep with a noise machine and now I really can sleep through anything.
I chose to live in a dorm my first year. Because I decided where I wanted to go so late, most of the people I met who I wanted to be my roommate were already taken. I ended up getting randomly assigned both a roommate and two suitemates. It was really nice getting to meet three new girls, and luckily we got the whole summer to get to know each other. I really started to love all three of these girls and could not wait to live with them. It seemed like we all had a lot in common and that we would get along really well. However, a week before move in, one of my suitemates was moved and we got someone new. We knew nothing about her except her name. Finally move in day comes. We all talked to each other and realized that we would all really work well together and get along. About a week into the school year, I realized that my roommate and I were very different and probably would not get along very well. We had our ups and downs, but ultimately the situation was liveable. Luckily I got along with my suitemates really well, and they are my two closest friends at school. When we came back after winter break, I got some awesome news that I would get to move into my sorority house the next day. While it was really shocking news and it came really quickly, I was so excited to get out of a toxic situation. I got a new roommate who was really wonderful and I am so happy that I got to live with her and know her more. While I missed my suite mates, it was such an awesome experience to live in my sorority house so soon.
One of the biggest pieces of advice I have for all incoming freshmen is to get involved. One of the best ways to do this is through Greek Life. This was one of the easiest ways for me to get involved and to meet more people at college. It really helped me to adjust faster. This also gives me a way to actually do lots of fun activities. We get to meet girls in other sororities through panhellenic events and boys in frats through their philanthropic events and our events. I have met so many awesome people through greek life and I really think that everyone should think about joining.
One of the biggest problems that I had was trying not to gain weight. I definitely fell prey to the all you can eat buffets in the dining hall, especially the desserts. After eating a lot and not really taking the time to work out, I started to not enjoy how I looked. I will say, take the time to go to the gym, and take advantage of the facilities. Do what you want to do and make sure that you get your use out of it. Also, use the classes. Go to them with friends and enjoy yourself during them. They are a lot of fun and get you moving. Bring a group of friends and enjoy yourself working out together!
If you are about to start college and have any worries, or would like to know more stories please let me know, I would love to share my advice and stories on whatever you would like to hear. Also, if you would like me to elaborate on any stories or do a full post on one topic please let me know as well. Check out my instagram @smallgirl_.bigworld and thank you again for reading!