CAT 2022 - How to Start Preparing for CAT exam?
Basic guide that will help CAT students to strategize their preparation.
Do you harbour the dream of pursuing CAT exam? CAT, the shorthand for Common Aptitude Text, is a national level entrance exam and deemed as one of the toughest exams of the country. However, if your focus is fixated on the fish's eye, and your preparation is on-point, nothing will stop you from conquering your milestones!
In the following tête-à-tête, we are shedding light on how to begin with the basic preparation for this computer-based text, some nifty tips and tricks to crack it, and the likes.
A Quick Sneak Peek into Some Intricate Details of CAT Exam
As mentioned already, Common Aptitude Text is one of the most tough exams of India. Almost every aspirant tends to enroll with the best CAT exam coaching centers of their cities to prep for the test.
The first and foremost step to prepare for this exam is getting acquainted with the syllabus of CAT 2022 and take a glance at the topics-to-be-prepared. This will give you a thorough understanding of all those topics that might require ample time and adequate aptitude to nail. The more the clarity, the better the preparation! Take out ample time to scrutinize the syllabus, exam pattern, and important topics pertaining to the test.
Aside from the experts' guidelines, you should dig into some self-analysis, too, to understand how prepared you are for the exam, how strong your reasoning skills are, how confident you are about your verbal ability, etc. Once your self-analysis is done, time to work on your grey areas.
The Pattern of CAT Exam
CAT 2022 is expected to stick by the pattern, which was followed in the last year, 2021. Below, we have come up with a pattern, which, the CAT exam is expected to follow this year. We would suggest you to go through the syllabus thoroughly beforehand so that it becomes easier for you to plan and strategize your further preparation accordingly.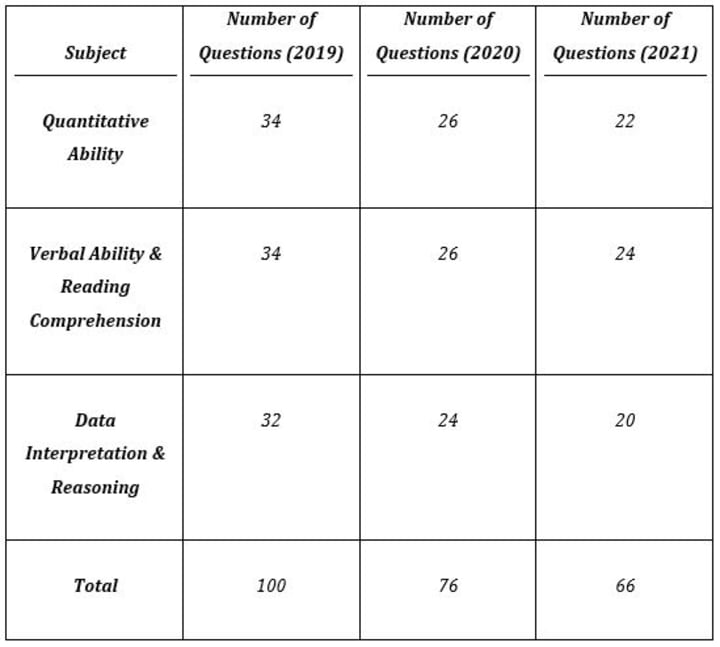 Here's Unearthing Your Biggest Query – How to Prepare for CAT 2022?
As there is a sectional cut off in CAT exam, getting good scores in all the sections becomes all the more important. Keeping this into a serious consideration, we would suggest you to break down your preparation strategies – topic wise and section wise. This will help you decide how much time you can invest in each of these sections.
Consider identifying all those sections, which are imposing challenges upon you. And, mark the topic/s within that particular section, which is triggering the confusion and concerns. There are many aspirants out there who claim to feel challenged by the QA section. But, in reality, there are only two topics in the QA section that might inflict a bit of challenges on you. Be specific about things when it comes to dealing with such shortcomings.
Some Nifty Tips and Tricks to Spruce up Your Preparation
Start with devising a proper study plan for the forthcoming CAT examination. A workable study plan will always help you keep a tab on the syllabus of CAT 2022 and track your progress eventually.
Stick by A Timetable
Make sure that you stick to a timetable to prep for the exam. It seriously requires a lot of dedicated hours for studying! Schedule your time accordingly without setting any unrealistic deadlines or goals.
Prepare Section Wise
Prepare section-wise because it will help you break down all the important sections individually, and concentrate on every topic, each chapter. This will ensure that you are learning all the concepts and their necessary applications with a lot more clarity. Also, it helps in identifying all the areas, which need more concentrated focus on your end.
Nail the Tricky Shortcuts
The shortcuts, as well as, tricks are the very primary components of preparing for CAT 2022. Upon learning the shortcut techniques, you can spruce up your problem-solving skills to a great extent.
Clarity Should be Your Priority
Clearing your concept is important to set the wheel of you preparation on the right track. Begin with the basics like calculation techniques, and application of the right tricks for solving the difficult questions without taking much time!
Practice. Practice. Practice!
"Practice makes a man perfect!" Don't overlook this age-old maxim. To be well-aware of the questions and how to nail them, you must emphasize a rigorous practice. The more will you practice, the easier it will be for you to spot your strengths and weaknesses. Opt for a SWOT analysis to understand each section better. Also, broaden your knowledge and hone your skills with mock tests. Enrol with the best CAT coaching institutions of your city to get to solve the best of mock tests, thus taking your preparation to the next level!
Punctuality is the Key
When it comes to prepping for a tough competitive exam like CAT, regularity and punctuality with your study are the gateways to success. When you get regular with your study and punctual with your preparation, your efficiency and accuracy automatically reach another height.
Enrol for a Good Coaching
For a highly competitive exam like CAT, having a clear understanding of different concepts and the skills of problem-solving is paramount. By joining a reputed CAT coaching institution will provide you with a better understanding of the exam, improve your reasoning or problem-solving skills, boost your confidence, and shed your apprehension.
Tips to Prep for Quantitative Ability
Your main focus should be on clarifying your doubts and broadening the horizon of your knowledge of mathematics. Try practicing more mock tests. Don't forget to revise the last years' question papers. This will help you pick the most important chapters from Algebra, Arithmetic, etc.
Suggestions to Prep for VARC
Besides reading voraciously, you must maintain a daily journal to spruce up your vocabulary. Reading newspapers, online blogs, magazines, etc. will help you with your articulation.
Advices to Prep for DILR
Solve an many mock papers as possible. Solving Venn diagrams, puzzles, etc. will be helpful, too.
All That Starts Well, Ends Well, Too
With the tips mentioned above, we hope that prepping for CAT would be a less conundrum for you! Stick by our guidelines to let your aspiration emerge with flying colors!
student
About the author
Hi my name is Sandip and I used to publish tips and tricks about various topic such as lifestyle, travel, food, family planning etc. Checkout the this website Haarway - India's Best Local Search Engine.
Reader insights
Be the first to share your insights about this piece.
Add your insights