Binoculars for Young Birders
Spark Bird Vol. 1, Issue 4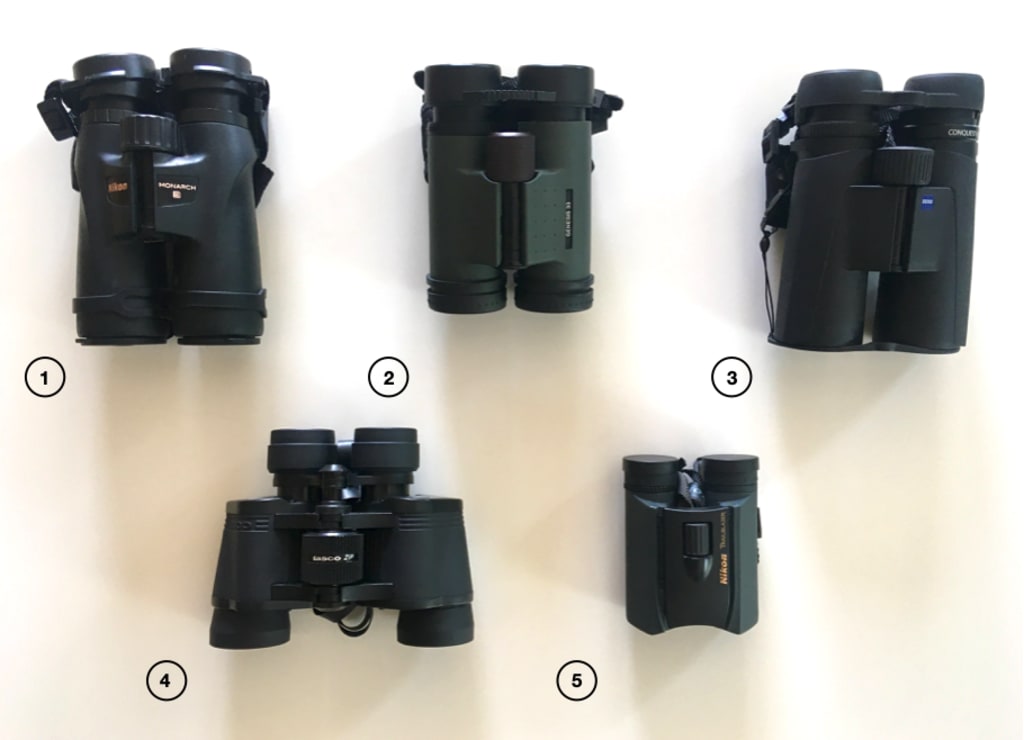 Zita's Binoculars
At the time of our first trip with the Iowa Young Birders* (an experience described in another story), our family did not own any binoculars, and I never had one growing up. Since then, several pairs found their way to our home — different sizes, shapes, sharpness, field of view, magnification, phase correction. Features I had no idea about at first. I didn't know why they mattered and what would be best to purchase for my daughter, then 7 years old and obsessed with looking for birds. Now she's 13 and has been using various binoculars over the years, so I asked her what she thought about each.
Zita, do you remember what birding was like before you had a pair of binoculars to use?
I was just learning how to identify birds, and often they would be too far away to observe any field marks that the books said to look for. Then inevitably, the birds flew away. Depending on the circumstances and my mood, I would either say, "oh well, maybe next time," or pursue the bird. Of course, going after the bird was no guarantee that I would actually find it, but it led me to some interesting places.
And you wished you had binoculars?
Sure, binoculars would have been nice, but in retrospect, I think it was beneficial for me to start out without them. For one, it helped me appreciate binoculars later, and also, I was forced to learn a great deal about all the other things that help with identification. When I didn't see the bird well enough and couldn't find it, I had to think about the time of year, habitat, shape, flight patterns, typical behavior, and vocalizations. I probably wouldn't have paid so much attention to those things if I had the binoculars to take a good look at each bird.
So tell us about your first pair of binoculars!
My first pair was a Nikon Monarch 8x42 (no. 1 on the image above). I spent all of my savings on it from selling a chapter book I wrote — it was the best pair that I could afford, and it cost about $300 at the time. The Monarch is not too heavy, and I could see the birds with them better than without… At first, I couldn't even find the birds, especially not in trees, because suddenly I was limited to a much smaller field of view than what I was used to. So I practiced looking at various things in nature with them and without them, and eventually, pointing the binoculars exactly where I wanted to see became second nature.
It sounds like you liked your first pair. Why did you switch to a new pair?
I used the Monarch for several years, then in 2021, I received a pair from the American Birding Association, for doing so well in their Young Birder of the Year Mentoring Program (YBYMP). This one was a Kowa Genesis 8x33, no. 2 on the image.
My earlier Monarch had a comparatively large objective lens (the end across from the eyepiece), with a diameter of 42 millimeters. Once I learned how to use it, this relatively wider field of view allowed me to see other things besides the bird I was looking at. This way I could follow the bird easier through a tree, and I didn't miss so many others that passed by.
The Kowa Genesis is smaller, with an objective lens diameter of only 33 millimeters. This took some getting used to, because I lost some field of view, but it has a much sharper focus than the Monarch. The Kowa is small, easy to use, and at 1.5 pounds, it isn't too heavy to carry around. I really love the design and have enjoyed using it — its focus is phenomenal.
These first two binoculars look straight and compact. I always imagined binoculars being these bulky things where the left and right objective lenses are farther apart from each other than the eyepieces. Kind of like no. 4 on the image, except bigger. Have you ever used those?
Yes, they come in different sizes, and they can get bulky with higher magnification. My Grandpa in Hungary has one of those, I've used that several times. These binoculars work with what is called a Double Porro Prism System, with two prisms used to deliver the light to your eye. Both are triangular, and set across and to one side of each other. This is why they have the two sets of tubes, the second set farther apart than the one closer to the eye. I like this kind because they are simple and easier to focus, but they are also bulkier, heavier, and the ones I used have less fine focus than my compact ones.
What about no. 3 on the image, it looks a lot like your first two…
I participated in the YBYMP again, and this time, I won the Young Birder of the Year 2022 title in my age group. This year, the program was sponsored by Carl Zeiss, a German company that makes some of the highest quality binoculars.
So you were given another pair of binoculars?
Yes, and the people at Zeiss were generous enough to even give me a choice on whether I wanted the Conquest 8x42 or the Conquest 10x42.
You already had an 8x42, the Nikon Monarch, right? So you asked for the 10x42?
No, I actually asked for the 8x42, the one with the smaller magnification. When I switched from the 8x42 Nikon Monarch to the 8x33 Kowa Genesis, I realized how lens diameter affects field of view — the smaller the lens diameter, the smaller the field of view. But higher magnification also makes the field of view smaller; the 10x42 would have had a smaller field of view than the 8x42, which would have made it difficult to follow birds as they move. If I lived somewhere with mountains to look out from, or near oceans with birds far from shore, a higher magnification would be more useful than here in Missouri, where I most often look at birds moving from one tree branch to the other. So I chose the 8x42, and I am very happy with it.
So what's the difference between your first two and this brand new pair?
The Zeiss Conquest is the biggest and heaviest, but it is still light enough to carry on a hike. I noticed that both the Monarch and the Genesis do well in low-light conditions, but the Zeiss is by far the best. When I tried it out at twilight, I was surprised to see color deep in the trees where it was just a blurry, dark grey mess with the naked eye. The focus of the Zeiss is extraordinary, I think it is even better than the Kowa Genesis, almost like a scope.
Wait, what is a scope?
A spotting scope is a compact, high-power telescope that birders often use with a tripod to look at birds in the distance. On the Iowa Young Birder field trips, Tyler often brings one*, and then we can look at the more cooperative birds close-up even if they are far away. For example, once we saw a Long-tailed Duck way out on the Mississippi that I wouldn't have been able to bring close enough for certain identification with just binoculars. It definitely takes birding to another level, but you also lose field of view, and you have to carry yet another equipment around.
It doesn't look like you have a picture of the spotting scope above, but there is a small pair that we haven't talked about yet, no. 5. It looks tiny compared to the others.
It is very small — it easily fits in a coat pocket.
So is it a toy one?
No, it is a Nikon Trailblazer, an 8x25, so the magnification is actually the same as the Monarch, the Genesis, and the Conquest we talked about. Most brands make these great optics for under $100 with decent focus that you can easily take with you anywhere. You lose some field of view and the focus is not as sharp, but they can be a good pair to have.
Who do you recommend these for?
Well, if I lived in a city and walked to school or work, I would likely leave a few minutes early or linger in a park on the way home and use the Trailblazer to look at birds. It can also be a good option for someone just starting out, to see if they really like birding and whether it's worth investing in more expensive ones, like my other pairs.
With all these options available to you, which binoculars do you actually take with you?
It depends on what else I'm doing outdoors. I enjoy a bunch of other things outside besides birding — we often go hiking, or skiing in the winter, so sometimes I don't even take binoculars, just enjoy the birds I see without them. Since I haven't used the Zeiss as much yet, I definitely take those when my main purpose is birding, to see what it can do in different circumstances.
I know this would likely be another long story, but what other things can you think of for birders? Once you have the binoculars, what could make identification easier or birding more enjoyable?
A camera can be very useful. If I can snap a picture of a warbler, it can definitely help tell the difference between some warblers I am not familiar with, for example. Scopes are very nice, but they are bulky to carry around. There are so many accessories and stuff out there for the better enjoyment of birds, but there's really only one thing every birder needs — plenty of time to go birding.
Very good point. So lastly, do you have any other advice for someone looking to buy their first pair of binoculars?
Remember that it takes time to learn how to use them. Once you have a pair, I suggest you take good care of them. I'm not saying you shouldn't take any risks (I take mine kayaking), but just know that if you treat them with care, they can last a lifetime. Always put the caps on the lenses and the eyepieces, clean it occasionally, and don't leave them in the car in hot weather, because excessive heat can damage them.
Also, my family doesn't like it when I look for birds on a hike, because I walk too slowly. But I know I have to take my time to not scare the birds, and I never walk when using my binoculars. If I hear something interesting on the other side of a bramble, I walk around, even if it takes longer than clambering through, because it is better for all involved.
* Note: Zita mentions the Iowa Young Birder field trips in this interview, so we asked Tyler for more information about binoculars for young birders in his association:
Quality binoculars are key to a fulfilling experience for young birders. They bring the beauty and exquisite detail of birds within visual reach, therefore reducing frustration of not being able to see specific details and enhancing a young birders' learning and enjoyment. Recognizing this importance, Iowa Young Birders offers several programs that get high-quality optics in the hands of young birders.
We provide Vortex Optics binoculars for each participant on our field trips and have a Vortex Optics spotting scope available for even closer looks at distant subjects.
Our optics rent-to-own program, "Future in Focus", allows young birders to rent top-notch optics for small, quarterly payments that accrue towards ownership of a lifelong tool to continue their passion.
Lastly, we frequently include optics as prizes for various special programs.
Increasing the number of binoculars in the hands of young people subsequently increases our capacity to build a cohort of future bird conservation leaders!
If you have questions about any of our programs or simply want some advice on optics for a young birder in your life, feel free to contact Tyler by email (tyler AT iowayoungbirders.org).
About This Story
This story is part of a series about kids and birding.
All earnings from reads, any tips or pledges to the Spark Bird series here on Vocal.media fully and directly support the work of the Iowa Young Birders, a not-for-profit organization that promotes engagement with our natural world and conservation issues by empowering young Iowans to study and enjoy birds and birding.
The Iowa Young Birders does not endorse any of my other stories or series published here, and they remain independent of the views expressed in those.
To connect with the Iowa Young Birders, find them on the web @ iowayoungbirders.org.
Reader insights
Be the first to share your insights about this piece.
Add your insights