Best Student Accommodations in Madrid for Overseas Students
Beautifully designed student residences located in a bustling and vibrant neighbourhood in Madrid

Madrid, the heart and soul of Spain, is a beautiful city filled with life, charm and laughter. It is impossible to get bored when you're living in the capital with so many places to visit and several things to do in the city. Some head to Madrid to experience the Circo Price, to see a Picasso masterpiece at the Reina Sofia, relax at the Retiro Park, or enjoy the iconic theatre shows. Others visit to shop and dine, explore all the hidden and secretive locations, while many others tour the historic sites, the famous museums, galleries, etc.
No matter what you enjoy – there is something for everyone! The city also has many world-class universities and institutions, attracting tons of national and international students. While the selection of student accommodation Madrid has up-for-grabs is equally large; finding one that checks all the right boxes is quite difficult. Scroll down to find the best student housing in Madrid.
This accommodation is right in the middle of things and is just a 15-minute walk from the Universidad Complutense de Madrid and Universidad Polytechnic de Madrid. The amenities available at this residence will leave you absolutely speechless- from a games room with foosball, pool table and table tennis to a top-notch gym, a study room and vending machines, and a lovely rooftop area. They got everything!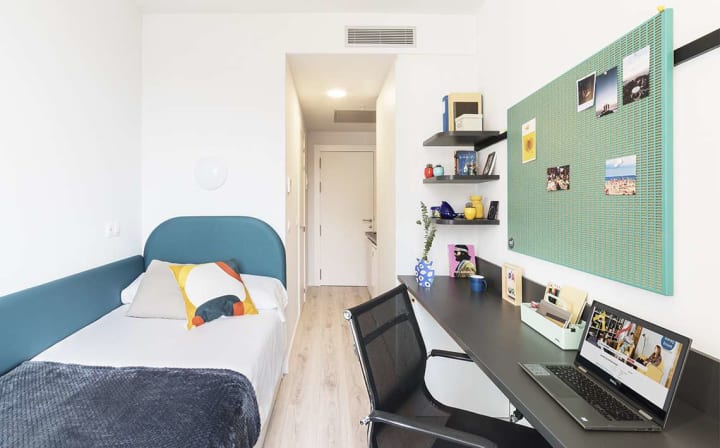 An added benefit of staying here is its proximity to public transport stops. The nearest bus station is just a minute's walk away, and the Islas Filipinas subway station takes 3-minutes to reach on foot. Plus, your social calendar will be very lit, as the commercial and nightlife hubs, Argüelles and Princesa, are practically a hop and a skip from the property.
Galdos University Residence Madrid
This student housing is located in the heart of the university district in Madrid. They offer single and double occupancy studios with excellent facilities. They have a common room and games room for socializing, a cinema for binge-watch nights, a garden/courtyard where you can walk around to clear your head, a gym, an onsite laundry room, and even car parking. What's more, is that you can host a whole dinner party at their multipurpose room by reserving it for the night.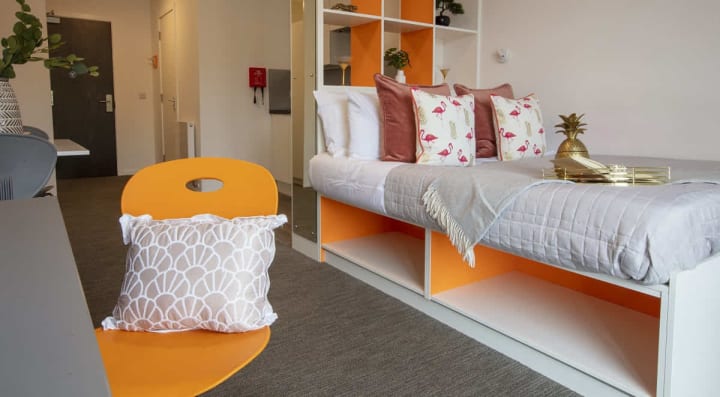 Wait, there's more! The nearest bus stop is a stone's throw away, and since the metro stop is just a 5-minutes walk away, you can commute to any spot in the city without breaking a sweat.
Picasso Velázquez
Located near the buzzing city centre and the Fòrum beach, Picasso Velázquez is a godsend for students who want a happening university life. The Bircham International University and the Schiller International University are just a short distance away from the residence. Exploring Madrid and beyond is super easy with the Balmes Diagonal bus station right around the corner, and the Gràcia transit stop and Pl. Molina subway station is a couple of minutes' walk away.
The trip from the airport is also not a long one, as the residence is not too far off, making the airport transfer for international students simple, seamless and pocket-friendly.
Emilia Pardo Bazán Residence
It is a beautifully designed student residence located in a bustling and vibrant neighbourhood. They offer a range of hip and trendy rooms for students that are purposefully built to optimize student living and provide the epitome of comfort. It is situated within close proximity to prestigious universities, so you can hit snooze a bunch of times and still make it to classes on time. Hopefully.
The accommodation has a clean, minimalistic look and provides facilities that are out of this world. And, if you are someone with cooking skills at the burning water level, then this one is meant for you. They have a varied, tasty, and nutritious buffet for all meals so you can have your pick. They also have a swimming pool, games rooms, terrace lounge, and a gym with every equipment you need to get in shape, in case you let loose at the buffets and overindulged!
travel
About the author
Our company University Living is a global student housing marketplace that helps international students find the best place to stay near university campuses around the world. Currently, the platform offers 1 Mn beds in 15K properties
Reader insights
Be the first to share your insights about this piece.
Add your insights