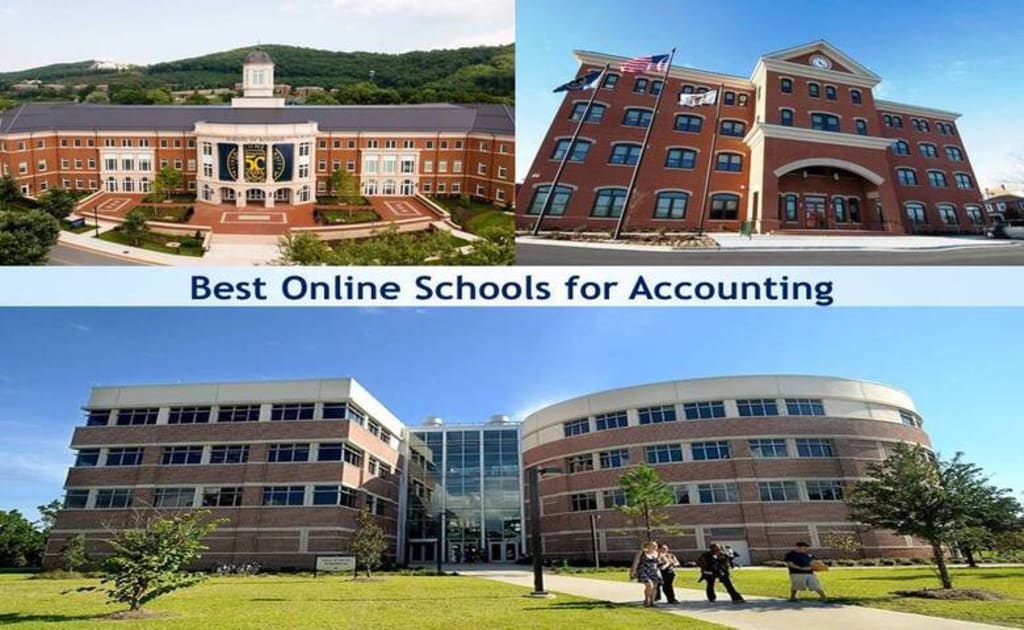 Best Online Schools for Accounting
In the job market, having a bachelor's degree in accounting can give you an advantage. In-demand accounting software is used by students in bachelor's degree programs in accounting, and they also learn to apply theoretical ideas to practical circumstances. Graduates of the top online bachelor's in accounting programs can work as forensic accountants, auditors, certified public accountants (CPAs), and financial analysts. Finance, banking, insurance, and real estate are among the industries that employ accountants. Many students search for the best online schools for accounting.
Studying for an accounting bachelor's degree online allows students to set their own pace. Traditional students attend classes at set times and places, but online students can do their coursework at home. Some online courses can be completed faster or at your own pace. Therefore, distance learners may finish their degrees quicker than on-campus learners, enabling them to do so in less time than four years of full-time study. Here we are exploring some of the best online schools for accounting.
Find a list of some of the best online schools for accounting in the United States.
1. American Public University
Website: https://www.apu.apus.edu/
Address: 111 W. Congress Street, Charles Town, WV 25414
One of the best online degrees is offered by American Public University. The goal of APU is to give American service members the flexibility they require to pursue their education. 80% of the school's pupils are veterans and active-duty service members today. Due to their military service, these students' tuition costs are lower, and they are also eligible to transfer credits. Whether they are military or civilian, 72% of students who earn credits at APU graduate debt-free.
APU provides an online BS in Accounting program for aspiring accountants. This AACSB-accredited accounting program calls for 120 credits. The length of each course is eight weeks, and new courses start each month. Your capstone project will let you apply what you've learned as an accounting student at APU. The study project uses examples from the real world to answer an auditing or accounting issue.
Visit Program: Online BS in Accounting
2. The University of West Florida
Website: https://uwf.edu/
Address: 11000 University Pkwy, Pensacola, FL 32514
School Type: Public
Required Credits: 120
Program Length: 24-48 months
Average Tuition
In-state: $3,735
Out-of-state: $16,004
Retention Rate: 84%
Admission Rate: 58%
Students Enrolled: 13,061
Institution Type: Public
Percent Online Enrollment: 97%
Accreditation: Yes
The University of West Florida (UWF), which was founded in 1967 and is located in Pensacola, Florida, enrolls more than 13,000 students and provides more than 110 degree programs. Innovation, honesty, and equity are values at the public university. The University of West Florida provides a fully online, AACSB-accredited accounting BSBA program taught by CPAs with practical expertise. While studying for the CPA exam, students can improve their communication, problem-solving, and ethical decision-making abilities.
The 120-credit program consists of 60 credits for general education, 30 for the program's basic requirements, and 30 for the accounting specialization. Up to 90 transfer credits may be used in the program. Advanced financial accounting, accounting information systems, auditing, and tax accounting are just a few of the courses that students take. A supervised field practicum/accounting internship is also available during the program.
Alumni of UWF's accounting program had the third-highest first-time CPA exam pass rates in the country. Candidates for the online accounting program at UWF must pass all preparatory courses and general education courses in the lower division with a grade of C or better. To apply, send a departmental application form, official transcripts, and SAT or ACT results.
Visit Program: Online Accounting BSBA Program
3. Penn State World Campus
Website: https://www.worldcampus.psu.edu/
Address: 128 Outreach Building, University Park, PA 16802
Students that are interested in business quickly grasp the benefits of networking. Join a network of more than 692,000 alumni when you enrol at Pennsylvania State University. The world's largest alumni association belongs to this university. Penn State is ranked No. 8 among the best online bachelor's programs by U.S. News & World Report. This ranking takes into account a university's online student graduation rates. It also considers the calibre of its staff and assistance provided.
To Read The Full Article, Click Here: Best Online Schools for Accounting
About the Creator
Addyourlife.com is pleased to provide reliable, comprehensive, thought-provoking information on important topics worldwide without regard to bias or personal agendas.
https://addyourlife.com/
Reader insights
Be the first to share your insights about this piece.
Add your insights