Best Movies About Inspirational Teachers to Watch
These movies about inspirational teachers are the perfect gift for the teacher in your life.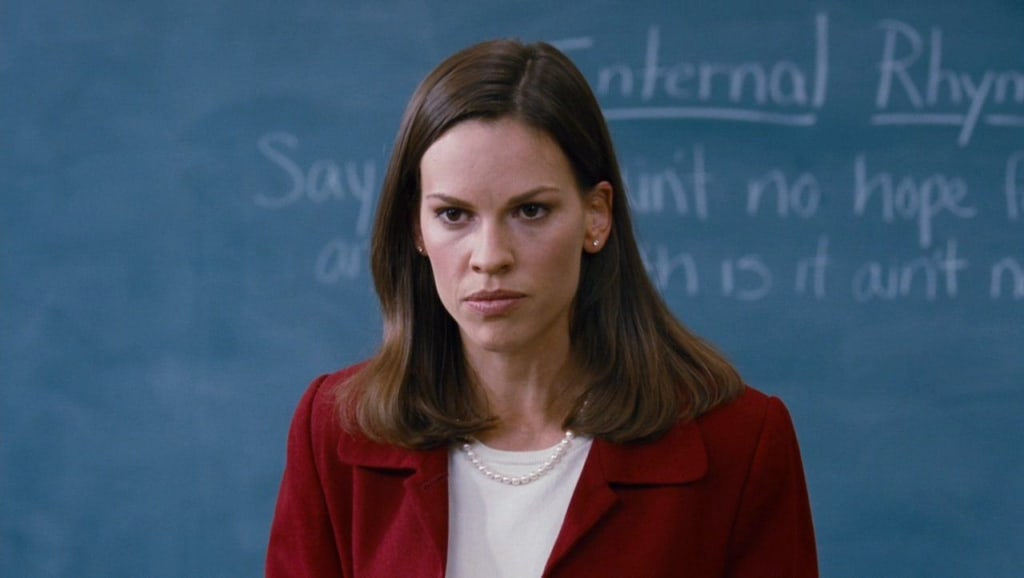 A good teacher can change a student's life forever; and sadly, there just aren't enough great teachers out there today. Teachers are often underpaid and regularly end up getting dealt disrespect that they should never have to deal with.
It's very common, therefore, for teachers to want to hear praise—or at least to escape from the insanity of their work for a while, by watching a good movie. That's why movies about inspirational teachers are both pep talks for the teachers who want to be great, as well as a celebration of the teachers who have made a difference.
If you have a teacher friend who deserves a great gift, check out these top titles below.
The 1967 hit movie, To Sir, With Love, is one of the best movies about inspirational teachers ever made. Sidney Poitier plays an engineer who ends up getting a job as a school teacher to rowdy students. He almost gives up on them; but slowly, they end up coming around.
By ditching material and giving them real knowledge about life, kids eventually start caring about what he has to offer. His nickname is "Sir," and you'll end up falling in love with both teachers and students after watching this movie.
If you're looking for classic movies about inspirational teachers, then look no further than the 1939 hit, Goodbye Mr. Chips. The black-and-white film follows a motivated and inspirational teacher as he looks back at a career filled with students of all kinds.
This is one of the first classic movies to be based on a true story; and it became insanely successful for its time. At one point, it was even upgraded into a musical.
Stand and Deliver is Edward James Olmos's best work ever—and still remains the gold standard among movies about inspirational teachers. Based off a real East LA teacher, this movie tells the story of a teacher who challenged the system and helped raise the standards impoverished students lived up to.
In Stand and Deliver, the students succeed so well in their AP calculus course that teacher Escalante was accused of cheating. This actually did happen, and while the real Escalante retired, Stand and Deliver delivers a much happier (and hope-filled) ending.
This epic movie was based off a book by the same name, and remains one of the most popular movies about inspirational teachers ever made. Up the Down Staircase has an idealistic young teacher who struggles to make a difference in the inner city schools she works in.
Sure, today, it may seem preachy at times, but no one can deny the uplifting story behind it.
Based off real memoirs, Pat Conroy was a young teacher who was sent to teach students in a remote island near South Carolina. When he arrived at his new school, he quickly realized that the young black students he was teaching were both illiterate and totally uncared-for by the administration.
Conrack follows his days as he helped kids learn life skills, gain interest in off-island life, and embrace the gift of learning. It also shows that a single teacher can help kids overcome systematic racism—if they're given the chance.
Anne Bancroft and Patty Duke made a massive imprint on pop culture and starred in one of the best movies about inspiration teachers when they got their roles in The Miracle Worker.
This smash hit movie followed the story of Helen Keller as she learned how to talk—despite being blind and deaf. Anne Sullivan, her teacher, is one of the finest examples of what a difference the right attitude can make, even in the most dire of situations.
Glenn Ford ends up killing it as one of the most realistic teachers ever portrayed in film. While Blackboard Jungle definitely remains one of the most powerful movies about inspirational teachers, it's also one of the most honest about life as a teacher.
Blackboard Jungle follows a teacher struggling to deal with disenfranchised teens in a New York City public school. Despite it being over 40 years old, it's still a kickass movie about gang violence and the disillusionment so many teachers face today.
Freedom Writers is one of the newest movies about inspirational teachers to be based on a true story. This particular movie follows Erin Gruwell as she tries to teach a diverse (but not integrated) class of teens who were troubled, alone, and also resistant to change.
Today, many of Gruwell's former students turned to teaching because of the impact she's had on their lives. As such, Freedom Writers is an amazing school survival guide for teachers who want to make a difference in the lives of kids they teach.
The movie's success sparked aFreedom Writers teaching guide, too. So, it's definitely one of the more practical movies on here.
Last on this list is Dangerous Minds, known for being one of the most badass movies about inspirational teachers out there. In this flick, ex-Marine Lou Anne Johnson gets a job teaching in the inner city—and ends up being a hero that her students never knew they needed.
Los Angeles school teachers just got a lot more badass in this movie; and yes, you will get scared for Johnson at points throughout the movie. Though it's not totally realistic, Dangerous Minds still does portray a lot of the honest struggles of teachers in inner-city school districts accurately.
About the Creator
Cato Conroy is a Manhattan-based writer who yearns for a better world. He loves to write about politics, news reports, and interesting innovations that will impact the way we live.
Reader insights
Be the first to share your insights about this piece.
Add your insights