Author Spotlight: Amanda Hocking
My all-time favourite writer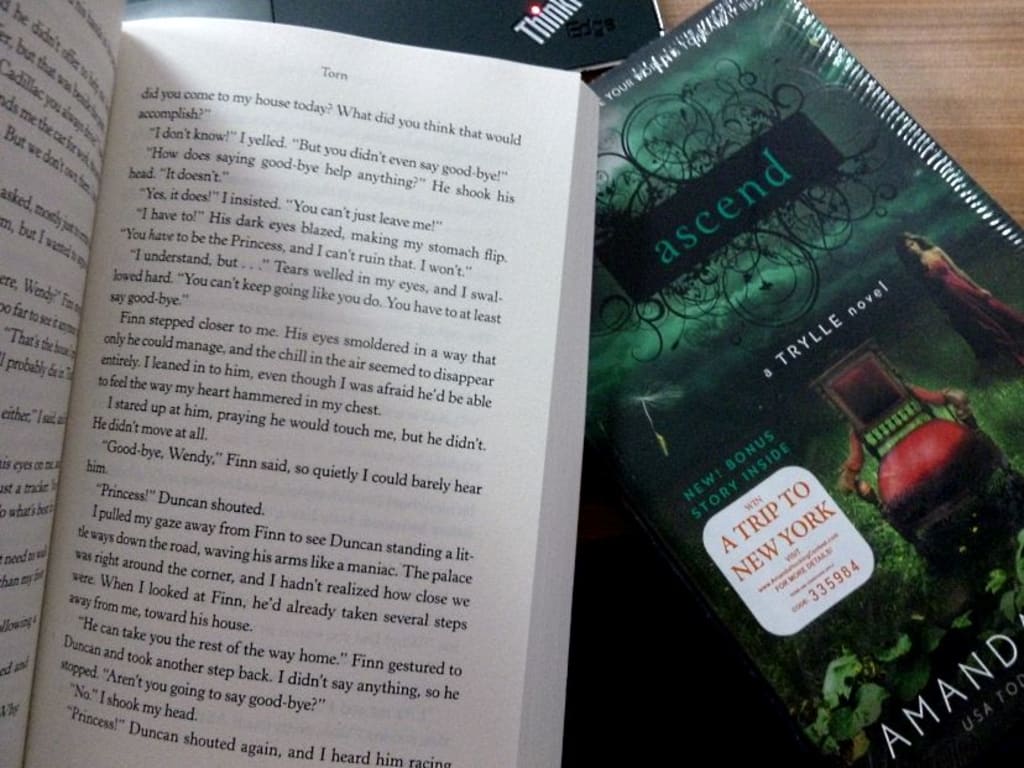 The Tyrlle Trilogy
I thought I would write something a little different for my Vocal account today. Amanda Hocking has been one of my favourite authors since I was thirteen years old. She is a young adult fantasy writer that I have loved for a very long time. When I was younger, I was completely obsessed with my Kindle and I read absolutely anything that I could get my hands on, especially when it came to vampires. The first book that I ever read by her was My Blood Approves and I was completely hooked by her writing style. I love her voice and style of writing so much. To me, she is a clearly unique writer who deserves to have a little bit of a spotlight in my opinion. Especially because of how young she was when she started writing.
Amanda Hocking began self-publishing her novels on Amazon back in April 2010. Before she became published, she wrote over twenty-five novels while working in a group home. She left that job and began perusing writing as her full-time passion. She now has over twenty-five books published in both novel format and ereaders, and audio book format. With eleven different series written to this date with more to come. Today, she has her own website where you can purchase her books directly from her.
I wanted to spotlight a few of my favourite series by Amanda Hocking without spoiling any secrets to my fellow readers.
The Hollows
Hollowland and Hollowmen completely enchanted me the first time I read it. I love zombies. But there is a difference between cheesy zombie stories and good ones in my opinion. Amanda Hocking leaves you wanting more out of the novel. Remy, the protagonist, is very easily likeable. you follow her on an adventure to rescue her little brother Max during a zombie apocalypse. Its a loveable story with some teary moments. Of course don't forget the romance. It wouldn't be a zombie apocalypse without someone falling in love. Amanda Hocking has also collaborated with a team to turn the series has now turned into a graphic novel.
My Blood Approves
My Blood Approves, Fate , Flutter, Wisdom, Letters to Elise: A Peter Townsend Novella, and Swear are all apart of this fantastic vampire series. You fall in love with the complicated love story between Alice and Jack, a human and a vampire. This is the series that made me fall in love with Amanda Hocking and her writing style. Its nothing like the Twilight saga, it is better in my opinion.
Tyrlle Trilogy
Switched , Torn , and Ascend are all written about the lives of trolls. And not the type of trolls you would normally picture. Wendy, the protagonist also known as a Changeling, was just living a regular old life before she met Finn, the tracker that winds up bringing her back to her home town. I literally have never read another series like this one. Amanda Hocking makes trolls looks sexy. The plot twists that she creates are amazing. I never get tired of rereading this trilogy at all.
She inspires me to write and to be a writer. I owe her a lot of things in my opinion. Her books have absolutely saved my life. I highly recommend her to anyone who loves a good fantasy novel. I think what I love the most about this author, is that she is not shy with showing her geeky self within her work. She truly has a unique writing voice that most people do not possess.
Thanks for taking the time to read this little post about one of my favourite authors. If you haven't read one of her books before, just download an sample of her writing from the Kindle app and you will become instantly hooked, I swear.
Chloe Rose Violet
About the Creator
Writing from the heart about love, life, mental health, and everything else in between.
Self-established nerd.
Lifetime Legend of Zelda fan.
"Write hard and clear about what hurts."- Ernest Hemmingway
Reader insights
Be the first to share your insights about this piece.
Add your insights