A Step-By-Step Guide To Becoming A Certified HVAC Technician!
Get the HVAC training certificate from the michigan's top & reliable training center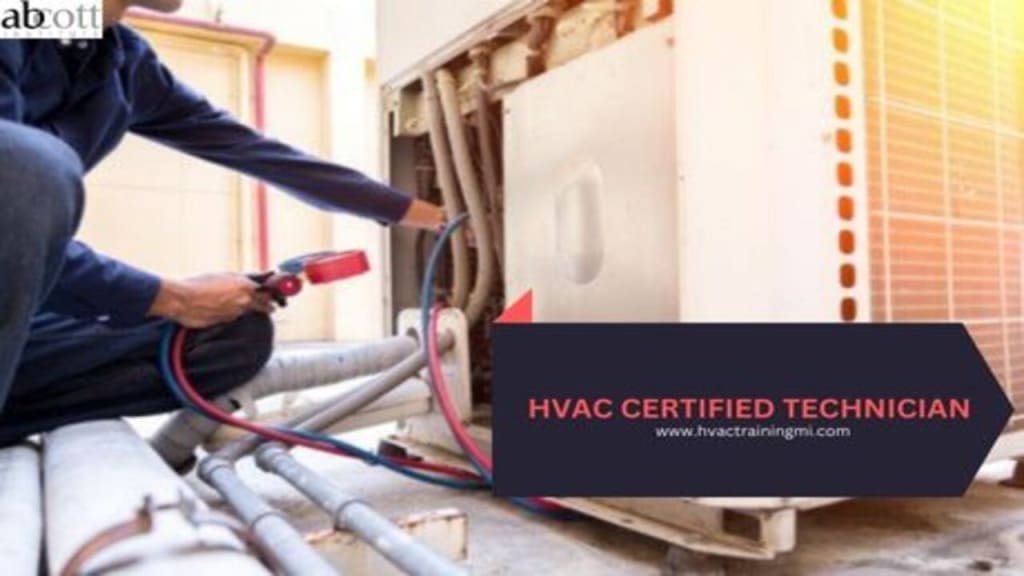 The responsibility of an HVAC technician encompasses the installation, upkeep, and repair of HVAC equipment. These professionals diagnose and troubleshoot problems and repair or replace defective parts. In this blog post, we describe the primary responsibilities of an HVAC technician and how one can get an HVAC training certificate in MI.
Job Responsibilities of HVAC Technician –
Depending on the work details, HVAC technicians' primary duty is to install new units or maintain systems. Some essential hands-on duties HVAC technicians can perform include;
Removal of the old systems.
Interacting with customers and clients.
Installation of the new systems.
Observing local HVAC regulations.
Discuss system malfunctions with customers.
Repair or replace worn or defective parts.
Recommend maintenance to improve system performance.
Various Steps To Become An HVAC Technician –
To get an HVAC training certificate in MI, one needs to follow the below-mentioned steps to get an HVAC certification –
Earn A High School Degree or GED –
A high school diploma or GED is generally a prerequisite for enrolling in HVAC training programs. Strengthening your skills for a heating and cooling career can be achieved through physics, environmental science, and computer studies courses. Certain high schools provide vocational training options, while some colleges offer programs designed for high school students earning industry-recognized certifications.
Completing An HVAC Training Program –
While not all HVAC jobs require a formal degree, it is essential to have a solid education in the field. There are various training options available –
Accredited HVAC program – You can enroll in a program at a community college or trade school, where you can earn a certificate or an associate's degree. These programs typically range from six months to two years, focusing on installation, maintenance, and system knowledge.
On-the-job training – In some cases, securing an entry-level position offering on-the-job training is possible. This type of job allows you to learn while working. Initially, you may shadow a skilled colleague to gain practical insights. You will gradually take on more basic responsibilities as you become proficient, eventually progressing to more complex projects.
Earn A State License –
Licensing is a common requirement for HVAC technicians in various states. To obtain a license, applicants must provide evidence of work experience, carry liability insurance, and pass a comprehensive examination. The specific requirements may vary from state to state.
Gain Certification –
Every state has its own set of criteria that HVAC technicians must satisfy. There are specific certification mandates for certain states and specialties. To obtain an HVAC technician certification, individuals must fulfill a specified number of work hours and successfully pass an examination. Among the commonly recognized certifications are – Section 608 certification offered by the Environmental Protection Agency (EPA) and R-410A certification. HVAC technicians who handle refrigerants are required to obtain EPA certification.
Skills Needed To Be An HVAC Technician –
To pursue a career as an HVAC technician, one must possess comprehensive knowledge of diverse technological systems and machinery. This career also requires various soft skills like –
Problem-Solving & Troubleshooting Skills –
HVAC companies seek technicians who can swiftly assess malfunctioning systems, recognize potential issues, devise innovative solutions, and execute troubleshooting procedures promptly. Diagnostics and testing skills are crucial for HVAC technicians to provide clients with prompt, safe, and efficient service.
Employers prioritize technicians who can think quickly, possess diverse troubleshooting techniques, and are well-versed in utilizing the latest testing equipment, such as airflow meters, humidity recorders, voltmeters, and gas leak detectors.
Communication Skills –
Interacting with clients forms a significant aspect of the HVAC technician role. As the authority in the field, it is essential to communicate the necessary actions and their underlying reasons effectively. It may involve providing detailed instructions or addressing customer inquiries while upholding a demeanor of professionalism and respect.
Time Management Skills –
To excel as an HVAC technician, practical time management abilities are essential. Time wasting poses a significant concern among employees, potentially leading to substantial business financial losses. To maintain concentration, adhering to appointment schedules is essential.
Willingness To Continue Learning About HVAC Technologies –
For HVAC technicians, it is essential to possess the drive to actively engage in industry advancements and actively pursue professional development opportunities. Companies aiming to minimize energy expenses and enhance air quality rely heavily on motivated HVAC technicians.
Proficiency in advanced air conditioning, refrigeration, and heating concepts is a fundamental requirement. Additionally, technicians who aspire to stay abreast of the latest technological trends must possess skills like interpreting schematics and work plans.
So, aforementioned is some information about HVAC technicians. If you're considering a career in this field and looking for an HVAC training center in Michigan to enroll in this training program, Abcott Institute can provide you with the best education and training.
Contact us at (248) 440-6020 to learn more about our affordable HVAC training course.
About the Creator
Abcott Institute provides the best HVAC Training in Detroit, Michigan (MI). As an HVAC Technician, you'll be able to take advantage of Abcott Institute's certification courses in Refrigeration, Heating, Ventilation, and Air Conditioning.
Reader insights
Be the first to share your insights about this piece.
Add your insights