5 Steps To Follow To Become A Certified AC Mechanic in Michigan
Best HVAC Training Schools in Michigan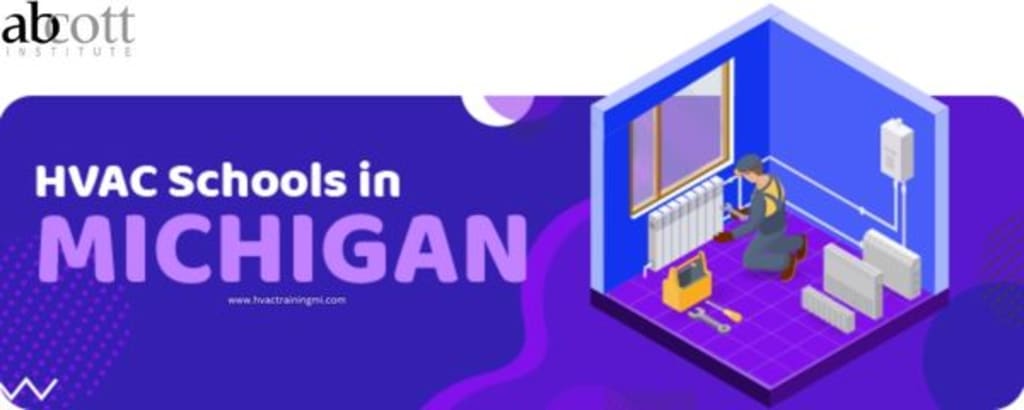 Comparatively speaking to other states, Michigan has a higher average pay. The top five states to start an HVAC profession include this one. Michigan boasts one of the top educational systems in the country with a sophisticated technological infrastructure. There are numerous entry-level positions available for persons with little to no work experience, thus it is also possible to begin an HVAC career without having any prior experience.
Because the best HVAC training schools in Michigan are readily available and it is always accessible, it is a great place to start. A strong economy in the state also supports the development of the HVAC sector. Another reason Michigan is a great option for people interested in this career path is the high need for certified contractors.
This page is for you if you want to become a certified AC mechanic. Becoming a licensed AC mechanic entails a number of procedures, including education, training, and certification.
Here is an easy-to-follow guide to assist you in becoming a certified AC mechanic in Michigan:
1. The Basic Requirements Must Be Met
In Michigan, there are a few standards you must fulfill if you want to work as an AC mechanic. The first requirement for this profession is a high school diploma or GED, which is a minimum educational requirement.
A minimum age of 18 must also be met in order to qualify for AC mechanic training and certification. These conditions must be met in order for you to prove that you possess the skills and knowledge needed to operate as an AC mechanic in Michigan.
2. Finish A Program of Accredited Training
You must complete an accredited training program to become an AC mechanic in Michigan. Community colleges, trade schools, and vocational institutions all offer these programs. You will get knowledge about electrical systems, refrigeration theory, air conditioning systems, and more.
3. Gain Experience
Gaining practical experience is crucial after completing an HVAC training course so that you may put your knowledge to use in practical situations. Working as an apprentice or an entry-level technician is one way to accomplish this.
A lot of HVAC businesses provide apprenticeships or on-the-job training programs that let you learn by doing while working with seasoned specialists. Through this practical experience, you can refine your skills, build a professional network, and develop a strong foundation for a successful career in HVAC.
4. Get Certified
Once you've gained some experience, you'll need to get certified. The EPA Section 608 certification is required for all AC mechanics who work with refrigerants. This certification can be obtained by passing an exam offered by the EPA. There are four types of certifications available, each of which requires passing a different exam.
5. Consider Additional Certifications
In addition to the EPA Section 608 certification, you may want to consider obtaining additional certifications to increase your job prospects and earning potential. The North American Technician Excellence (NATE) certification is a widely recognized certification in the HVAC industry. The certification is obtained by passing an exam that covers the installation, maintenance, and repair of HVAC systems.
By following these steps, you can become a certified AC mechanic in Michigan and start a rewarding career in the HVAC industry.
Conclusion
Abcott Institute is an excellent choice for those looking to obtain an AC mechanic certificate in MI. With their comprehensive program and experienced instructors, students can gain the knowledge and skills needed to succeed in the field.
Their commitment to hands-on training and personalized instruction ensures that students are well-prepared for the workforce. If you are interested in pursuing a career as an AC mechanic in Michigan, Abcott Institute is definitely worth considering.
About the Creator
Abcott Institute provides the best HVAC Training in Detroit, Michigan (MI). As an HVAC Technician, you'll be able to take advantage of Abcott Institute's certification courses in Refrigeration, Heating, Ventilation, and Air Conditioning.
Reader insights
Be the first to share your insights about this piece.
Add your insights