5 Easy Tips You Can't Afford To Miss To Learn French
Learn French in Mumbai, India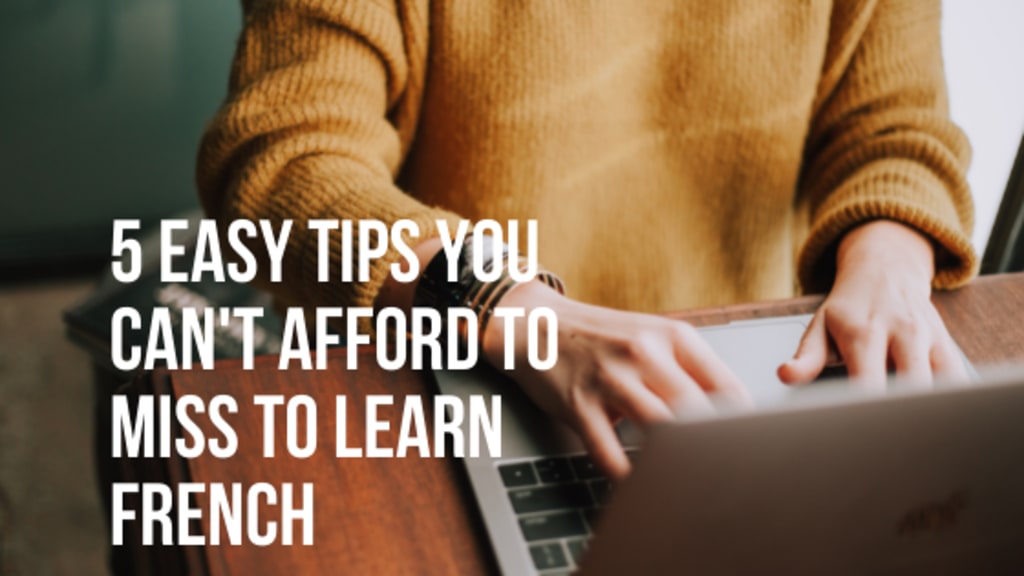 You have enrolled to attend French language classes to learn French, but you feel that it is not enough to become perfect in French. The best way to learn French well is a regular practice. However, reading excerpts from the textbook, attending online French classes, combining French verbs and a lot of grammar exercises make you feel exhausted.
No worries!
The key to learning French, whether in the classroom or at home, is by exposing yourself to and practicing the language as much as possible. Sure, it's going to be more challenging if you're not living in Francophone culture, but there are still numerous ways for you to incorporate French into your daily routine.
Here are the 5 best ways you can improve your French at home. Use one of these tips every day and you'll be surprised at how strong your French is when you finally do come to France.
1. Listen To French Music
This is the best way to practice French. You can search for French songs and listen to them with subtitles in French.
French music is very popular all over the world, you are sure to find your favorite music. Browse the web/app and you will find that French music is not just chansons. You will improve your accent by listening to and singing lyrics in French. If you feel like you don't have an ear - you can sing in the shower when no one can hear you!
You can also borrow audiobooks in French from the libraries. The stories are adapted to a certain level of knowledge (eg A1, B2). You can listen to books while you cook, walk your dog, or tidy up. You may not understand every sentence, word at first. Don't worry about it - you will understand more with each listen.
2. Watch French Movies
A great way to learn French is to watch French movies, best without subtitles. If you are a beginner, you can turn on English subtitles. If you little bit know French then you can try watching movies, videos on YouTube, and web series either without or with French subtitles.
There is no better way to learn French phrases (and swear words) than by watching French TV. Here you will find a good guide to the French series on Netflix that you can start with. So enroll now in the best French Institute in Mumbai or learn French in Mumbai from the top-notch trainers.
3. Chat with French-speaking People On The Internet
Today, the internet has become a full tool that allows you to solve various problems. One of them is the need to communicate with native speakers. Video chats like Skype, which allow you to communicate on any topic, will help you with this. When you feel ready to start speaking (or writing) in French, you can make friends who speak French and talk to them. Facebook, LinkedIn, Instagram, etc., are the best tools to make friends. You can practice French through the French language courses in Mumbai and can make able to talk or chat with French speakers.
4. Use A Language Learning App (Good For Beginners)
If you want to learn French from the comfort of your home then you can download French learning app to learn the most basic words before diving into anything else. Language learning app is very addictive which you can download at no extra cost from Play Store. The app mostly uses the flashcard method to teach you new words and then quiz you on them until you know them. Well yes, and then you get badges. Lots of badges.
5. Take The Language With You Everywhere
Take the language with you wherever you go or make the new language a part of your daily life. Today, there is a myriad of media that can help you master French. You can find a wide range of apps for phones and tablets that are perfect for travel or just to fill 2 minutes of boredom. You can also learn new daily use words or listen to podcasts when you are on the train or unable to sleep.
Conclusion
The above French learning techniques can really help you learn French on your own, but only to a certain level. Remember that for effective use, you need to not only understand text and speech by ear, but also master conversations. And it is almost impossible to independently determine how correctly some words are pronounced. If you want to master French in no time then attend French language classes in Mumbai.