2017 OPSEU Strike
A Student's Perspective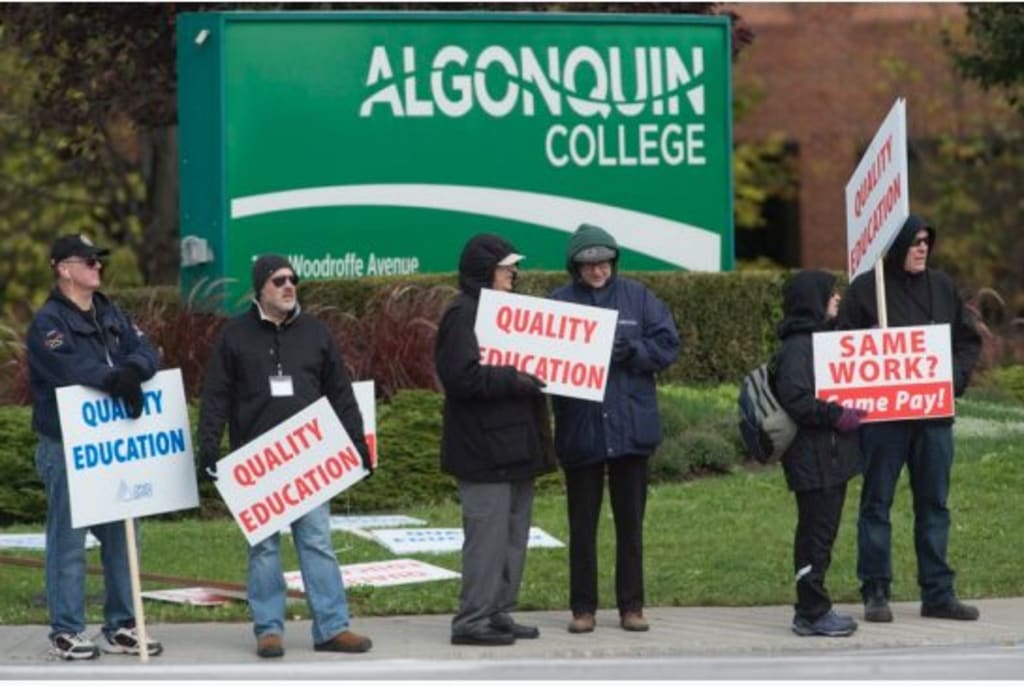 Professors from my college standing at the picket line
I'm a student at Algonquin College's Woodroffe campus in Ottawa, Ontario, and I, along with 200,000 other full-time students, have been unable to attend class for a week. Starting at 12:01 AM on Monday, October 16, 2017, 12,000 college professors walked away from their jobs and went on strike.
Students in Ontario were very aware of the possibility that this strike was coming. We were informed of the potential during the second week of school at my campus, but this doesn't negate the feelings of shock, anger, and confusion that other students and I are feeling. The union claims that the strike is about more than money, but students are feeling like their futures are being used as a bargaining chip to get professors a bigger paycheque. We only got limited information from both sides, my favourite being, "Oh, well, no student has ever lost a year because of a strike." That very well may be, but I don't like being used as a pawn in a political game that I have no say in.
The strike is now entering day seven as of my writing this article, and I'm left working on assignments that I need help with but can't get because my professors aren't allowed to communicate with us, studying for mid-term exams that may end up being a month later than they should be, and wondering if the $300 train tickets I bought for my annual visit home at Christmas can even be used now.
Because of the strike, I'm left stressed out and confused. I can't do my homework because I need help and I'm going to guarantee I'm not the only student left with this situation. I don't even know when my assignments are due! How is this fair to the students?
I've also seen students that require field placements panicking because the college cancelled all of their placements until after the strike. This means that critical hours that they need in the field to graduate are being withheld from them. Students that require specialized testing on certain dates are now panicking because they will go into these tests and examinations without the knowledge that they paid for.
I'm not blaming the professors in anyway shape or form. They were put in a difficult situation that they had no control over. There are professors who work on part-time contracts and have no benefits or job security, and the union has a duty to protect them. But the College Employment Council needs to at least consider what the other side is tabling. It was incredibly inconsiderate towards students for the CEC to walk away from the table and refuse to continue negotiations on Saturday of last week. How can the government seriously say it works to represent us, as voting-age adults, if they throw our education out the window because they don't want to play ball? This whole situation is the Ontario government's fault for creating a situation where class sizes exploded this year. If you create an opportunity for thousands of more people to go to college, you need to compensate the professors properly for the increased workload! To put it into perspective, one of my professors told my class that last year there were about 35-45 students in the first semester of my program. This year, my class is 83 students. That is double the amount of work for the professors, but they make the same amount of money despite the extra hours working. My communications professor teaches 134 students, she told me. That is insane.
But the offer that the CEC made to OPSEU CAAT isn't that far off from what the union demanded. I personally think it was a good middle ground to move forward from, but I'm just an outsider looking in. I have no idea what was said in the room, and I'm not a professor so I don't know how this would affect them in the long-run.
The college I attend, Algonquin, has set up a website to inform students what is happening, but all the information we are receiving are cut-and-pasted "this is what a strike is" letters. Here's one of the letters from Senior Vice President Academic of Algonquin College Claude Brulé:
Dear Learners,While I do not have an update for you on the work stoppage, I did want to remind you of some important information regarding the picket lines that you have seen around our campus. It is important to remember that this is a legal labour dispute — picket lines are a legitimate expression of this and Algonquin College respects the right of our employees to participate.In keeping with our values of Caring, Learning, Integrity and Respect, we are asking everyone to expect delays, walk or drive carefully when approaching or crossing the line, avoid confrontation or provocation and, above all, remain calm and courteous. You might also want to consider using public transportation, carpooling, or having a friend or familymember drop you off at your campus. Do not try to push your way through the line — be patient and you will be allowed to cross. While our campuses remain open to students, you should anticipate a slight delay of a few minutes crossing picket lines. Should you encounter any extraordinary difficulties in crossing the picket lines you may report your concerns to security...
I'm hoping that this situation ends soon, I'm tired and frustrated; I just want to go back to school and learn. At the very least, I want to know what is happening, and what the plan is for my education going forward. Will I get the tuition refund that we've been asking for since day one of the strike? Doubtful. I want any college professors that read this to know that I'm with you. I understand your struggle and I know you want to go back to work and start paying your bills again. I'm proud of you all for standing up for yourselves and fighting for equality, and I thank you for standing up for students. Quality education for all, equal work, equal pay!
About the Creator
I run a blog called The Ottawa Sound which aims to promote Ottawa Canada based musical artists, venues and any other aspect of the local scene. I'm also in two bands Rebel Reload and Batavia.
Reader insights
Be the first to share your insights about this piece.
Add your insights