2017 OPSEU CAAT Strike
Finally Over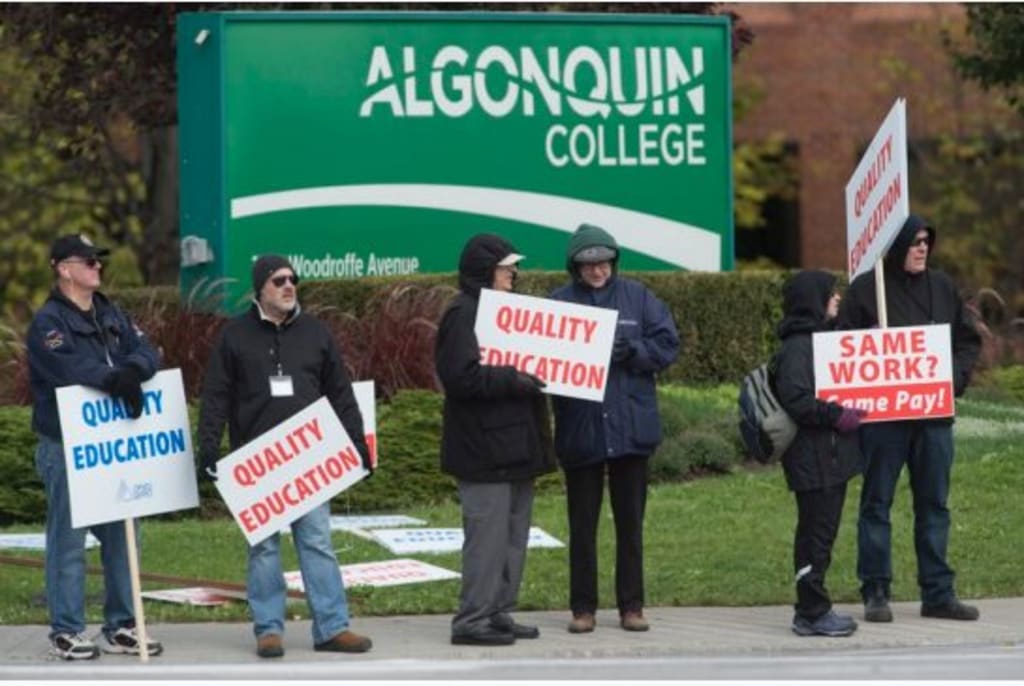 Algonquin staff at the picket line.
Well I'm back again to complain about the strike. Today is 19/11/2017 and, after six weeks, the strike has officially ended. 12,000 faculty and 500,000 students will be filling the halls at Ontario's 24 public colleges again.
I didn't think my respect for Kathleen Wynne and the Ontario Liberal Party could get any lower, but it did. I can't believe that it took them six weeks to force profs back into work. After the second week, we should have had the legislation being written, but she decided to wait. She waited knowing full well the CEC and OPSEU/CAAT weren't communicating with each other. She made 500,000 students, her primary voting base, wait five weeks before even drafting legislation.
A lot of students are planning protests and walkouts to bring attention to the fact that we got screwed over the most by the strike. We are now being forced to cram five weeks of school into three, including exams. You can get a refund from Algonquin (where I attend) but you have to drop out, which means you lose your OSAP funding and you may get put on Academic Probation. Academic Probation affects your access to OSAP funding, which I found out the hard way last year.
The colleges saved an insane amount of money by not having the profs at work and the Provincial Government admitted that and forced colleges to make a fund to help students. Cheryl Jensen, the President of Algonquin, only authorised funding of $500 to students who have expenses that meet a pre-approved list, as long as students have a receipt for those expenses.
Students also have to cancel travel plans and hope that the college will give them refunds for their tickets. I bought my tickets home for Christmas while they were on sale in September for $100 each, $400 total. Now that I have to cancel and re-schedule, it could cost me $200-$400 each ticket, which means my $500 refund won't cover all my costs. They may also be changing our school schedules, which means students who work may have to change their hours or quit their jobs in order to attend classes, which is not fair to us; we have bills to pay too!
Instead of the 3-week break we get between semesters to relax and de-stress, we now only get 4 days until we're back in class, which also screws over students coming into the January intake. They would have had three weeks to adjust to the city and prepare to start their endeavour into a college education, but now they get four days.
The government and the colleges need to realise they made an egregious error and admit it to students and faculty. Mental health issues and drop out rates are about to reach an all-time high because of how poorly this whole situation was handled. Staff are going to be rushing through their curriculum, students are going to get inundated with a massive workload, and when we complain about these things, we just get ignored or told to grow up. We are humans, we are young, and we may not have all the coping skills to deal with the stress; someone is going to die from being too stressed out if we don't have an open discussion about how the strike has affected students and how this whole back-to-work situation is being handled.
I may just be one person, but from what I've been reading in the Facebook groups and Tweets lately, students are angry, scared, stressed out, and fed up. All we want is our money back and our semester to restart in January; it is not our fault that the colleges and unions wouldn't talk to each other and couldn't come to an agreement, so why are we being punished for it?
About the Creator
I run a blog called The Ottawa Sound which aims to promote Ottawa Canada based musical artists, venues and any other aspect of the local scene. I'm also in two bands Rebel Reload and Batavia.
Reader insights
Be the first to share your insights about this piece.
Add your insights