What my science teacher didn't realize he taught me
and the passion project that blossomed from it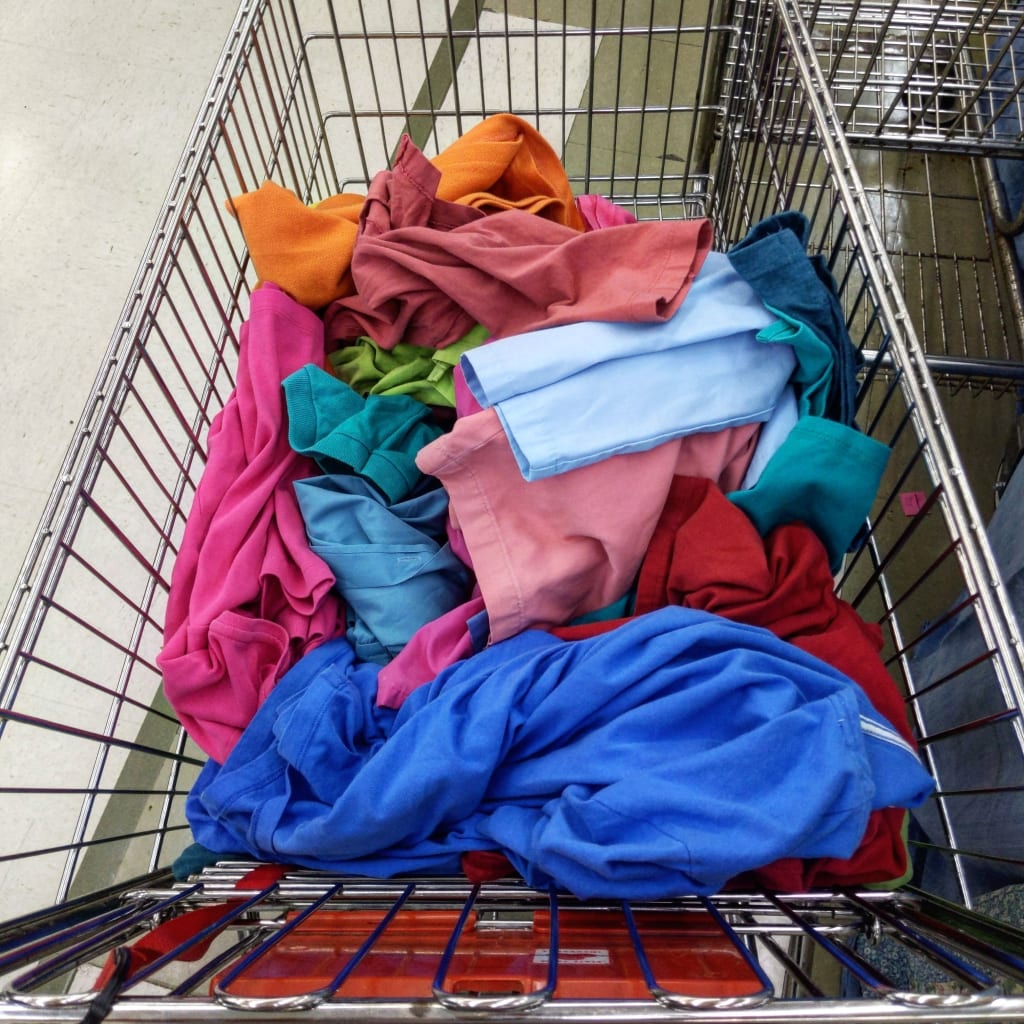 Just past the next intersection, I see the dull glow of the thrift store's sign peeking through a tree. I pull into the parking lot and circle around until I find a spot. Cutting the engine, I grab a few wrinkled dollars from my glove compartment and head inside.
Scanning through the racks, I pluck any shirt with colors or prints that catch my eye. This is my happy hour; elbow to elbow with strangers, rummaging through mounds of second hand clothing. I fill my cart with t-shirts, ratty jeans, polos, and faded Hawaiian button downs. When I run my fingers over each garment, I feel inspired by their different textures. I grab a silky, bright red nightgown but notice it has a few small snags and holes. "What could this become?" I wonder. I drop it in my cart and reach for a nearby skirt with a black and red floral print. I imagine it as the exterior fabric for a bag and the tattered red gown as a vibrant lining. I take everything to the register to pay and then lug my trash bag full of treasures home to wash, iron, and dissect on my rotary mat.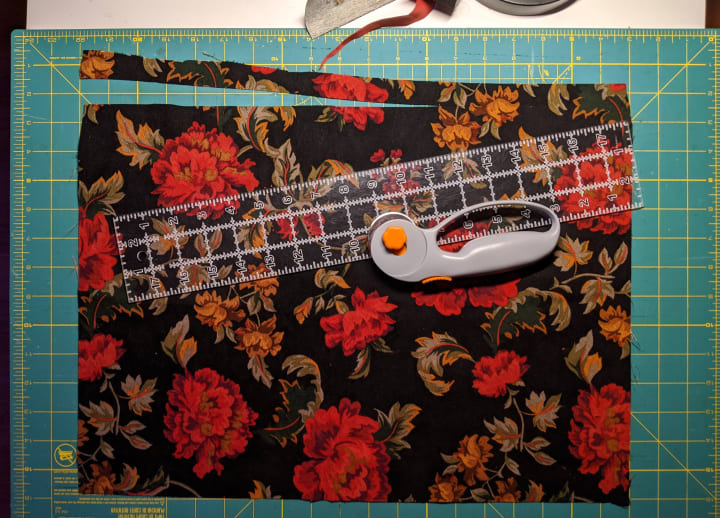 I began sewing with reclaimed fabrics after learning about textile waste in a science class. There was a chapter about waste and pollution mentioning that in North America alone, 25 billion pounds of textiles end up in landfills each year. I was shocked and it made me reflect on how quick we are to toss things, especially clothing, abandoning a surplus of perfectly usable fabric. While clothing does get donated, it simply can't keep up with the rate at which consumers are buying new things to replace them. Items that resale shops can't sell often get dumped in developing countries, made into rags, or ultimately take an international scenic route to a landfill. Second hand thrift stores overflow with donated garments that people throw out because of small nicks, fashion trend changes, missing buttons, or simply just a stain from a misguided fork full of spaghetti. There is an abundance of materials already produced and in circulation, yet the demand for "new" continues to rise.
I felt so small against this monstrous and complex issue, but after learning more about the immeasurable toll of fast fashion, I felt I had to at least try to do something. I wanted to figure out how to become one of the many innovative pioneers it would take to make a difference in the world of waste. I was a broke college kid with no idea where to begin and I wasn't even sure that I could do anything that would make an impact in a meaningful way, but I was inspired and curious; arguably one of the most powerful things anyone can be.
I grabbed a pair of scissors and began to play with old fabric.
I started with a few worn out t-shirts that I picked up from the thrift store, cut them into strips, and then hand braided or weaved them into rugs.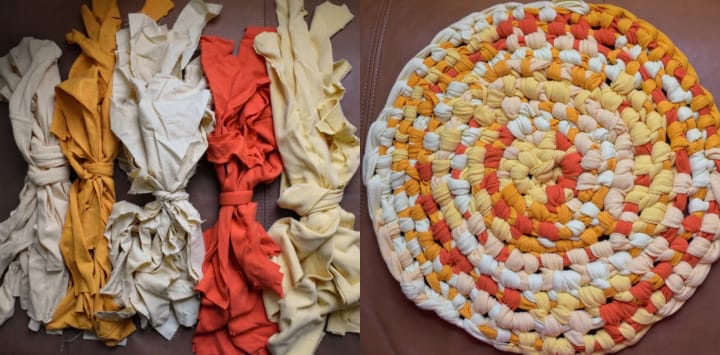 Seeing the colors swirl together and come to life as something new felt magical. I was thrilled to create something sustainable and truly unique from materials discarded by others. And, the best part- the only tools I needed were a good pair of scissors and a patient pair of hands.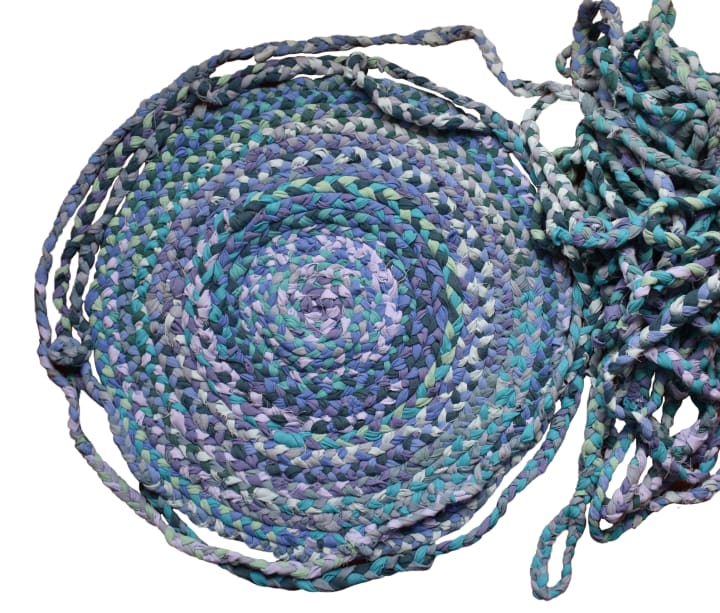 After several months of making more rugs than I had rooms to put them in, I progressed to designing bags and other things. I was on a mission and building momentum. The goal was to make everything from 100% pre-loved materials, including the zippers and thread. The process of sewing entirely with upcycled, second-hand clothing was much more challenging than buying new fabric, but it forced me to push boundaries and get creative.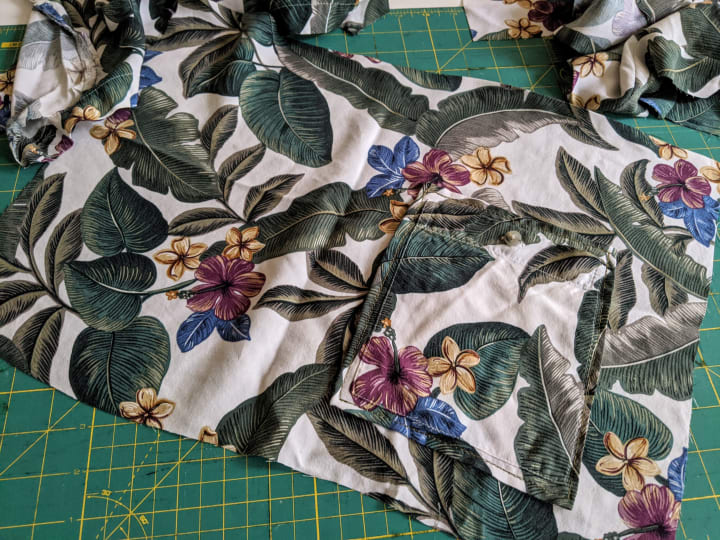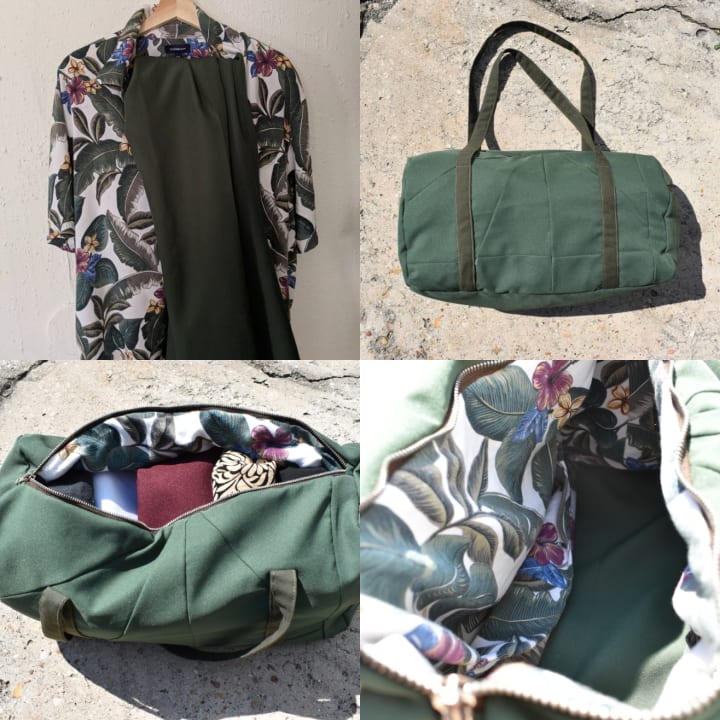 When I design something from a button down shirt, for example, I must first deconstruct the piece and decide whether to remove or incorporate its original features such as darts, seams, buttons, and pockets.
This is a bag I made from a pair of green dress slacks as the exterior, a Hawaiian shirt for the interior lining, the straps came from another pair of pants, and the zipper was salvaged from a jacket. I have experimented with various fabrics but some of my favorite garments have been the ones that are least likely to be picked by someone else. The ones with holes, bleach stains, or obnoxious prints from the 80's. Every time I get behind my machine, I learn a little more about how to care for damaged materials and the art of nurturing fabrics to transform into something new.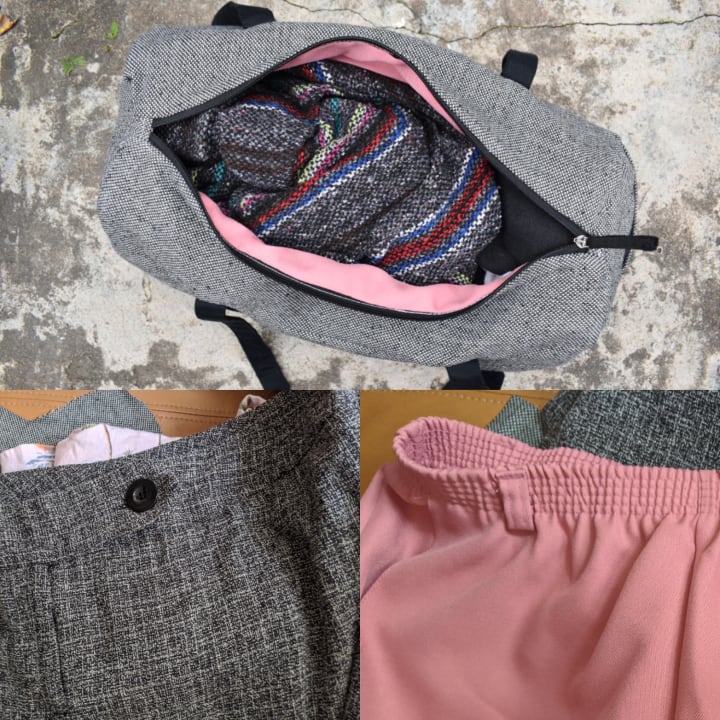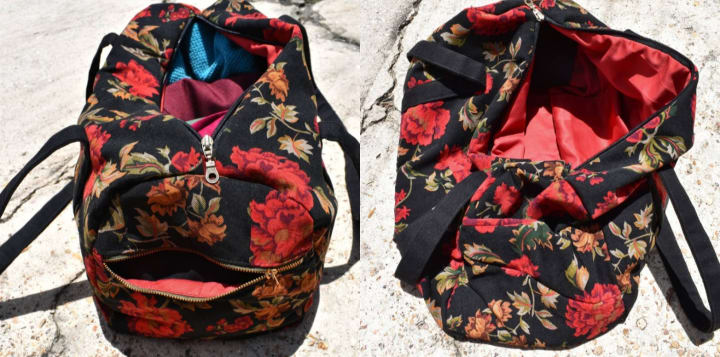 These bags alone won't save the world, but each meticulous cut that goes into constructing them feels like activism. The beautiful thing about art is that it is much more than just an outlet to express one's feelings; it also poses questions and encourages others to reflect on the world around them.
What started as a page about waste in my science book, ended up being the catalyst that made me contemplate the impact I wanted to have on this world and then inspired me to put my tools to work to make it happen. I have learned that change comes when individuals combine their efforts and make a collective shift. I dream of opening a textile center where we can build a community of creators and work together to reuse, redesign, and recycle materials.
Until then, designing brings me joy and makes me optimistic about the future. I hope that some day my work will provoke others to find more ways to be resourceful and help fan the flames of creativity within my fellow pioneers, ready to do their part in truly changing the world.