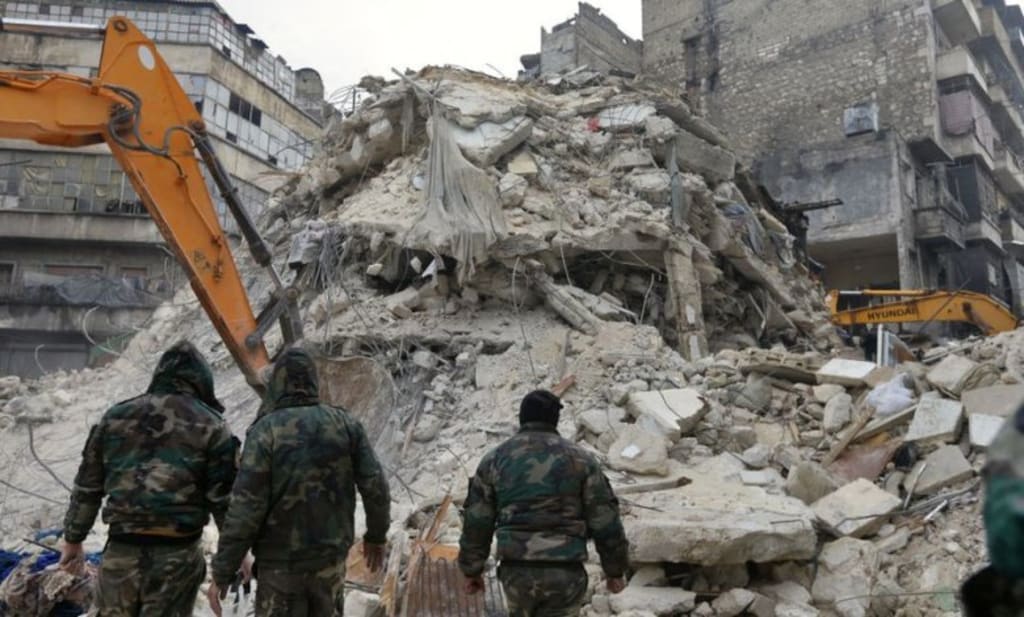 At least 7,000 people have died and thousands more are injured in two major earthquakes that struck Turkey and Syria this week, officials said. The quakes left thousands homeless.
Turkey Earthquake Live Updates: Death toll expected to climb significantly; relief teams fly in from the world; President Erdogan declares 7 days of mourning. Follow this space for the latest news updates.
A pair of deadly earthquakes with sustained magnitudes of 6.0 and 7.7 shook Turkey and Syria yesterday, killing more than 500 people and leaving thousands of others homeless, authorities said.
A powerful earthquake shook cities in Syria and Turkey, killing at least 198 people and injuring 381 others in the two countries. More than 100 of those killed were in Turkey, according to authorities. Rescue workers struggled to reach some of the hardest-hit areas in Aleppo and Idlib provinces, where hundreds of buildings collapsed. Nearby Turkey experienced numerous aftershocks.
The death toll from the ongoing earthquake in Turkey and Syria has risen to 3,000 people. In Turkey, nearly 100 people have been confirmed dead as of midday on Tuesday, according to state media. At least 1,000 more were injured with many trapped beneath collapsed buildings. The quake's epicentre was in the border region between Iran and Iraq near Digital Media City in Firuzahmatrud region.
A powerful earthquake hit Syria and Turkey on Tuesday, killing at least five people and injuring hundreds more as buildings cracked, collapsed and power was cut across the region.
A massive earthquake struck off the coast of Libya, killing dozens and triggering a tsunami that washed away whole coastal communities.
At least 3 people have died and thousands have been displaced in the aftermath of Tuesday's earthquake in southwestern Turkey, according to the Associated Press. The 6.4-magnitude quake struck northeast of the city of Kilis, killing at least three people and leaving more than 2,800 injured. The earthquake struck within a week of another powerful quake that rocked central Turkey, killing hundreds.
A strong earthquake shook areas in Syria and Turkey just two days after a deadly quake hit Nepal. The new quake struck early on Friday, in an area that had suffered previous quakes from which no one was able to return home. Residents of the remote Syrian town of Kfar Zeita said there were several aftershocks, including one about an hour later that lasted about three minutes.
A 6.2-magnitude earthquake has struck Turkey and western Syria, leaving at least 37 people dead and a number of buildings damaged.
A strong earthquake with a preliminary magnitude of 6.1 struck central Turkey and killed at least 435 people and injured thousands more on Saturday, November 14.
At least 74 people were killed in Turkey and Syria as the death toll from a magnitude 7.2 earthquake increased to 250,000. An additional 130 people were injured in various parts of Turkey as emergency services dealt with injuries, including crushings and falls.
An earthquake struck Turkey and Syria on Friday, killing at least 31 people. The quake hit at 12:46 p.m. local time in the northeast province of Artvin Turkey. The country's prime minister has said there are no reports about casualties so far in Turkey.
Ten people have died and hundreds more were injured in two earthquakes that struck the southern part of Syria, a government official said on Tuesday.
An earthquake of 6.5 magnitude struck off the coast of Syria and Turkey on Tuesday, killing at least 24 people and affecting thousands more, as rescuers rushed to find survivors amid large cracks in many buildings.
Emergency services said more than 1,000 people were killed by the quake. Two thousand died in Turkey and 500 in Syria, according to the head of Turkey's disaster response centre.
The death toll from a massive earthquake that struck off the coast of Northern Turkey rose to over 290 Saturday, with nearly 5,000 others injured. The quake struck offshore at 2:46 p.m. local time Friday, nearly eight miles under water in the Aegean Sea.
Reader insights
Be the first to share your insights about this piece.
Add your insights