The Soap with 18 Uses that is Transforming Sustainable Living
An easy switch to a more eco-friendly life.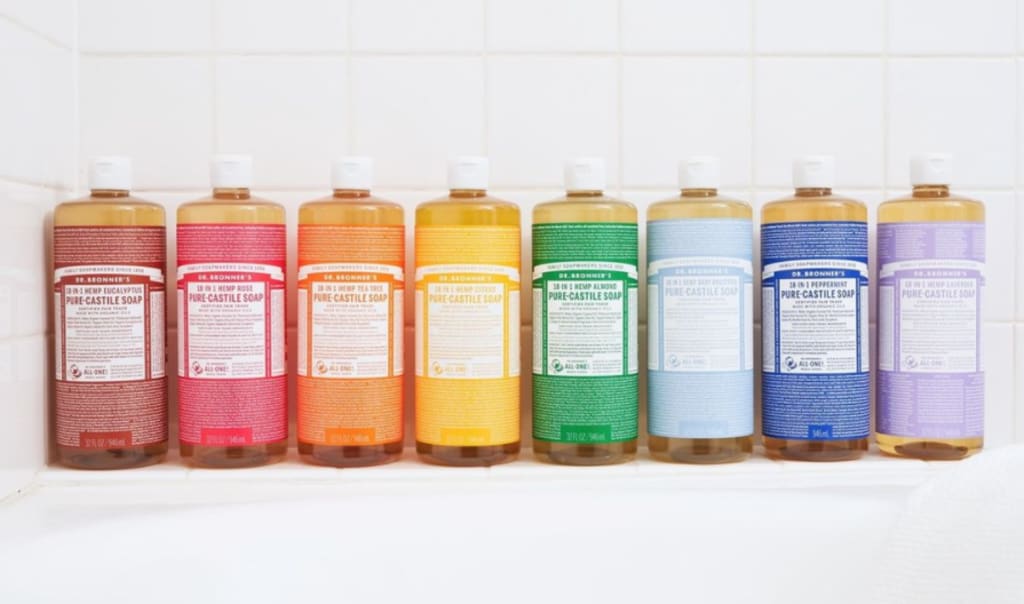 Photo via Dr. Bronner's Instagram
Welcome to the new Earth-centered community on Vocal! I'm so excited to read your stories and beef up my sustainability game, but to get you started, If I must, I'll relinquish my secret hack for living more eco-friendly.
I am a creature of convenience; I like when things are easy. This idea doesn't bode well with trying to live an environmentally responsible lifestyle. It's easier (and cheaper) to purchase a brand that doesn't source sustainable ingredients than it is to seek out earth-friendly products.
But it's not healthier and costs more in the long run.
The U.S. Environmental Protection Agency names phosphorus, nitrogen, and ammonia as some of the most dangerous environmental hazards in household cleaners; for short, they're called; "Volatile Organic Compounds."
These chemicals are found in common products that are probably currently under your kitchen sink. Many dishwater detergents have high levels of phosphorous, and ammonia is a standard ingredient in cleaning products.
Can we balance our eco-footprint without breaking the bank? With Dr. Bronner's soap, it's possible. I eliminated my need to buy household cleaner, detergent, dish soap, body wash, face wash, shampoo, you name it. I use Dr. Bronner's mainly for cleaner, but I have utilized it for pretty much everything listed on the bottle at one point or another. So why make the switch? And why do I rank Dr. Bronner's over other brands? Well, for that, we need to visit its humble beginnings.
A Family of Soap Makers
"150 years and five generations of family soapmaking."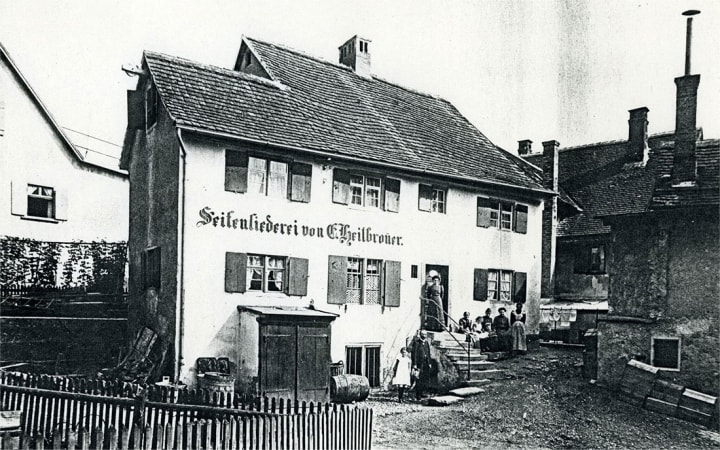 1858
About a hundred years before Emanuel Bronner started his soap company, in 1858, his family began to pave the way by making soap out of their home in the Jewish quarter of Laupheim, Germany.
1880
The Heilbronners invented the first liquid castile soap somewhere between the 1880s and 90s under the brand name "Madaform."
1908
In 1908, Emanuel Heilbronner is welcomed into the world by his three siblings and parents.
Emanuel, who goes by Emil, falls in love with the craft and receives a Soapmaking Master certificate from Guild System trade school. He also held a degree in chemistry.
1929
Emil was forward-thinking and had progressive ideas for the future of soapmaking. His creativity and nuance led him to clash with his father and uncles; in 1929, he migrated to the United States.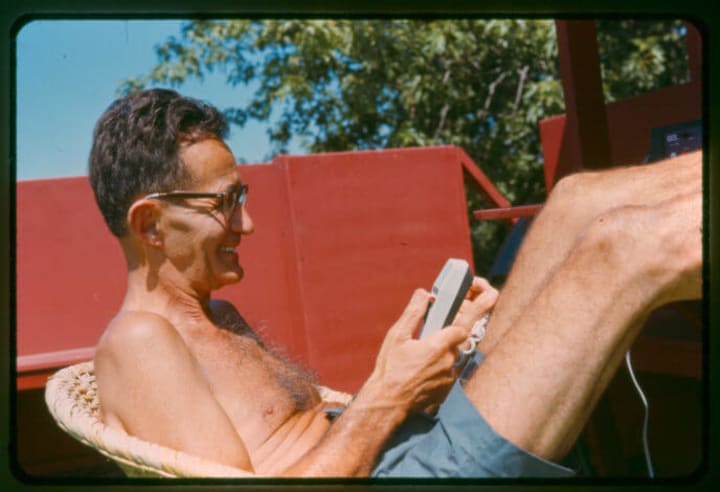 1930-1940
In the 1930s, Emil dropped Heil from his last name to avoid association with Hilter. Heartbreakingly, just a decade later, Nazis nationalized Emil's family soap factory. His parents were deported and later killed in Auschwitz and Theresienstadt.
With the same strong spirit that drove him from his uncle and father, Emil was institutionalized shortly after in the Elgin State Aslyum for passionately stating his opinions. The shock treatments administered, he said, would go on to affect his eyesight and eventually blind him in the 1960s.
Despite all the turmoil and tragedy, Emil founded Dr. Bronner's in 1948 and produced the first units of his Peppermint Castile soap.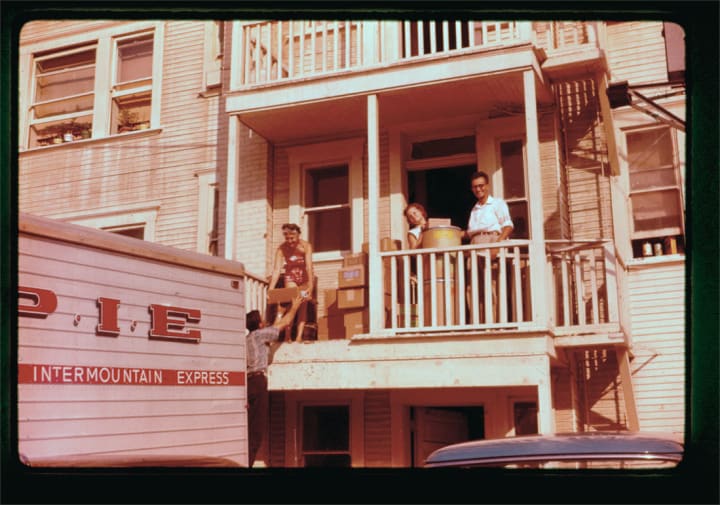 1960-1970
From the beginning, it was important to Emil that value for the earth, customers, and employees were at the forefront of his business. In the 1960s and 70s, the hippie movement latched onto Dr. Bronner's soap because of the company's call for peace and skyrocketed its popularity.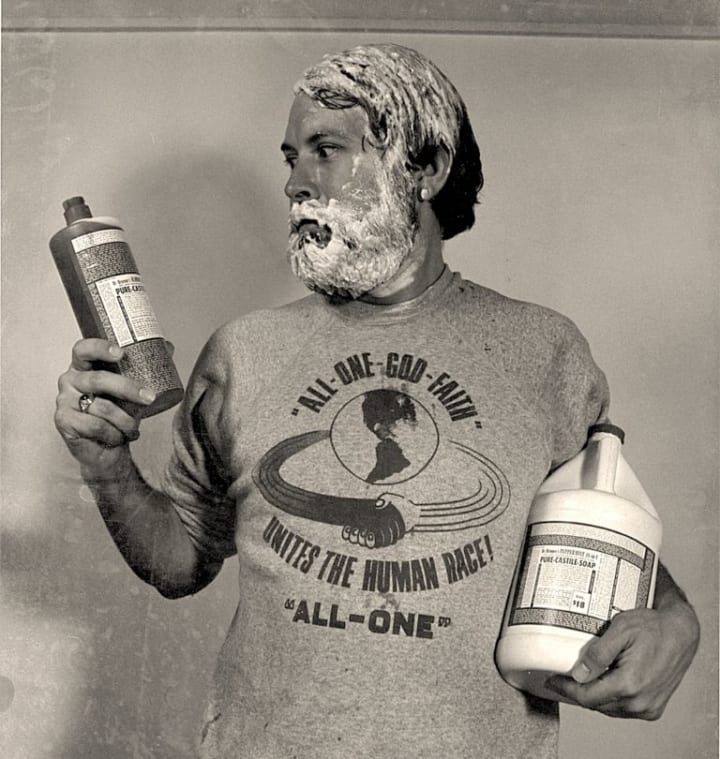 1997
Emil passed away in 1997, leaving the business in the hands of his family (who still run the company today).
The brand's message has stayed the same through one century and well into two- a mission of peace and a vision of a healthy, vibrant earth for us to share.
As early as 2014, Dr. Bronner's committed to becoming a zero-waste operation. This action is perhaps the perfect echo of their core message of putting love first and profit second.
How I Use Dr. Bronner's
Detergent
I actually just tried this method while in a pinch on vacation. I was honestly shocked by how well it cleaned my clothes. Easy on the color, with no residue or strange feeling on the texture of the clothing.
Dish Soap
I love Dr. Bronner's as a dish soap, this may sound strange, but the essential oils lifting into the air when I'm washing the dishes is so pleasant smelling. The soap doesn't dry my hands out. Plus, the texture is perfect, not too runny, not too thick.
House Hold Cleaner
I just dilute a little bit of soap with water and clean my counters, floors, etc. It's a crazy cheap method that works and leaves my house smelling like a health foods store (in the best way).
Parting Words
I love this company's message and how they go about proving what they say they're about. Dr. Bronner's makes it easy to support them, and they're creating a movement of sustainability not only becoming the norm but also the superior product.
It's easy on the psyche to make the jump between two soaps. Why not choose one that also does 17 other things? Getting mindful and intentional with the most minor decisions will make a big difference.
Big thanks to Vocal for letting me celebrate the addition of this community! I'm so excited to watch it grow and to learn from all of you.
Sustainability
About the author
Something new every week or so, thank you for stopping by!
Find me on Instagram at @awriterwhodraws