The End of Parking Lots
Is it time to change the face of parking in the U.S.?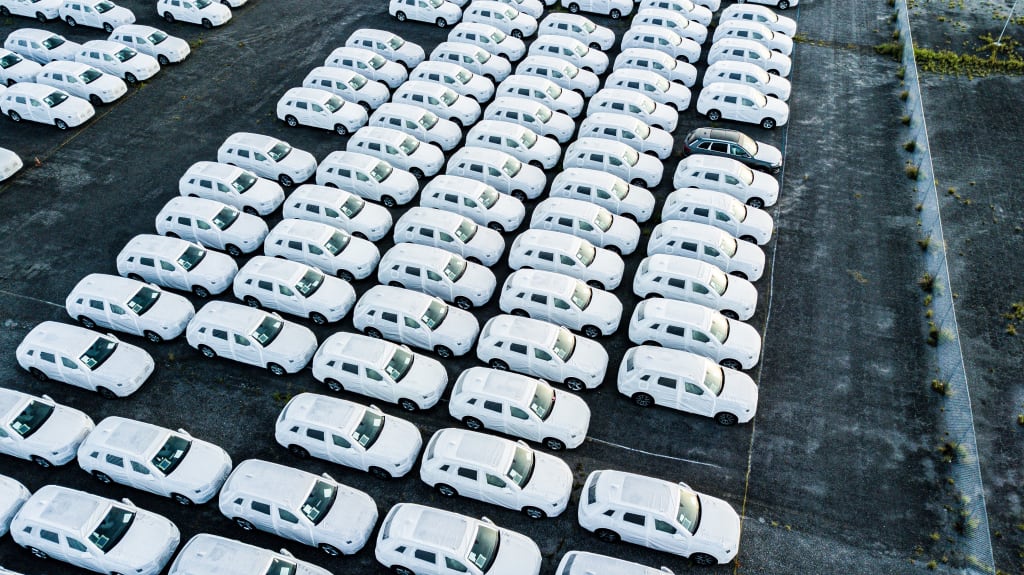 "It's no secret in the development world that parking lots are just land banks just waiting to be turned into something else…"

Eric Scharnhorst, Data Scientist at Parking Mill
One byproduct of the COVID-19 crisis has been empty roads, parking lots, and parking garages. All of a sudden, people are driving, parking, and moving around less.
This has been one of the few benefits of quarantine. Cities once clogged by pollution have began to see clearer skies and better air. Places choked with traffic and road rage are now more wide open and generally less busy. Once full parking lots in urban areas became strange, empty swaths of asphalt gleaming in the sun.
An extreme example of this is one particular city in India, where residents saw mountains in the distance that some lifelong residents of the area had never seen before. Those mountains were the Himalayas, the tallest peaks in the world.
Other places in the United States have also recorded record lows of pollution. This is all during a season where places like Los Angeles are plagued by poor air quality warnings. Instead of inhaling polluted air, some people breathing it in like foreign substance, saying that the it smells "practically alpine."
This time, as harrowing as it is, could be a turning point in how our country is designed and laid out. It is a time to rethink our cities and urban areas, seeing what kind of changes can be made for the better.
One of these changes is how we think about parking.
It's time to realize that "free parking" isn't really "free." In fact, building parking lots has a huge effect on our cities, taking up valuable real estate that could be used for housing people, growing veggies, or providing key open space or transportation for pedestrians, public transit, and cyclists.
Parking is also, from an aesthetic standpoint, a nightmare for cities. Nothing ruins the appearance of urban areas like flat expanses of asphalt. Parking lots fracture our urban landscape, spreading everything apart so that walking and biking become difficult, making it almost imperative to drive everywhere.
The Urban Heat Island
And the problem with parking lots is not just aesthetic and geographic, it's also environmental. Parking lots are one of the biggest contributors to what's called the Urban Heat Island Effect. The asphalt of parking lots store the sun's heat all day and release it at night, heating up a city that would otherwise be much cooler.
You can look at studies on cities like Phoenix, Arizona to understand how urban environments stay hotter than the natural areas nearby.
Our cities are so hot partly because we've loaded them with tons of parking lots and other heat-absorbing materials. Instead of green roofs and heat-reducing green spaces, we have vast swaths of asphalt and hardscape.
As I went over in a previous article, the total area of parking lots in this country is equal to 1.5 times the state of New Jersey, taking up 80% of the United States' commercial real estate.
A vast majority of this parking is "free parking," meaning that people can drive there and park with no cost involved. What people might be surprised by is that there is actually a high cost to free parking.
The Problem With Free Parking
Whenever criticism of "free parking" is brought up, Donald Shoup's name is always thrown out there. The UCLA professor is the author of "The High Cost of Free Parking", a 2005 book that made big waves in the worlds of urban planning and transportation design.
Essentially, Shoup analyzed how our society views parking, showing that "free parking" doesn't take into account the actual costs and fair market value of parking. Parking is an urban resource with huge costs both economically and socially, and not making people pay for it is unfair to everyone involved.
What Shoup argues is that fair market rate paid parking could help collect revenue for community investment in which the parking is located (like for improving roads and safety). He also argues that we should remove requirements for off-street parking for new development, letting the market determine if parking is to be built or not.
"But look how many people are driving!" The parking lot supporters say. "We need places for them to park!"
What these people don't realize is that our cities have been designed to give people basically no other option but to drive. With essential services and employment spread out by many miles and huge parking lots to park in, what else do you expect people to do?
It's time to recognize that induced demand is a real thing. If you widen the road, more people will drive, because people respond to opportunities and constraints. And if you provide less parking, people will find other ways to get to their destination, as long as you provide them with a way — that's the key.
If people want to drive, they have to understand that there is a cost to parking. "Free Parking" just doesn't exist. In fact, free parking has a huge cost on our cities, public health, and transportation systems. That's why we have to change the idea of parking from a "right" to a "luxury".
The age of free parking might just be ending soon. What are your thoughts?
Should parking be free, or should we continue to subsidize people's need to drive and park everywhere in a city?