THAT'S A FUNNY LOOKING BIRD
The ultimate 🐻 picture.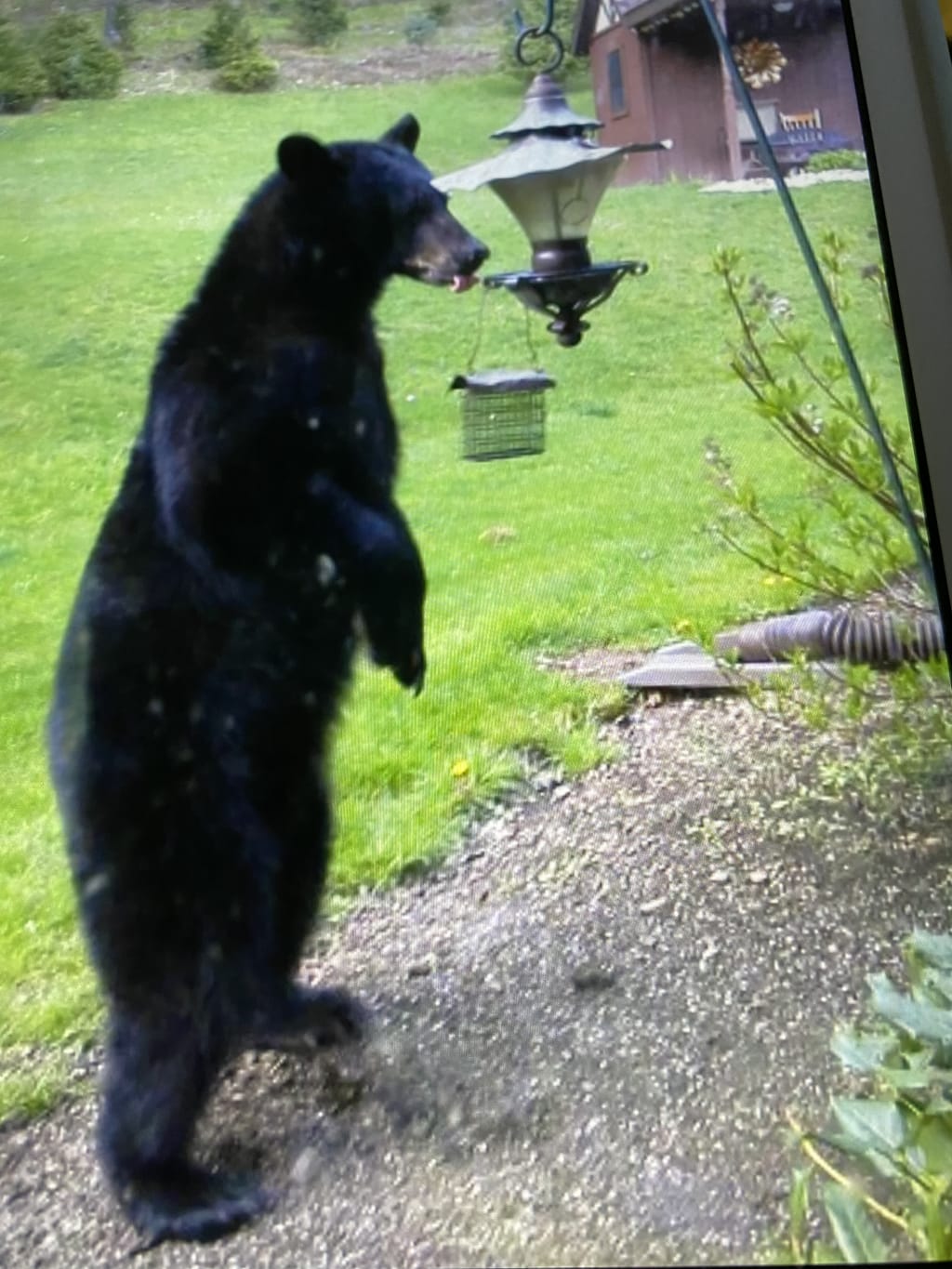 Northern Cambria, Pennsylvania (2012)
This picture was taken by my niece, Mandy Banik, in 2012 when she was home visiting her parents. This bear was enjoying a morning snack at the bird feeder, which is right outside her parents' dining room window. Most of my family live in or near the woods in western Pennsylvania. My middle sister probably lives the furthest distance inside the woods so her family sees the most wild animals. It is not uncommon for there to be large groups of deer and turkey in her yard and maybe a bear just passing through. But normally only birds or deer stop at the bird feeder...not the bear! I guess the bear might stop at the bird feeder but it is not usually in broad daylight.
My niece takes many pictures with both her camera and her telephone. She loves to take pictures of many different things, including wildlife and flowers. This "2012 bear" picture was taken with her telephone because I don't think she had the time to get her camera. After all, she was not expecting to see a bear standing tall and proud at the bird feeder! I think this is one of the best wildlife pictures she has ever taken. You can see practically every aspect of this bear so clearly, even his tongue is visible. It's almost as though he is licking his lips!
My niece is always taking pictures and both of my sisters like taking pictures as well. My niece and her mother always enjoyed scrapbooking and I estimate that they have over 50 scrapbooks finished. My sister has dementia now so these scrapbooks are full of many invaluable memories. I am the sister in the family that does not take many pictures and I really hate getting my picture taken. I always try to hide behind someone taller than me, which never actually works. This is one reason the Capture the Wild Challenge has been difficult for me. I have seen different wild animals but I just never think to take their pictures.
When my sister and her family go on vacation they normally ask me to feed their cats and water their flowers. I never minded doing this until after I saw this bear so close to the house, which then made me afraid. I did these things for my sister anyhow but I was constantly looking over my shoulder ready to bolt for my car. It has always been my understanding that bears will not bother a person unless you go near a mother bear with her cubs. However, I never actually wanted to test this theory. Other than my sisters and I, the majority of our family members have guns, or at least know how to use them. Growing up with two sisters and parents who didn't hunt, I have never handled a gun in my life. Sometimes I think I should purchase a gun and sign up for lessons to protect myself but that's not going to happen. I made it this far living in this area without a gun and I'm still alive so I'll just take my chances.
My sister and her family went on vacation shortly after the "2012 bear" picture was taken and I was responsible for taking care of the cats and flowers. So, one day, I was watering the flowers when my other niece came to the house to go swimming. I was so relieved to see her because I was still afraid the bear might come back for more birdseed. I finished up my watering and went home while my niece continued swimming and enjoying the nice sunny summer day.🌞 I really didn't think much about the bear after I left that day because my niece didn't seem nervous about it at all. She didn't ask me to stay so I just went about my day.
Later that afternoon, I got a phone call from my niece who informed me that she was minding her own business swimming in the pool and guess who came strolling out of the woods? THE BEAR!!! I was nervous the bear would come back but I didn't think it would actually happen. My niece is a strong woman (she even played women's football in the Lingerie Football League) but not even she could fight off a bear. So what do you think she did? She ran into the pool house and hid until the bear left. I didn't go back to feed the cats and water the flowers by myself for a few years after that incident. Eventually, I did get brave and once again I went to my sister's house by myself to take care of things while they were on vacation.
However, just as I was working on this article, my brother-in-law informed me that there was a bear at their house. He said the bear took the bird feeder off the stand and trampled some plants. He wasn't sure if it was a male or female so I don't know if there are any bear cubs wandering around too. Now that is a really crazy coincidence. My niece Mandy had just texted me the picture of the bear on May 10, 2021, and I was finishing up this article the same day he told me about this new bear. He wasn't even aware that my niece sent me the picture or that I was writing about the bear of 2012.
I hope they aren't planning any upcoming vacations because I don't think I'll be taking care of the cats or the flowers this year. I still don't think the bear will harm me if I ignore it but my nerves definitely cannot take the stress anymore. Not to mention, my niece who was in the swimming pool in 2012 won't be helping me out with this new bear because she moved to Canada!🍁