Start by offering 10 minutes to nature, every day
Connecting with nature brings us peace and joy, as well providing loving inspiration for us to act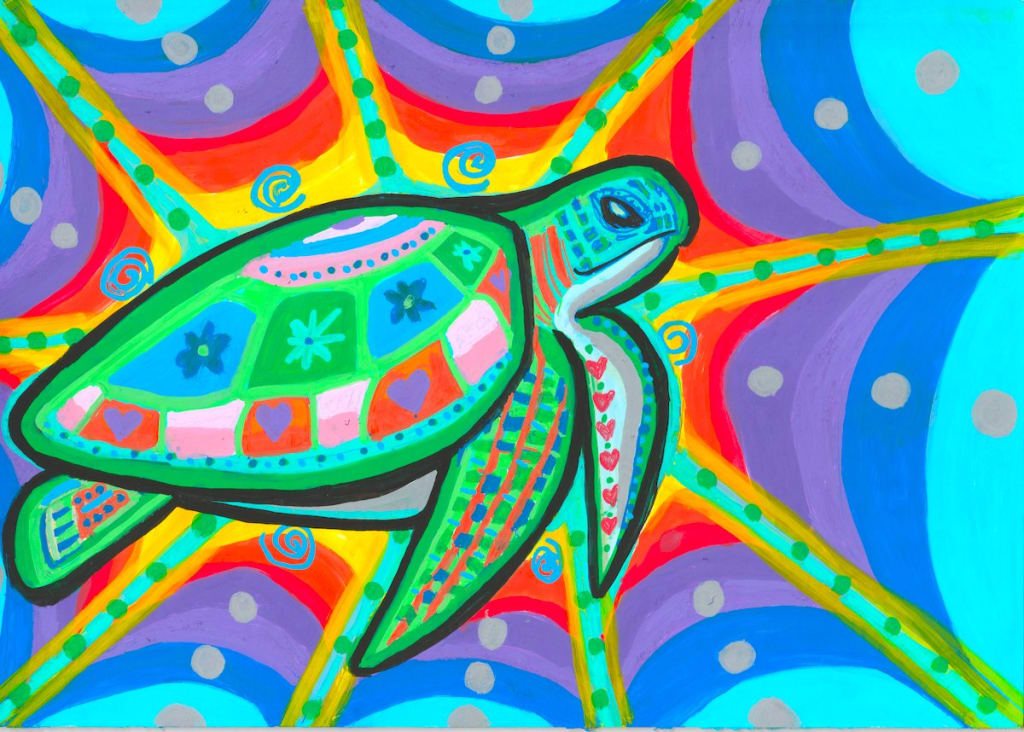 TURTLE VISION - see prints www.riversongheart.com
Throughout Lockdown 2020, I felt very grateful to live near to green hills, a river and the sea. I discovered that by being slow and still, I could connect more deeply with the universe than when travelling the globe. By doing less externally, deep inner work could finally be done. My mind at last became silent enough to listen.
In some good conversations with the universe, I learnt that it's the natural world where wisdom is to be sought and found; for the animal, plant, water and soil kingdoms offer boundless inspiration and solutions. While I'm aware how much of a privilege this realisation is, for not all can have silence and stillness in their days, I also believe that everyone can have good conversations with the universe, just by offering 10 minutes per day to nature - either in the mind or with the body.
I was born and raised in a city, without a garden, so I know how easy it is to dismiss the countryside and coast - I upheld a slick urban disregard of the countryside for years: it's not for me, no, it's boring, I don't want to go to that distant blue and green blanket, grow old and then disappear… but… skip forward ten years… I'm living in more rural Britain… near the sea… and... it's magical.
Only by nurturing and honouring my connection with it did I finally understand… I AM NATURE, NATURE IS ME. YOU ARE NATURE, NATURE IS YOU. Through a quiet mind, an engaged connection and a good amount of curiosity, now when I look out to the sea, I see a living, breathing, sentient being, so powerful, so wise, that it defies human understanding. Perhaps it is in the unknowing of the ocean, the fear of it, that leads to its mistreatment – and yet, that very unknown aspect is, I believe, what makes it so powerful to connect with in the first place. Recently I also strongly connected with Surfers Against Sewage three premises' for ocean recovery, which they shared on IG:
>We need increased investment in ocean rewilding to allow blue carbon habitats to thrive. ⠀
>We need marine areas where deep sea mining is banned, commercial fishing is prevented, oil and gas exploration is ceased and pollution inputs are tightly regulated.⠀
>We need governments at COP26 to acknowledge the pivotal role the ocean plays in sustaining economies and societal well-being.
@surfersagainstsewage 2021
Such brilliant facts. However, the question I keep asking is this: how can we save something if most of us don't love it (yet)? If we don't understand its true value? Not in terms of money, but just as it is. How can we collectively save something that so many humans, especially those working in certain corporations and governments, are so fundamentally disconnected from?
There are many brilliant ocean conservation organisations out there - solution focused, authentic, pragmatic, tireless, wonderful… Yet the majority of people outside of these organisations don't have such an authentic connection to nature - so where are we? Who will sign the petitions? Who will do the work? Only when CONNECTED to the cause will the environmental petitions be signed. Intentional, organised, successful action for the ocean will come when authentic CONNECTION to the cause is properly established, inside nearly every person.
I believe one way to establish better connection with nature is to begin healing toxic masculinity – and please note I do not assign blame here – for I believe all those identifying as men and women who operate within certain 'modern systems' have been imbued with toxic masculine culture in one way or another, including myself. But I have realised that this toxic masculinity must be unlearnt, every day, for it is the backbone of the global corporate culture that cuts us off from empathy, from compassion, that cuts us off from giving without wanting return, that cuts us off from uniting with nature and with each other.
The individualistic world view perpetuated by toxic masculinity is damaging to our mental health (I must be strongest/ I must climb highest / no room for any less / win or die) and it's extremely damaging to the innocent and wonderful ecosystems we share this planet with. It's a socially accepted form of species-ism that keeps much of the natural world, as well as many good people, in chains. Connection is what makes people act to protect and nurture something. The many forces that profit from the exploitation of nature are the same ones interested in keeping us disconnected from it. It's not in their interest for us to authentically connect with the ocean. For who would pollute the seas? Over fish? If connected to the sea? Similarly, if we were authentically connected to fish and animals, would we kill them and eat them? It seems that to eat them, we HAVE to be disconnected from them! It is a pre-requisite.
Do we judge a tree for losing its leaves in winter?
Do we judge a stone for being stuck in the moss?
Do we judge a wave for washing away?
Where judgement is divisive, acceptance unites us. I believe we must heal humans in order to heal nature. We must stop the relationship of extraction – from the natural world, from each other and via the workplace – and bring in reciprocal relationships of mutual aid. We breathe in the oxygen from the trees, the trees breathe in the carbon from us. We save the oceans, the oceans save us. Yet we should not save the oceans with this guarantee, but because we love them, wholly, unconditionally, and we expect nothing in return.
Love is the answer. We must first love ourselves and each other to love nature. For loving and connecting with nature will mean we can authentically connect to our own impact upon it. We will then see that when we harm nature, we harm our dear family, we harm ourselves. And when we see that, we can start to save our seas, our forests, our eco-systems - every moment, every day, with intention, kindness and ceaseless energy.
To enhance our connection with nature, we could also start to look at the English language and its outdated etymology. In a podcast by the brilliant Robin Wall Kimmerer, she says it's been very damaging to refer to nature 'it', for this disconnects us - 'it' objectifies nature, suggests that nature is not LIVING, BREATHING and INTELLIGENT.
To truly connect with nature also means having longer parts of our day where we disconnect from some of the things we hold dear – mainly, the SCREEN. The screen is a 21st century solution and problem. The problem IS the solution. The first step… can we put down our screens for as long as possible per day and just… be? Like a powerful river stuck, stagnant behind a dam, we must remove the dam (the screen) and flow on in to physical, tangible life.
Screen culture is self-perpetuating, like the internet itself, the more you use it, the more you think you need it, the bigger it gets, and then we have... exponential growth… the kind of corporate growth that makes our seas clear of fish, our corals reefs ghosts and the sweet oceans of the world murky and bitter.
What if? The screen was thought of as a precious tool and not a necessity? Pick it up to create and share something specific, something meaningful. Put it down when not using it for this purpose? The economic structures and information systems we're endorsing and upholding through our purchases and data are often the same systems funding and profiting from the extraction relationship with nature, and it will go on forever, until we connect with nature and see what is happening clearly, see our impact clearly. It starts by creating strong boundaries between ourselves and our screens, whilst lowering boundaries that exist in many of us about being in nature or with nature, or sitting in stillness.
I understand the hypocrisy in that you are reading this writing through a screen and the screen is what I am relying on to write and get this to you. I do not say it's all bad, but that we must use screens with more balance, with less attachment, less addiction. So we can look through eyes that don't constantly seek to photograph and to share.
There are many accessible ways to begin to connect with mother nature, whether the sea, a park, a tree, the forest, a bath, a tap or an open window: touching / sitting in / swimming in / floating in / walking around / looking at / just being near – with no screen. For ten minutes, observe nature, in silence. Try not to bring judgements or assumptions, but listen, ask questions, empty your mind, physically take nothing… And when you do connect, in a single, precious moment, you will remember that nature loves you - wholly, unconditionally – and she always has.
RECOMMENDED RESOURCES for connection with oceans, nature & general thinking/reframing inspiration:
>ORGANISATIONS
Surfers Against Sewage – https://www.sas.org.uk/
Oceana - https://oceana.org/
The Mother Tree Project - https://mothertreeproject.org/
Insight Timer - Nature Meditations - https://insighttimer.com/
Marine Conservation Society - https://www.mcsuk.org/
>PRODUCTS
Eco-concentrate (re-use old spray bottles and add water to concentrate that is non-toxic)
Washable Eco-Cloth (no more j-cloths/sponges)
Bamboo Toothbrush (remember to read how to compost)
Shampoo Soap Bars & Body Soap Bars (no plastic / no chemicals)
>BOOKS & AUDIOBOOKS
Braiding Sweetgrass: Indigenous Wisdom, Scientific Knowledge and the Teaching of Plants - by Robin Wall Kimmerer
The Power of Now - Eckhart Tolle
Let Your Fears Make You Fierce - by Koya Webb
The Wildflower Workbook - by Katie Daisy
Wilding - by Isabella Tree
Finding the Mother Tree - by Suzanne Simard
The Beauty of the Wolf - by Sally Gardner
Rewild Yourself - by Simon Barnes – particularly the chapter 'Breathing Under Water'
Manufacturing Consent - by Noam Chomsky
A Song to Save the Salish Sea: Musical Performance as Environmental Activism - by Mark Pedelty
>MUSIC
I Am – India Arie & Beautiful Chorus
The Water – Laura Marling & Johnny Flynn
Wade in the Water – Big Mama Thornton
Oceans – by Davin Youngs
The World to Come– Johnny Flynn & The Sussex Wit
Imagine - by John Lennon
Meeting of Two Oceans – Chinmaya Dunstar
ABOUT RIVERSONGHEART
How I've created my small art business to be as compassionately sustainable as possible:
I embed forest restoration into my small art business -www.riversongheart.com - which I feel called to do. Because of the ecological crisis we face, the rapid deforestation of our beautiful planet, the loss of our ancient trees, the coral reefs and the animals, fish, birds and plants that call these natural kingdoms home. Also because my business is paper-led. My reforestation partner is TreeSisters Charity, they fund the planting of trees to restore ecosystems and livelihoods whilst increasing protection against the extremes of climate change in multiple regions of the tropical forest belt - www.treesisters.org
Here's an update on my 2021 sustainability progress:
🧡1 tree is planted per 1 RiverSongHeart art print sold. Together, we've planted over 90 trees with my reforestation partner TreeSisters since January 2021.
🌿All packaging remains fully plastic free, is recycled and/or recyclable. My tissue wrap is fully biodegradable.
🧡My cards are now printed on 100% recycled card-stock. I wish I'd insisted on this from the start... All art prints are on 100% cotton rag, acid-free.
🌿I've switched to recycled brown envelopes permanently.
🧡Made-to-order - I don't hold stock, the prints and cards only get made when you order them, so no surplus.
🌿I walk to my printers, post office etc. As I'm lucky to live waking distance away 🥰 I walk to most places!
I will keep improving my sustainability wherever I can. I want to show that paper-led businesses can be tree conscious. We must be tree conscious. This is an ongoing journey and I'm learning as I go. I'm determined to keep my footprint as small as possible as I continue as an artist & entrepreneur. I would love for other artists and paper-led businesses to embed compassionate sustainability in to their business models as soon as possible.
Sustainability
About the author
Keep dreaming that a kinder, more equal world is possible. My name's Rosa Weber. Painting is my joy. Animals are my kin. Mother Nature is my heroine. I'm UK Goodwill Ambassador for Eco-Network, the global youth-led environmental non-profit.
Reader insights
Be the first to share your insights about this piece.
Add your insights