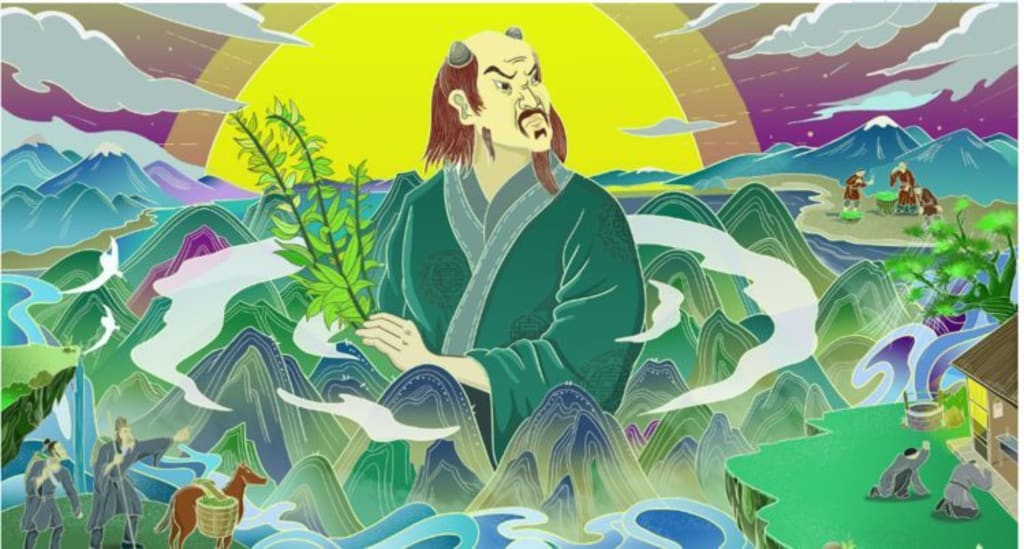 In Chinese mythology, Shen Nong, also known as the Divine Farmer, is said to be the father of agriculture and medicine. According to legend, Shen Nong tasted hundreds of herbs to learn about their medicinal properties and used this knowledge to teach people how to cultivate crops and treat illnesses. Here is a story that illustrates Shen Nong's legendary status and his contributions to Chinese medicine.
Many years ago, in ancient China, there lived a wise and kind emperor named Yao. Emperor Yao was known for his compassion and wisdom, and he was greatly respected by his people. One day, Emperor Yao received a visit from a god named Shen Nong. Shen Nong was known as the Divine Farmer because he had taught people how to cultivate crops and use plants for medicine.
Shen Nong came to see Emperor Yao because he wanted to share his knowledge of herbs and medicine with the people. He told Emperor Yao that he had tasted hundreds of herbs and had learned about their medicinal properties. He wanted to teach people how to use these herbs to treat illnesses and maintain their health.
Emperor Yao was very interested in Shen Nong's knowledge and asked him to stay in the palace and teach his people about herbs and medicine. Shen Nong agreed and began to teach the people about the different herbs and their uses. He taught them how to cultivate crops and how to make medicines from herbs.
Shen Nong was a great teacher, and the people were eager to learn from him. They listened to his every word and followed his instructions carefully. They worked hard to cultivate crops and gather herbs, and they used Shen Nong's knowledge to make medicines to treat illnesses.
One day, a man came to see Shen Nong. The man was very sick, and he had tried many different medicines, but none of them had worked. Shen Nong listened to the man's symptoms and examined him carefully. Then he went to his herb garden and gathered some herbs. He mixed the herbs together and gave the man a potion to drink.
The man drank the potion and felt better immediately. He was amazed at how quickly the potion had worked, and he thanked Shen Nong for his help. Word of Shen Nong's skills as a healer spread quickly, and soon people from all over the kingdom came to see him for help.
Shen Nong worked tirelessly to help the sick and teach the people about herbs and medicine. He traveled throughout the kingdom, visiting villages and towns, and teaching people how to cultivate crops and use herbs to treat illnesses. He was greatly loved and respected by the people, and he became known as the father of agriculture and medicine.
Shen Nong's legacy lives on to this day in traditional Chinese medicine. Many of the herbs and medicines he discovered and used are still used today to treat a variety of illnesses. His teachings have been passed down from generation to generation, and Chinese medicine continues to be an important part of Chinese culture and tradition.
Chinese medicine is a traditional system of healthcare that has been used for thousands of years in China and other parts of Asia. It is based on the principle that the body is a complex system of interrelated parts, and that disease or illness arises when the body's natural balance is disrupted.
In conclusion, Shen Nong's legendary story of tasting hundreds of herbs and sharing his knowledge with the people has become an important part of Chinese mythology. His contributions to agriculture and medicine have had a lasting impact on Chinese culture and tradition, and his teachings continue to be an important part of Chinese medicine today. Shen Nong's legacy serves as a reminder of the importance of respecting nature and the power of plants to heal and nourish our bodies.
About the Creator
Share Chinese Sory,which you never heard before.China has 5000 years history and it is A kingdom of artifacts.Such as Chinese Kongfu,Qigong etc.
Reader insights
Be the first to share your insights about this piece.
Add your insights