Parker Brickley on Travel Documentaries to Add to Your Watch List
Parker Brickley discusses which travel documentaries stand out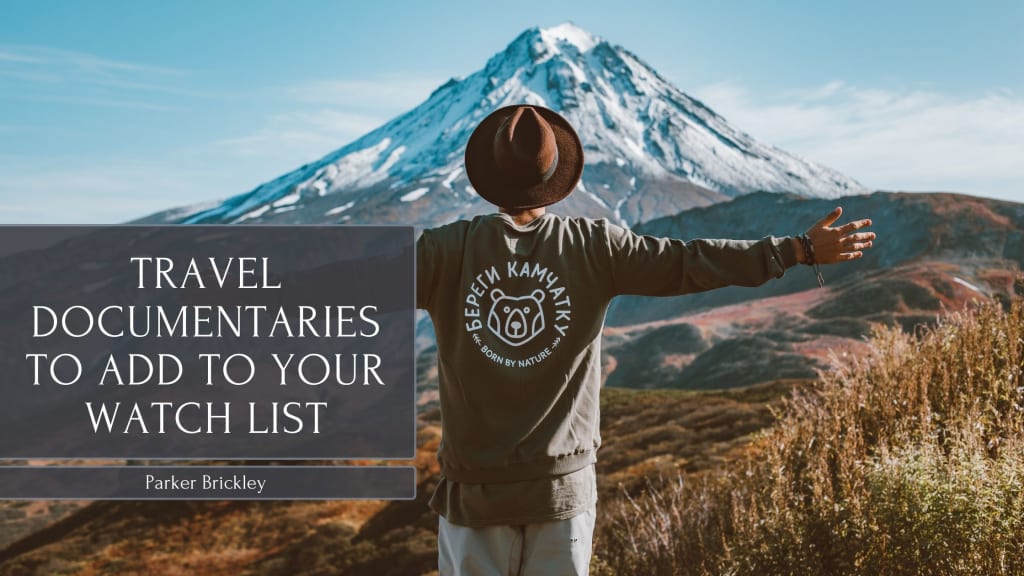 Everyone fantasizes about getting away and escaping from a routine, even for a little while. The practicality of that is another matter. For people who want to travel the world from the comfort of a couch, travel documentaries are here to help. They provide travel experience without spending money or dealing with long flights, currency exchanges, hotel reservations, or other unforeseen scary things. Instead, people can sit back and watch someone else explore the history and culture of a faraway land, with a detailed discussion about a place's culture, history, and food.
Travel shows have linked our everyday lives and the vast, fascinating globe of untapped adventures for many years. They first appeared on our televisions as a method of education via a visual tour of far-off places. Modern formats include stunning cinematography, engaging soundtracks, and complex plots. The actual narrators become celebrities themselves. In addition to the apparent visual display of cuisine, attire, and architecture, they also emphasize the underlying stories of regions.
Filmmakers work hard to capture the spirit of the locations and the stories they carry since audiences are increasingly searching for authentic experiences. People no longer want a show about someone eating or looking at a museum. We can find that easily on the web. Documentaries needed to elevate to a higher expectation to survive.
Anthony Bourdain's "Parts Unknown"
Anthony Bourdain's "Parts Unknown" was a riveting fusion of cuisine, culture, and personal anecdotes. His was one of the most prominent travel shows, and it was due to him and his unique thirst for life and devil-may-care attitude. The world's culinary landscapes were thoroughly explored in this series. Through meals and chats with locals, Bourdain immersed himself in the culture of each location for each episode. "Parts Unknown" stands out for its remarkable capacity to dig into complex social concerns while overcoming cultural divides. This series is a monument to Bourdain's voracious curiosity and unmatched narrative talent in any place he chose, from the busy streets of Myanmar to the peaceful landscapes of Newfoundland.
Sir David Attenborough's "Our Planet"
Sir David Attenborough is a long-standing favorite choice for this genre. His multiple wildlife documentaries highlight the planet's captivating beauty and formidable problems. "Our Planet" focuses on the priceless range of ecosystems found across the planet, from the lonely Arctic wilderness to the huge vistas of Africa. This particular show was shot over the course of four years in 50 different nations. Each episode delves deeply into the symbiotic link between animals and their surroundings, emphasizing the urgent need for conservation. It is nonstop stunning to see and a sobering examination of our duty to the world.
The story "Tales by Light"
This is for you if you have ever seen a breathtaking, award-winning photo and wanted to know the story. "Tales by Light" is a distinctive documentary series that brings together photographers, filmmakers, and storytellers to examine the narratives behind some of the most beautiful photographs ever created. Every episode centers on a photographer's quest to capture a concept that has a profound emotional impact on them. The series gives behind-the-scenes insight into the difficulties, loneliness, and successes of taking pictures alone from the ocean's depths to the emptiness of space. With an emphasis on these storytellers' perception of the globe, the documentary offers a novel viewpoint on travel.
Travel films serve as a perspective. A reminder of the size and grandeur of our globe in an era when everything is accessible with a single click. When produced well, these shows provide virtual vacations loaded with feelings and offer a deep respect for the environment. They capture the essence of locations, the stories of its inhabitants, and the most unadulterated beauty of nature. Whether you want to travel or appreciate a good tale, these shows will undoubtedly make a lasting impression on your heart and inspire you to see the world through new lenses.
Originally published at parkerbrickley.net.
About Parker Brickley
Parker Brickley is a rising investing specialist who now resides in New York City and has a broad and varied professional career. His education started at Rollins College, where he earned a degree in Economics before choosing Babson College to get his MBA.
Parker, always looking to broaden his horizons, has worked with various B2B businesses and investment organizations. His enthusiasm for business shows his skills as an influential leader, skilled salesperson, and astute investor.
Outside of the bustle of his work commitments, Parker Brickley enjoys traveling and helping less fortunate people. His love of travel and appreciation for the cultural exposure gained from his trips abroad are unwavering.
About the Creator
Parker Brickley has worked in finance and investments for over a decade now. He is also passionate about travel, sports, and community involvement. He has helped run charity fundraisers and enjoys playing golf and tennis.
Reader insights
Be the first to share your insights about this piece.
Add your insights