My First Winter
Magical Winters To Remember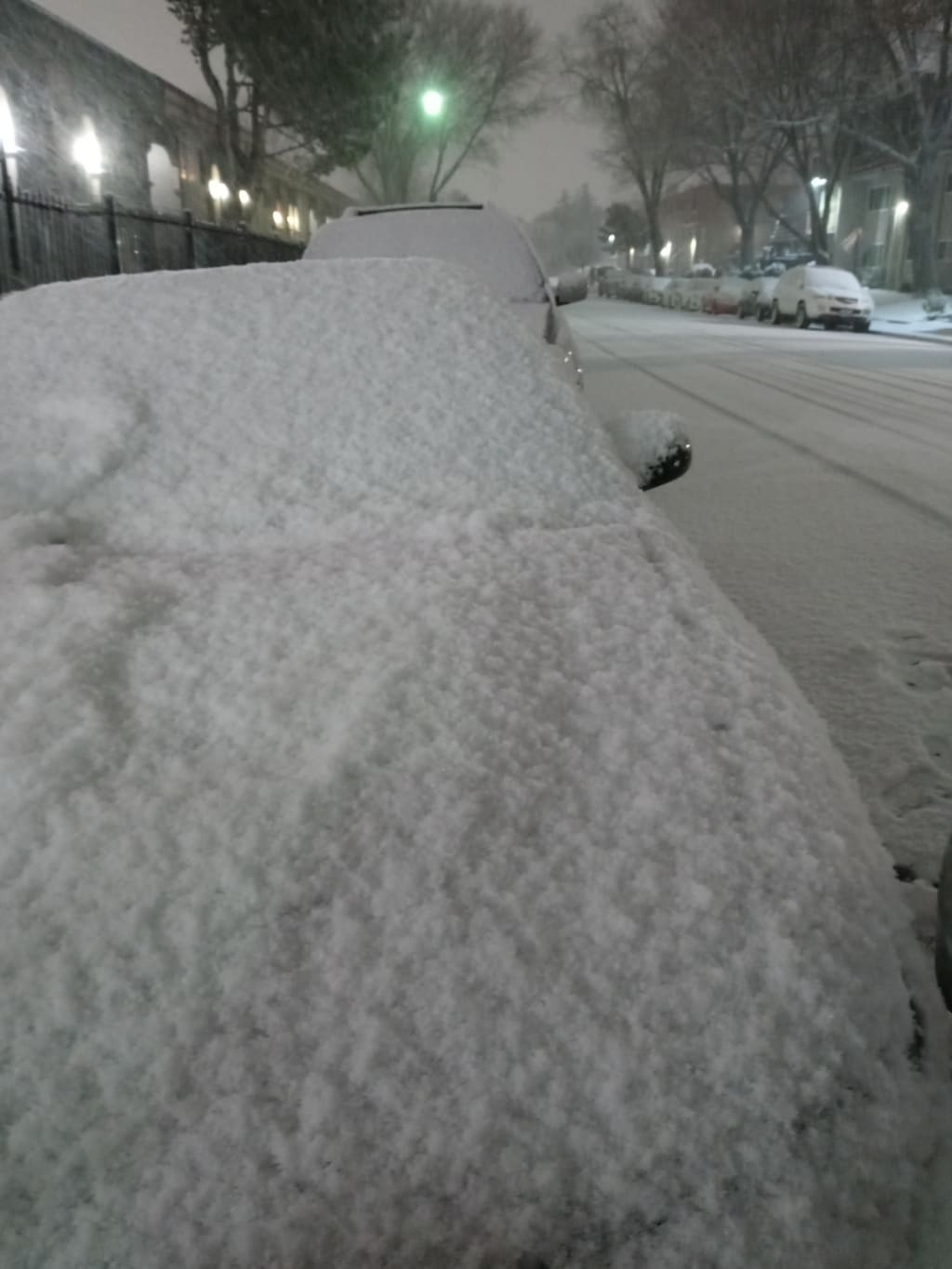 From my family album 2020
A Winter Wonderland is something that for me was real only in pictures, I had never seen snow before, I read about it in Snow White, and from my aunt who lived in the states, but I had never seen and hoped that one day I would see it.
Ten years went by before I saw my first snow, and another 15 before my eyes made contact with a Frozen pond. The quiet beauty of winter is so majestic to me. Have you ever stood in the middle of a snowfall, the moment is just amazing, it feels cold yet not freezing, it's calm and so quiet the flakes touch your skin in such a gentle form, and the ground is soft and squishy at the same time, and once the layer of snow is thick it makes the whole neighborhood really bright, it may be midnight yet it is like dusk out there.
I know that it isn't always as pretty as all that; and that when it wants it can be dark and deadly, but for me that first snow was just magical.
I was 18 years old, and a nanny, the family I worked for made plans for Thanksgiving day, we went to Mammoth Lakes, a long trip from southern Cali, 8 kids, and 5 adults, I had never been to a place like this, and was mesmerized at how much snow fell in just a few hours, the first night we went for a walk to the cafe nearby for dinner, we walked back to the condo while the snow fell, we unloaded the cars, we were staying for a week. As we finished unpacking the snow came down harder, and I was told to stay inside for the rest of the evening, The next morning I awoke to the best morning ever, the whole place was covered in a blanket of pure white powder, looking out the window I began to feel like it beckoned me to go out and feel it again, I was not prepared for what was on the other side of the door, I was actually scared about what it could happen if any more snow fell, the car was covered top to bottom, the rocks that were visible the day before were now a pile of snow, I found out later that there were 3 feet of snowfall overnight, and that it could be as much as six feet by the end of the week, that there was another snowstorm was coming. I was both amazed and scared, it was so much snow that I thought we would be trapped inside forever. I went back inside and was given a pair of snow boots, a winter Jacket and earmuffs, and gloves. It was a beautiful warm gift, I never had any of that. After breakfast we all went out to the shops downtown and to my surprise the road was cleared of the snow, and again it scared me to think how high it could get as I am only 5 feet tall, there was a tram that took us into town, and we all went to the shops, it was Thanksgiving day so they were all closing early: as early as 2 pm. But we had enough time to buy supplies to get us through to Saturday when all shops would open again. I was so excited to see all the goodies in the souvenir shop, and the homemade candy at the candy and Ice cream shop. It was candy heaven… Lol.
We finished our shopping and went back to start dinner. The locals were so nice, everyone so friendly and the greetings so warm and welcoming. They also all had free samples of the products they sold, so many yummy things I never tried before. I bought beef Jerky, Fudge, cheesecake bites, oh boy so much.
We made our way back on the last tram of the day, and got back in the condo with a nice wood fire. The adults went into the kitchen and the kids went to play games, even though there was so much snow out there, it was nice to be walking in this magical winter wonderland.
We had dinner and settled in for a movie night complete with hot cocoa, pie, and all the goodies I bought at the candy shop.
Friday morning came and sure enough, there was more snow that came in overnight and it was still snowing in the morning. We stayed in all day, by late afternoon the snow stopped falling. And it did not snow again for the rest of the week, by Sunday the sun was out, and so we did too, we made our way up the mountain for skiing, well they went skiing, I went to find walking trails, and on my walk, I found a frozen pond, I had never seen that before, it was so beautiful, the ice skaters were having a great time.
I sat there to enjoy the view of a wonderful winter wonderland.
Nature
About the author
I am a nature loving person who finds the indoors quite suffocating after a while, I find inspiration in the beauty of a mountain, the flight of a bird or the soft swaying of a flower in the wind.
Reader insights
Be the first to share your insights about this piece.
Add your insights